IELTS Exam Time and 5 Full-Proof Time Management Tips
Janice Thompson,
Updated On


Limited-Time Offer : Access a FREE 10-Day IELTS Study Plan!
Worried about your IELTS exam time running out before you finish the test? Read on to learn more about how to manage your IELTS exam time.
This article will take a look at the IELTS exam time breakdown and provide some expert tips on how to manage your time effectively during the exam in order to get a top score.
IELTS Exam Time Breakdown
Your proficiency across the four primary language skills—listening, reading, writing, and speaking, is assessed by the International English Language Testing System (IELTS) exam.
The test lasts 2 hours and 44 minutes in total plus 10 minutes of extra transfer in the listening module. The first three modules of the test – Listening, Reading, and Writing are always conducted consecutively and without a break. For an in-depth overview of the IELTS format, watch IELTS Test Format 2023 – Academic & General.
The breakdown of the total IELTS exam time for each module is as follows:
| | | |
| --- | --- | --- |
| Module | Questions | Time Allotted |
| Reading | 40 | 30 minutes |
| Listening | 40 | 30 minutes |
| Writing | 2 tasks | 60 minutes |
| Speaking | 3 parts | 11-14 minutes |
The Listening section of the test will be completed first, followed by the Writing and Reading portions in that order. The Speaking test may be administered up to 7 days before or after the test date, depending on the test centre.
How to effectively use the IELTS exam time
There are a few key things to keep in mind when you prepare for the test day, such as:
Watches are prohibited in the test facility.
The IELTS Online test contains a clock on the screen.
Meanwhile, each test room in the test centre will have a clock on the wall. Keep an eye on the clock so you can answer all the questions.
There are several parts to the listening, reading, and writing module tests. Give each section the appropriate amount of time so that you can answer all the questions.
Be advised that there may be suggested time constraints for you to adhere to for some questions.
IELTS Exam Time Management Tips – Expert Certified and Proved
In the IELTS exam, time management is absolutely essential. The comprehensive IELTS test, which consists of IELTS Reading, IELTS Listening, and IELTS Writing, lasts for two hours and forty-five minutes.
It is better to attempt every question on the IELTS because there is no negative marking. Poor time management or slowness in finishing the paper can prevent you from receiving a high score.
Here are a few pointers to aid you in passing the exam with flying colours.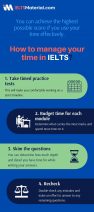 Top IELTS Exam Time Strategies with Proven Results:
Never take the IELTS test without having studied and understanding the format, time constraints, and overall IELTS test duration.
The time you should set aside for studying is based on your level of proficiency. Therefore, assess your level of English competence and build a study plan accordingly. Start your IELTS preparation at least two to three months in advance if you are not extremely proficient.
The IELTS is a standardised test. It will always have the same format, types, and time constraints. The questions will also always be laid out in the same sequence. Thus, practise and learn to discipline your body and mind to sit through the allotted hours of the test without becoming weary.
Take multiple, timed, full-length practice exams from IELTS books or online resources. Work on a certain task until you complete it in time. If you feel like one component is taking a long time, practice until you have mastered it within the time limits.
Before you sign up for the test, get prepped for certain recurring IELTS topics such as technology, education, travel, environment etc. This will make it simpler for you to put down your thoughts and organise your essays. You can find a comprehensive list of topics on the IELTS website. Do the research and get knowledgeable about a variety of common themes and current events.
Conclusion
One of the most frustrating aspects of taking the IELTS is running out of time. You don't want to miss any vital points – whether you're working fast on an essay and lose track of time or if you have misgivings about an answer.
Effective management is the key to making the most of your IELTS exam time. Exams are essentially a test of your abilities to maximise the time you have available to demonstrate your skills as much as you can and rack up as many points as you can.
The key to acing them is to be well-prepared – but it's also about working quickly and effectively, being focused enough to prevent trivial errors, and having a strategy that gives you confidence. With a solid approach, you are sure to succeed!