The IELTS Revaluation Checklist 2023
Nehasri Ravishenbagam,
Updated On


Limited-Time Offer : Access a FREE 10-Day IELTS Study Plan!
In the journey of pursuing higher education or immigration opportunities abroad, the IELTS exam is often an important step. However, there may be instances when you feel that your IELTS test results do not accurately reflect your language proficiency and in such cases, you might consider opting for an IELTS revaluation. 
This blog aims to guide you through the factors to consider before applying for a revaluation, including the IELTS revaluation fees, success rates, and important considerations.
Understanding IELTS Revaluation and its Importance
The IELTS revaluation process, also referred to as an Enquiry on Results (EOR), gives applicants the chance to ask for a review of their test results. It involves the reassessment of the Listening, Reading, Writing, and Speaking sections by a senior examiner. 
This process ensures fairness and accuracy in evaluating a candidate's language abilities. However, before you proceed with an IELTS revaluation, it is crucial to consider several factors to make an informed decision.
IELTS Revaluation: Factors to Consider
There are 3 main factors one needs to pay attention to before they apply for a revaluation of their IELTS test results.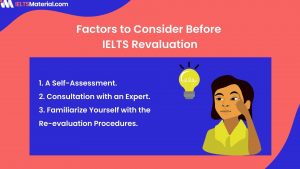 1. A Self-Assessment
Consider your test-taking abilities critically before deciding to request a Revaluation. 
Take into account whether any external factors might have affected your results, such as test anxiety, illness, or technical issues. If you genuinely believe that there has been an error in the assessment, it may be worth considering a revaluation.
2. Consultation with an Expert
Seek guidance from experienced IELTS trainers or consultants who can evaluate your test performance objectively. They can help you determine whether a revaluation is likely to yield a significant change in your scores based on their expertise and knowledge of the assessment process.
3. Familiarize Yourself with Revaluation Procedures
Thoroughly understand the revaluation process outlined by the official IELTS governing body in your country. Additionally, try to understand the exact criteria, timelines, and documentation required to initiate the revaluation process. Doing this will help you prepare for the process and ensure that you meet all standards without difficulty.
The Pros and Cons of IELTS Revaluation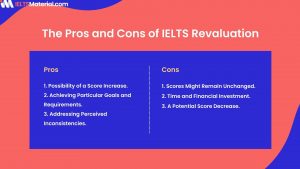 The Pros 
Applying for a revaluation of your IELTS test results has a fair set of pros and cons as well. Read further to get an idea about the pros of getting an IELTS revaluation done.
1. Possibility of Score Increase
One of the main benefits of IELTS revaluation is the potential for a score increase. Different examiners may interpret your responses differently, and a revaluation can lead to a higher score if the new examiner assesses your answers more favourably. 
This can be advantageous if you need to meet specific score requirements for academic admission, professional certifications, or immigration purposes.
2. Achieving Particular Goals and Requirements
An IELTS Revaluation can help individuals meet specific requirements. For instance, some universities or employers have minimum score thresholds for admission or employment. 
If your initial score falls slightly below these thresholds, revaluation offers an opportunity to potentially reach or exceed those requirements, thereby opening doors to desired educational or professional opportunities.
3. Addressing Perceived Inconsistencies
Sometimes, test-takers may feel that their results are not up to their expectations. Revaluation allows for a second opinion, offering a chance to resolve any perceived discrepancies. It provides an opportunity to ensure that your results truly reflect your language abilities, giving you a clearer understanding of your skills and performance.
The Cons 
Getting a revaluation done for your IELTS test results has a few cons as well. Read further to get an idea about them.
1. Scores Might Remain Unchanged
One of the main disadvantages of IELTS revaluation is the possibility of your re-evaluated score remaining the same. Despite the reassessment, there is no guarantee that the revaluation process will result in a higher score. In such cases, the time and money invested in revaluation might not yield the desired outcome.
2. Time and Financial Investment
IELTS revaluation requires an investment of both time and money. The process can take several weeks, during which you might have to wait for the remarking results. 
Additionally, there are fees associated with revaluation, which vary depending on the test module and components being re-evaluated. The financial cost, coupled with the potential delay in receiving results, should be considered before opting for revaluation.
3. A Potential Score Decrease
It is important to acknowledge that revaluation can result in a lower score as well. The re-marking process involves a different examiner, who might interpret your answers differently. If your initial score was on the border between two bands, there is a risk that your score may be adjusted downward during revaluation.
Understanding the IELTS Revaluation Fees 
When considering IELTS re-evaluation, one important aspect to consider is the cost associated with the process. Understanding the fees involved will help you make an informed decision and assess whether it aligns with your budget and priorities. 
Let's explore the different factors related to IELTS re-evaluation fees.
1. Individual Exam Component Fees
Depending on which individual exam components you opt to have remarked, different prices apply for IELTS reevaluation. The four sections of the IELTS exam are Speaking, Reading, Writing, and Listening. You can decide to revaluate one or more of these areas. 
Each component carries its own fee, so it is important to be aware of the costs associated with re-evaluating specific sections. By understanding the component fees, you can better plan your budget and decide which areas you believe have the highest potential for improvement.
2. The Global Variations
It is worth noting that IELTS re-evaluation fees can vary across different countries and regions. The official exam centres set the fees, which may be affected by things like administrative costs and local currency exchange rates. 
Hence, it is important to check the specific fees applicable to your location. Moreover, visiting the official IELTS website or contacting your local test centre will provide you with accurate information regarding the fees in your region.
3. Its Non-Refundable Nature
One more crucial aspect to consider is that IELTS revaluation fees are generally non-refundable. This means that the fees you pay will not be reimbursed even if the revaluation process does not produce a score improvement or any other notable changes. Thus, before deciding to move forward with re-evaluation, it is crucial to carefully weigh the potential risks and benefits. 
Making the option to have your IELTS score reassessed is something that should be well thought through. While IELTS revaluation fees play a significant role, they should not be the sole determinant. 
Mainly, gain a clear understanding of all the above-mentioned factors and then take a step to apply for an IELTS revaluation and increase your chances of achieving the desired score. To make an escape from all of this hassle, train yourself with expert IELTS trainers to achieve your desired band in one go! 
Frequently Asked Questions
What is the cost of IELTS Revaluation?
The candidate must fill out an EOR (Enquiry On Results) form and can remark on either a single section or the entire test. The IELTS revaluation fee is ₹8,475.
Does IELTS revaluation guarantee to increase my score?
No, an IELTS re-evaluation does not guarantee a score increase. While some test-takers may see their scores improve, the outcome can vary from individual to individual.
How long does the IELTS revaluation process take?
The duration of the IELTS re-evaluation process can vary. It typically takes several weeks for the re-marking process to be completed. The exact timeline depends on various factors such as the volume of re-evaluation requests, the availability of examiners, and administrative processes at the test centre.
What actually is an IELTS revaluation?
IELTS revaluation is the process of requesting a re-marking or re-evaluation of your IELTS test papers if you believe that your initial scores do not accurately reflect your language abilities. It involves having your test papers reviewed by a different examiner to potentially receive a higher score.
How can I request an IELTS revaluation?
To request an IELTS revaluation, you need to contact the test centre where you took your exam and submit a revaluation application. The test centre will provide you with the necessary instructions and guide you through the process.