What is IELTS Course – Complete 2023 Syllabus and Best Coaching
Janice Thompson,
Updated On
In this article we will cover key questions such as – what is IELTS course? What is IELTS course syllabus for 2023? Finally, we will go over the best IELTS coaching institutes.
Introduction to IELTS
The International English Language Testing System (IELTS) is the most widely used English language competence test in the world. It is designed for the purpose of higher education or international migration. It is acknowledged by academic institutions, employers, government agencies, and professional organisations all over the world.
IELTS was created by some of the finest language assessment professionals in the world, and it will examine the entire spectrum of English abilities necessary for success in any potential study or work placement abroad.
IELTS offers two test options: IELTS Academic or IELTS General Training.
IELTS Academic evaluation determines whether your English language competence is appropriate for an academic setting. It examines your readiness for training or study and incorporates items of college-level language use.
Meanwhile, IELTS General tests English language proficiency in a real-world setting, reflecting both social and professional contexts.
What is the IELTS Course Objective?
An IELTS preparatory course is designed to give you the best shot of achieving the score required by the university where you intend to enrol. It concentrates on all the essential language skills and covers all exam question types. The development of effective exam strategies will also be a focus. You will regularly practise for assessment, including mock exams, and the trainer will provide feedback, corrections, and guidance.
After completing an IELTS course, you should be able to:
Get the highest IELTS score you can
possess improved listening, reading, writing, and speaking skills.
become more accurate and certain in your writing and speaking
have an improved command of both academic and common vocabulary and grammar
Identify the areas where you need to improve.
To attain these objectives, you must successfully cover the entire IELTS course and syllabus. Let us go over the assigned IELTS syllabus now.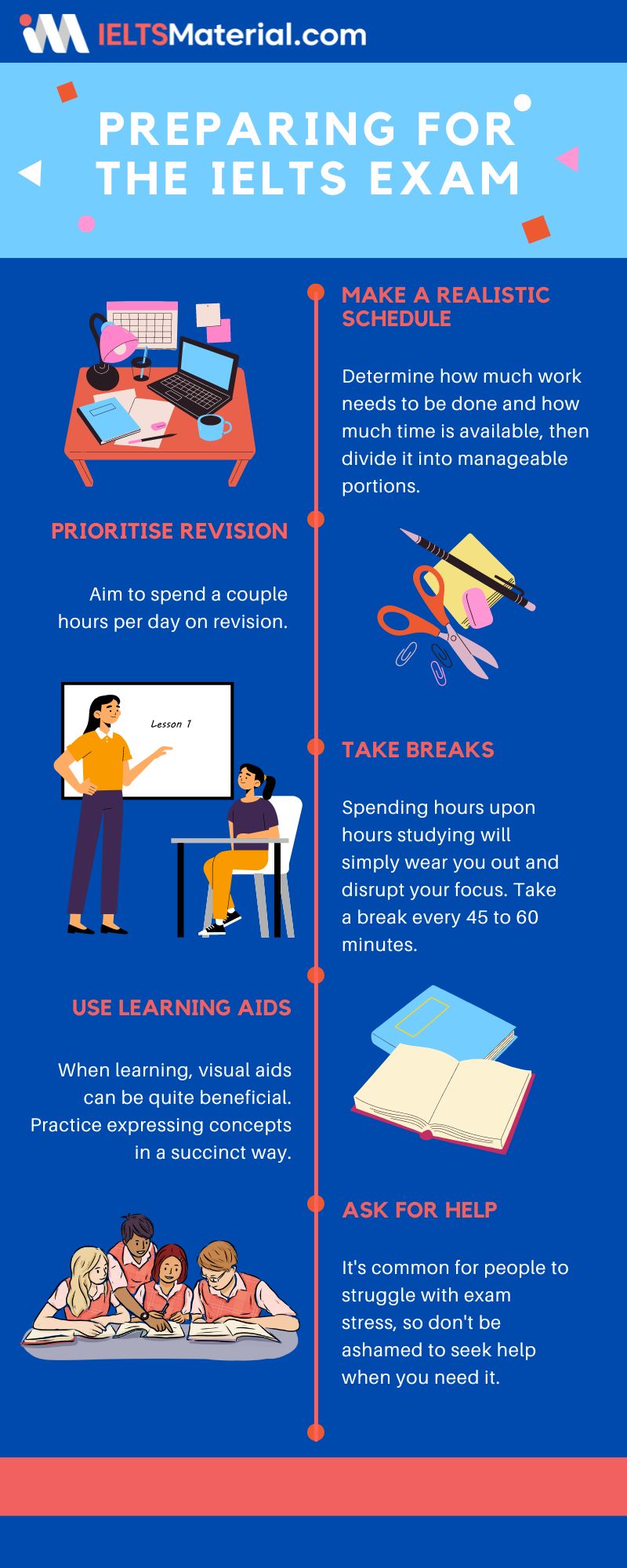 IELTS Course Syllabus
The test is divided into four parts – Listening, Speaking, Writing, and Reading. The Reading and Writing modules are different for the General Training and Academic tests while the Speaking and Listening modules are the same for all.
Let us take a look at the breakdown of the four modules of the IELTS exam.
Module
Time Allotted
No. of Questions
Content
Reading
60 min
40
3 Passages which can be descriptive, analytical, factual or discursive
Writing
60 min
2
Writing task 1

(150 words)

Essay (250 words)

Listening
30 min

+ 10 min transfer time

40
Four audio recordings of monologues or conversations
Speaking
Approx. 15 min
3
Part 1: Introductory Q&A

Part 2: Speaking at length on a familiar topic

Part 3: Structured in-depth Discussion
Now let us take a look at the syllabus for each module in-depth.
Reading
Three generic texts are included in this area that cover a variety of subjects important to applicants looking to work, relocate overseas, or enrol in undergraduate and graduate programmes.
IELTS Academic: The paragraphs likely originate from newspapers, books, journals, research papers, etc., and the goal is to assess the English proficiency of students or working professionals.
IELTS General Training: The three paragraphs can be taken directly from company policies, advertisements, brochures, etc. and have a similar format to the academic portion.
Writing
This component of the IELTS exam has just two questions. The candidates will be given a diagram, data, or table for the first question, and they will then be required to represent the data in their own words. The answer to this question must have at least 150 words.
Candidates are presented with an argument or point of view problem in the second question. The goal is to evaluate the candidate based on the viewpoint, arguments, suggestions, and supporting details they offer.
Listening
There are 4 parts in this component of the IELTS exam where candidates will hear audio recordings. The first would deal with social needs, while the others will deal with circumstances involving academics. The audio pieces will each last for about three minutes and are played only once. They might consist of either dialogue conversations or a monologue. Short answers, note-taking exercises, multiple-choice questions, and a variety of types of questions will be asked based on these clips.
Speaking
This part of the test is an interview which tests the candidates' general communication abilities. It would finally result in a thorough evaluation of whether the individual can speak English well or not. This component of the IELTS is broken down into three parts: a brief introduction, a long answer, and a concluding in-depth discussion.
Best IELTS Courses in 2023
The following advice should be kept in mind as you study for the IELTS – Make sure you are familiar with the IELTS exam format before you take it. Additionally, be aware of the kinds of tasks and questions that may be included in each module of the IELTS syllabus. IELTS practice materials can be found on the official website, where candidates can use them to get familiar with the test's format and syllabus.
To assess what you have learned, make sure you are practising with sample questions and mock tests. You can also choose an online course and get IELTS preparation advice from certified professionals.
Here are the best coaching and resources for IELTS preparation.
Coaching:
Free resources:
Road to IELTS: free online resources & reading materials
IELTS Online Classes for IELTS preparation | IELTSMaterial.com
You can get your current language skills assessed and have an individually tailored study plan designed to help you by IELTS tutors.
Free IELTS Online Tests 2022 | Practice IELTS Mock Test Online
Take full-length practice tests based on real, past IELTS papers.
IELTS Books 2022 | IELTSMaterial
Find the latest books and study materials curated by IELTS experts for all round preparation.
Conclusion
In this article we have covered the essentials of what is IELTS course and the coursework required to gain a high score on the test. The best method to deal with exam stress is to be well-prepared, which also increases your chances of doing well on the IELTS. Get started on your IELTS journey now and sign up for IELTSMaterial!