Advanced Grammar for IELTS : Common Adverb + Adjective Collocations
Zuhana,
Updated On


Limited-Time Offer : Access a FREE 10-Day IELTS Study Plan!
To get Band 7.0+ for the IELTS writing and speaking test, you should develop excellent writing and speaking skills by learning an extensive repertoire of collocations.
Using collocations in the right place will help you boost your IELTS score and help you speak more like a native speaker. Using new words as collocations may help us to boost our vocabulary. Adverb + Adjective collocations are where the words from Adverbs go along with the Adjective words.
The following (adverb + adjective) collocations are taken from the British National Corpus with the help you improve your vocabulary and score higher in IELTS. (Below, "sb' = somebody and 'sth' = something.)
Bitterly + cold, disappointed, divided, hostile, humiliated, hurt. opposed, resented, resentful, upset
Completely  +  acclimatized, alone, different, drained, empty/full, extinguished, immune
(from/to sth), incapable (of sth). incomprehensible, lost, negative, new, open (with sb) (= honest), overlooked, revised, right/wrong, untenable

Deeply + ashamed, attached (to sbtsth) (= strong feeling for), conscious, conservative, depressed, disappointed, disturbed, divided, embedded, embittered, hurt, indebted (to sb), ingrained, in love with, involved, involved (in sth), lamented, meaningful, moving, religious, rutted
Entirely + absent, beneficial, clear, different, false, fitting, free, global, impersonal, loyal, new. obvious, serious, unconvincing, unexpected
Heavily  +  armed, booked, built, censored, criticized, embroiled (with sb/sth). flavored,
guarded, involved (in sth). muscled, polluted, populated, protected, publicized, regulated, represented, scented, soiled, taxed
Hideously + bad, burnt, deformed, disfigured, disfiguring, effective, embarrassing, expensive, injured, lurid, mangled, scarred, swollen, ugly, unhygienic
Highly + commended, contagious, controversial, critical, dependent, developed, educated, enjoyable, flexible, intelligent, mobile, paid, personal, polished, political, popular, publicized, qualified, recommended, regarded, relevant, resistant, respected, significant, skilled, specialized, technical, toxic, trained, unlikely, valued, volatile
Painfully  +  acute, aware, evocative, learned, loud, obvious, self-conscious, sensitive, shy, slow, small, sparse, thin
Perfectly  +  arranged, balanced, capable, fitting (= appropriate), formed, genuine, good.
healthy, normal, placed, proper, rational, reasonable, (all) right, safe, still, straightforward, understandable, valid
Seriously  +  damaged, exposed, hit (= damaged), ill. impaired, rich, threatened,
undermined, wealthy
Totally + abandoned, abused, alien, anaemic, decent, destroyed, different, embarrassed, harmless, homogeneous, honest, impervious (to sth), inadequate, incompetent, integrated, irresistible, logical, new, normal, overpowering, stiff, surprising, unacceptable, unbelievable, undefined, unjustified, wasted
Utterly + abandoned, alone, appalled, careless, dejected, destroyed, devoted (to sb), different, disastrous, fearless, futile, impossible, irresistible, lacking, ruthless, tragic, unacceptable, unattainable, unquestioning, useless, wrecked
Practice Exercise
Read the article below and decide which word (A – C) best fits each space (1 – 10). The exercise begins with an example (0).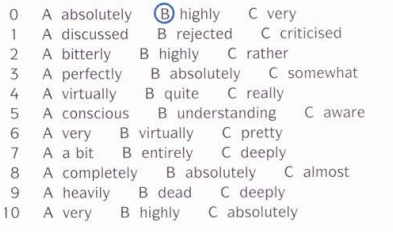 See also: