How to Join IELTS Course?
Haniya A,
Updated On


Limited-Time Offer : Access a FREE 10-Day IELTS Study Plan!
Introduction
Are you ready to take your IELTS journey to the next level? Joining an IELTS course is a great way to boost your preparation and achieve your desired band score. In this comprehensive guide, we will discuss the different types of IELTS courses available, how to choose the right course for you, and how to maximize your learning experience. So, let's get started!
Before delving into the details, let's explore why joining an IELTS course is essential.
Understanding the Importance of an IELTS Course
Designed for non-native English speakers, the IELTS (International English Language Testing System) is a standardized test assessing language proficiency. While it may seem challenging, with proper preparation, reaching your desired band score is attainable.
Joining an IELTS course offers numerous advantages in your preparation journey, such as:
Professional instructors who are well-versed in the IELTS exam can provide valuable insights, techniques, and personalized feedback.
An IELTS course focuses specifically on the exam's format, content, and requirements, ensuring you are thoroughly prepared in all test sections.
Courses offer ample practice materials, mock tests, and simulations to familiarize you with the exam environment and enhance your skills.
Motivation and accountability: 
Being part of a structured course provides the necessary motivation, peer support, and accountability to stay committed throughout your preparation journey.
The Different Ways of Joining IELTS Courses
There are different pathways to join IELTS courses, including in-person classes, online courses, or self-study materials. However, the best way to join an IELTS course depends on your individual needs and preferences.
There are three main ways to join an IELTS course:
Online courses: 
Online IELTS courses have gained popularity due to their flexibility and accessibility. You can join virtual classes and access course materials online from anywhere at your convenience. These courses often include interactive lessons, practice exercises, and opportunities for communication with instructors and fellow students.
In-person courses:
Many language schools and institutions offer in-person IELTS courses where you attend classes physically. These courses typically have fixed schedules, and you will learn in a classroom environment with an instructor and other students.
Self-study: 
This option is for those who want to prepare for the IELTS on their own. These materials, such as textbooks, practice books, online resources, and mobile apps, provide guidance and practice exercises to help you study independently.
If you are looking for a flexible option that you can access from anywhere, an online course may be a good choice. If you prefer to interact with other students and instructors in person, an in-person course may be a better option. And if you are on a budget, self-study may be the best option for you.
Remember to select a reputable course or reliable study materials to ensure effective preparation for the IELTS exam.
How to Choose the Right IELTS Course?
Choosing the right IELTS course can be a daunting task, but it's important to find one that meets your individual needs and goals. Here are some essential factors to consider when choosing the right IELTS course: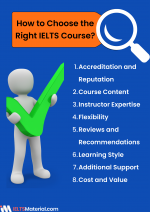 Accreditation and Reputation: 
Choose a course from a reputable institution with a positive reputation in IELTS preparation.
Course Content: 
The course should cover all sections of the IELTS exam and include comprehensive study materials, practice exercises, and sample tests.
Instructor Expertise: 
The instructors should have expertise in teaching IELTS and a thorough understanding of the exam format and requirements.
Flexibility: 
Choose a course that fits your schedule and learning style.
Reviews and Recommendations: 
Read reviews and seek recommendations from previous students or trusted sources.
Learning Style: 
Some people prefer to learn in a classroom setting, while others prefer to learn online. There are also courses that offer a blended learning approach, which combines both online and in-person instruction.
Additional Support:
Choose a course that offers additional support, such as online resources, study materials, or practice tests.
Cost and Value: 
Evaluate the cost of the course and assess its value in terms of the quality of instruction, study materials provided, and additional support offered.
By considering these factors, you can make an informed decision and choose the right IELTS course that will provide you with the skills and confidence to excel in the IELTS exam and achieve your desired band score.
Top IELTS Course Providers
There are many IELTS course providers to choose from, with a range of options to suit different learning styles and budgets. Here are some of the top IELTS course providers to get you started:
Being a great platform for IELTS preparation, IELTSMaterial.com's online classes offer several advantages such as flexible study options, convenient 24/7 access to course materials, and affordability. Besides, IELTSMaterial.com also provides comprehensive IELTS lesson plans suitable for teachers and self-learners, covering all exam aspects with diverse activities and exercises.
A well-respected organization with a variety of IELTS courses, both online and in person. Their courses are designed to help students improve their English language skills in all four areas: listening, reading, writing, and speaking.
They're another reputable provider of IELTS courses, who offer a similar range of courses to the British Council. They also have a strong online presence.
Known as the creator of the IELTS exam, they offer a comprehensive range of resources to help you prepare for the exam. They also offer a few online courses, but their focus is on providing materials for self-study.
Another online platform that offers IELTS courses. They have a variety of courses to choose from, and they also offer a free trial so you can try out their platform before you commit.
Choosing an IELTS course provider
Choosing the right IELTS course provider can make a big difference in your IELTS preparation. By considering your learning style, budget, and needs, you can find a provider that will help you reach your goals. Consider your learning style, budget, and needs to find the best fit. Check the course type (in-person or online) and reputation through reviews or student feedback.
Once you have chosen a provider, you can start preparing for the IELTS exam. The best way to prepare is to practice regularly and to take practice tests.
Summing it up
To sum up, Joining an IELTS course is more than just preparing for the exam. It's a way to unlock your potential and achieve your desired band score. By carefully considering your needs, exploring different course options, and choosing a reputable provider, you can start a journey that will equip you with the skills and confidence required to succeed.
With expert guidance, targeted preparation, and consistent practice, you will be well-prepared to conquer the IELTS exam. So, stay motivated, overcome challenges, and let your IELTS journey transform into an exciting experience that opens up new opportunities for you.
So, What are you waiting for? Start your IELTS course today and open the door to a world of possibilities!
Frequently Asked Questions
How can I start an IELTS course?
To start an IELTS course, begin by researching and selecting a suitable course provider that matches your needs and preferences. Then, follow their enrollment process to officially join the course and kickstart your IELTS journey.
Are the IELTS courses free?
No, IELTS courses usually require a fee as they provide comprehensive study materials and expert guidance. However, there are many free resources available online that can help you prepare for the IELTS exam.
Why is joining an IELTS course important for exam preparation?
Joining an IELTS course is important for exam preparation as it provides expert guidance, targeted practice, and comprehensive study materials to help you achieve your desired band score.
How do I find the right IELTS course?
To find the right IELTS course, consider factors such as accreditation, reputation, course content, flexibility, and instructor expertise, learning style, budget, and conduct thorough research and comparison.
Which is the best way to join an IELTS Course?
The best way to join an IELTS course is to thoroughly research and choose a reputable course provider that best suits your learning style and meets your specific needs.