Creamy Carbonara Pasta and Sauce Mix, Ridgeway College and The Elephant Orchestra | IELTS General Reading Practice Test 4 with Answers
Janice Thompson,
Updated On


Limited-Time Offer : Access a FREE 10-Day IELTS Study Plan!
Reading Passage 1
Creamy Carbonara Pasta and Sauce Mix
Find your Old School Friends
Melt margarine and fry chicken until golden brown. Add milk and water and bring to the boil. Add pasta and sauce and mushrooms and simmer gently, uncovered,for 10 minutes, stirring occasionally. Add snow peas for the last minute.
Microwave directions:
Place chicken into a microwave safe bowl, cover and cook on high for 2 minutes. Add milk, water, pasta, sauce and mushrooms and cook uncovered on high for 10-12 minutes. Stir 2-3 times. Add snow peas for the last minute.
SERVES 2-3
Questions 6-8
Answer the questions using NO MORE THAN THREE WORDS AND/OR NUMBERS.
[6] If you cook this recipe using a microwave oven, ….. which ingredient(s) should you leave out?
[7] For how long should you cook the snow peas?……..
[8] This recipe will make enough food for how many people? ……….
Read the passage below and answer questions 9-13.
Find Your Old School Friends
Find Your Old School Friends is a simple to use website that allows you to find out what your old school friends are doing now.
We have more than 40,000 secondary and Primary schools, Colleges and Universities on our database. More than 8 million people have registered and this number is growing at over 15,000 a day.
To start finding your old friends, you need to complete our registration process. Firstly, we need your first name and surname (when you were at school), your current surname (if it has changed), your nickname at school (optional) and most importantly, the year you left school.
We also need your email address so we can send you a confirmation email when you register. If you do not receive this then please check that you entered your email address correctly. Please choose a password, and write some notes about yourself, such as what you have done since leaving school and what you are doing now. (This section is optional, but is very interesting for both you and your friends, when you find each other on the site).
Once you've registered, you are able to start looking for your old friends, and see what they've been doing since you left school. This service is absolutely free. However, if you wish to contact a friend, there is a small charge to cover administration costs, so click on the contact button and enter your credit card details. Then write your message in the space provided and click 'send'. Your friend will receive the email, from the Find Your Old School Friend address, so if you want your friend to reply, don't forget to include your email address in your message!
If you'd like us to send you our monthly newsletter, our 'feedback' emails containing funny memories and success stories from the site or notification when someone registers to your school, just check the box below.
Enjoy Finding Your Old School Friends
Questions 9 – 13
Complete the flowchart showing the stages in registering on the (FYOSF) Finding Your Old School Friends site.
Write NO MORE THAN ONE WORD FROM THE PHRASE for each space.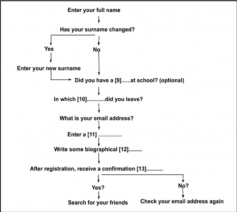 Questions 14-16
Choose one phrase from the list below (A-H) to complete each of the following sentences.
14 The orientation program is intended to…
15 Studies have shown that students who attend the orientation program…
16 As part of the orientation program…
List of phrases
A enjoying the first semester of college with less stress.
B provide a free week for new students to settle into residence.
C are less likely to do well in their courses.
D new students get support from the leaders during the first semester.
Ehelping new students to get to know each other.
F the leaders help new students with enrollment procedures as a team.
G ease the transition to college life for new students.
H tend to be more successful in their studies.
Questions 17-20
Do the following statements agree with the information in the passage?Write:
YES if the answer to the question is "yes'
NO if the answer to the question is 'no'
NOT GIVEN if the information is not given in the passage
17 I won't be able to arrive until Thursday. Is it too late to sign up for the Orientation Program at that time?
18 I want to sign up for the Residence Orientation Program. Do I have to register separately for the Campus Orientation?
19 My residence doesn't have a meal plan. Are any meals provided during Orientation Week?
20 I will be living in the new Residence Tower. Do these rooms have kitchens?
Read the passage below and answer Questions 21-26
Ridgeway College
Residence Student Telephone Services
Voice mail: How to use the 'mailbox' service
Welcome to voicemail! This guide includes instructions for setting up your voice mailbox and for using its many convenient features.
If you're just getting started, read the features below, then follow the step-by-step procedure to register online. Once this process is complete callers can leave messages for you and your roommates and you can get any messages left for you.
Features of mailbox service
FORWARDING: Your mailbox allows two types of greetings
You can record a personal greeting up to 45 seconds in length which callers hear when forwarded to your mailbox.
You can override this personal greeting (without erasing it) by using a temporary "extended absence greeting" and later you can return to your original meeting.
MESSAGE STORAGE: Your mailbox has these message storage capabilities.
You may have upto 15 messages in your mailbox at one time
Each message can be upto two [2] minutes in length.
Unless you delete them, messages are stored for 24 days from the day they were received.
OTHER FEATURES: Your mailbox also has other capabilities.
Distribution lists: You can create up to 5 distribution lists with up to 25 voice mail users. This can be used to send messages to an entire group of users at one time.
Guest mailboxes – You can create up to three guest mailboxes that allow you to leave messages in a special location of your own mailbox. Your messages can be retrieved by someone who is not a voice mail subscriber.
Questions 21-26
Read the Student Telephone Services information and complete the summary below usingNO MORE THAN TWO WORDS FROM THE PASSAGE for each space.
Before you can receive phone messages you must follow the steps to 21———————–.
After four rings, calls will be 22……. to your mailbox.
The 23___________________message which you record can be up to 45 seconds long.
Messages are kept for 24 days or until you 24 …………………
You can make up a number of 25 _____________________ to notify groups of voice mail users about club meetings or parties.
There is also a special location in your mailbox where you can leave a message to be 26 ____________by a friend from outside the residence.
Reading Passage 3
Read the passage below and answer the questions that follow
The Elephant Orchestra
In Thailand, elephants are revered as a national symbol, but even there, the survival of great mammals is at risk. A century ago, more than 100,000 elephants worked in the Thai timber industry or roamed the forests. Today the number of elephants in captivity is just 2,500 and there are even fewer in the wild. Illegal hunting has taken a toll. Deforestation and the banning of logging have removed the elephants' chief source of employment.
Recently, on the site of a former government logging camp, the Thai elephant conservation centre has been established. It is home to more than one hundred elephants retrenched from the logging industry. An American elephant specialist and his team have come up with an ingenious career alternative for these redundant employees. A select group of the centre's residents have been chosen to play in the world's first elephant orchestra. The project was initiated to create income for the operation of the Elephant Conservation centre.
The orchestra currently has twelve members, selected for their musical aptitude and motivation. They are aged seven to eighteen and play a variety of percussion and wind instruments in the Thai tradition – rentals which look like xylophones, slit drums, harmonicas, a bow bass, a gong and a thundersheet. The instruments are 'elephant sized' and specially designed to be played with trunks. Early in the project the organisers were unsure how the elephants would respond to musical training. Then one morning they were awakened to the sound of harmonicas.The elephants had picked up the instruments on their own and were wandering through the forest playing enthusiastically.
Making music comes naturally to elephants. They have huge brains and are highly sociable creatures. Their hearing is much better than their sight and they use a wide range of vocalisations.In performance, they stand in a line and prompted by the trainers, play their instruments. A strong sense of rhythm is evident as they flap their ears to the beat, swish their tails and generally rock back and forth. Some add to the melody with their own trumpeting. As the conductor paces up and down orchestrating proceedings, a trunk can sometimes be seen imitating the movement of his arm.
The elephants aren't forced to learn complex patterns, so playing the instruments is quite easy. Commands are given only to indicate when to start and when to stop. The rest of the time, the players have the time to improvise. According to the trainers, the elephants love their work. The modest plan initially was to teach the elephants just to hit the instruments and then overdub those sounds with other music. But after only five practice sessions, a decision was made to record the performances intact with just the human noises removed. The players improvise distinct metres and melodies, then vary and repeat them.The resulting music is meditative, deliberate and delicate and it is real elephant music. Western listeners often describe it as 'haunting'. To some ears it may seem monotonous but anyone not knowing they were listening to elephant music would assume that humans were playing.The first CD, classical in style, has sold well, so soon there will be a pop techno and country versions in production.
Playing music is not the only creative form of activity the elephants of the centre engage in. For several years now, a number of residents have been painting. They use acrylic paints on large canvases and have a preference for broad strokes and bold colours. Last year, elephant paintings helped raise over $25,000 at charity auctions internationally. These art sales together with profits from the CD are helping to fund the centre's operations. The proceeds go towards an orphanage, hospital and mobile veterinary clinic for elephants and to support the training school.
Animal rights' advocates might object to these non-traditional occupations for elephants. But, Thai elephants have always had to work for a living. If they weren't playing music or painting pictures, they would be dragging logs or carrying tourists.Given those choices, playing music and painting are not such bad options.
Questions 27-32
The passage The Elephant Orchestra' has paragraphs labelled (A-G).In which paragraph can the following information be found? Use only ONE letter for each answer.
Note: You may use each letter more than once.
27 Description of the type of music produced by the elephants…………………..
28 Details of how the income generated is used…………………..
29 Description of the musical instruments…………………..
30 Forthcoming projects for the orchestra…………………..
31 Situation of elephants in Thailand…………………..
32 How the orchestra got started…………………..
Questions 33 – 37
Complete the summary. Choose your answers from the list below.
Note: There are more words than spaces so you will not use them all. You may use any word more than once.
In order to raise funds for the Thai Elephant Centre a number of creative 33___________________have been developed, including the first Elephant Orchestra. The elephants play a variety of instruments and their 34———————–are being sold to 35________________income. These intelligent animals also produce paintings, which have been sold at international auctions. The 36——————support an orphanage, hospital and 37————— facility.
List of Words
painting projected
music initiatives
occupation proceeds
production generate
recordings training
Question 38
Choose the correct letter A-D.
38 What is the main idea of this passage?
A Elephants can be trained to do unusual tricks.
B Creative projects can help to save endangered species.
C Elephants have large brains.
D Intelligent animals should not be forced to work.
Complete the sentences below with the words from the paragraph.
39 Making music comes ………….. to elephants.
40 Animal rights' advocates might object to these ……………………. for elephants.
Answer Key
Reading Passage 1
| | |
| --- | --- |
| 1 | Italy |
| 2 | (in a) saucepan |
| 3 | 3 |
| 4 | 4 |
| 5 | No |
| 6 | butter / margarine |
| 7 | 1 minute |
| 8 | 2-3 |
| 9 | nickname |
| 10 | year |
| 11 | password |
| 12 | notes |
| 13 | Email |
Reading Passage 2
| | |
| --- | --- |
| 14 | G |
| 15 | H |
| 16 | D |
| 17 | Not Given |
| 18 | No |
| 19 | Yes |
| 20 | No |
| 21 | register (online) |
| 22 | forwarded |
| 23 | personal greeting |
| 24 | delete them |
| 25 | distribution lists |
| 26 | Retrieved |
Reading Passage 3
| | |
| --- | --- |
| 27 | E |
| 28 | F |
| 29 | C |
| 30 | E |
| 31 | A |
| 32 | B |
| 33 | initiatives |
| 34 | recordings |
| 35 | generate |
| 36 | proceeds |
| 37 | training |
| 38 | B |
| 39 | naturally |
| 40 | non-traditional occupations |