Information for students at the Language and Culture Center and Business Planning | IELTS General Reading Practice Test 9 with Answers
Courtney Miller,
Updated On


Limited-Time Offer : Access a FREE 10-Day IELTS Study Plan!
The IELTS General Training Reading will give you 60 minutes to complete 3 sections where the question subject will be everyday/ general topics.
Section 1
There are 5 advertisements A-E on the next page.
Answer the questions below by writing the letters of the appropriate advertisements in boxes 1-6 on your answer sheet.
1 Which advertisement is not for a restaurant?
2 Which TWO advertisements offer facilities for parties?
3 Which restaurant states that it serves breakfast?
4 Which restaurant will give you an extra serving if you present the coupon?
5 Which restaurant does not offer a takeaway service?
6 Which restaurant will bring the food you order to your house?
A
Buy a Burger
Get the same one
FREE!
You are invited to enjoy a special treat at Jaspar's Macquarie Plaza. Simply present this coupon with your next order and when you purchase the burger of your choice it will be our pleasure to give you another burger of the same variety absolutely FREE! Valid only at Macquarie and ONE voucher per customer per day.
Jaspar's Macquarie Plaza
North Richmond
Expires 9th May 1997. Cannot be used with any other Jaspar's offer.
Eat-in or Takeaway
Level 3, next to the cinema complex.
B
TRELLINIS
RESTAURANT
Fine Italian Food
B.Y.O Eat-In – Takeaway
OPEN Lunch – Dinner
Now: Better Menu – Food – Service Superb
Winter Dishes and Dessert
Perfect for Parties
Separate party rooms and choice of set menu available.
For 10-80 people and value for $$$
Ph: 271 8600
12 Oxford St. EPPING
Opp. PO. Ample parking
C
BYO 693 2258
No Corkage 693 2260
and licensed
Indian Flavour
DINNER 7 NIGHTS
10% discount on takeaways.
Free home delivery (local areas only).
Banquet – only $16.50 per person
Separate party' room (up to 90 people)
63-65 John Street, RYDE
D
writers cafe
Dante Trattoria, Shop 4, Spring Centre,
Soldier's Road, Neutral Bay. Ph: 953 1212
OPEN: 8 am-midnight
CUISINE: Italian influence, menu changes every four months. Breakfast includes toast, pancakes, smoked salmon, scrambled eggs, gourmet sausages and fruit; light meals and lunch menu includes pasta, salad, crepes, seafood, soups, focaccia, burgers, desserts.
PRICES: Breakfast $4.50 – $8.90 Lunch $6.90-513.90
ATMOSPHERE: Relaxed and quiet. Patronscan dine inside or out.
CREDIT CARDS: Yes
E
VEGETARIAN
COOKING CLASSES
Are you looking for some healthy alternatives to your menu? Join our creative and nutritious three-week program conducted by qualified professionals, including delicious tastings and demonstrations.
Starting Wednesday, May 10 at 7.15 pm.
Centre for Health Management
SYDNEY DAY HOSPITAL
BOOK NOW 748 9696
Questions 7 – 12
The following text is a series of general instructions for using a microwave oven. Part of each instruction is underlined. In boxes 7-12 on your answer sheet write:
E if the underlined section gives an EXAMPLE of the instruction
R if the underlined section gives a REASON for the instruction
CP if the underlined section is a CORRECT PROCEDURE.
GENERAL INSTRUCTIONS FOR THE USE OF YOUR MICROWAVE
Example Answer
Do not boil eggs in their shell (unless otherwise stated).
Pressure will build up and the eggs will explode R
7 Whilst heating liquids which contain air (e.g. milk or milk-based fluids), stir several times during heating to avoid spillage of the liquid from the container.
8 Potatoes, apples, egg yolks, whole squash and sausages are all foods with non-porous skins. This type of food must be pierced before cooking, to prevent bursting.
9 Do not dry clothes or other materials in the oven. They may catch on fire.
10 Do not cook food directly on a glass oven tray unless indicated in recipes. Food should be placed in a suitable cooking utensil.
11 Do not hit the control panel. Damage to controls may occur.
12 Clean the oven, the door and the seals with water and a mild detergent at regular intervals. Never use an abrasive cleaner that may scratch the surfaces around the door.
Questions 13 – 20
Read the "Guided Walks and Nature Activities" information below, and answer Questions 13-20.
Kuringai Chase National Park
Guided Walks and Nature Activities
SUNDAY MAY 7
EASY
Early Morning Stroll in Upper Lane Cove Valley
Meet at 7.30 am at the end of Day Rd, Cheltenham while the bush is alive with birdsong.
Round trip: 4 hours
FRIDAY MAY 12
MEDIUM
Possum Prowl
Meet at 7.30 pm at Seaforth Oval car park. Enjoy the peace of the bush at night. Lovely water views. Bring a torch and wear non-slip shoes as some rock clambering is involved. Coffee and biscuits supplied.
Duration: 2 hours
SUNDAY JUNE 4
HARD
Beirne / Basin Track
Meet at 9.30 am Track #8, West Head Road. Magnificent Pittwater views. Visit Beechwood cottage. Bring lunch and drink. Some steep sections. Reasonable fitness required.
Duration: approx. 6 hours.
FRIDAY JUNE 16
EASY
Poetry around a mid-winter campfire
Meet at 7.00 pm Kalkaari Visitor Centre. Share your favourite poem or one of your own with a group around a gently crackling fire. Billy tea and damper to follow. Dress up warmly. Bring a mug and a rug (or a chair).
Cost $4.00 per person.
Duration: 2.5 hours
SUNDAY JUNE 25
EASY
Morning Walk at Mitchell Park
Meet 8.30 am at the entrance to Mitchell Park, Mitchell Park Rd, Cattai for a pleasant walk wandering through the rainforest, river flats and dry forest to swampland. Binoculars is a must bring as many birds to live here. Finish with morning tea.
Duration: 3 hours.
GRADING
EASY suitable for ALL fitness levels
MEDIUM for those who PERIODICALLY exercise
HARD only if you REGULARLY exercise
Questions 13 – 20
Below is a chart containing some of the Kuringai Chase Park Nature Activities. Fill in the blanks using information from the brochure "Guided Walks and Nature Activities". Write NO MORE THAN THREE WORDS in boxes 13-20 on your answer sheet.
Activity
What to bring/wear
What is supplied
Chief Attraction
Early Morning Stroll

13

Morning Walk

14

Varied Landscape, Birds
Poetry
Warm clothes, mug, rug/chair, a poem

15

16

17

18

19

Coffee, biscuits
Peace,

20
Also check :
Section 2
Here and on the next page are several passages giving information for overseas students at the Language and Culture Center in Houston in the USA.
Information for students at the Language and Culture Center
Student Information
Campus Activities
LCC students can enjoy many sports at the university. You will find tennis and handball courts, gymnasiums, and indoor and outdoor swimming pools. At the University Center (UC), you can play pool or table tennis. LCC student teams compete in university intramural sports. The LCC has one of the best soccer teams on campus! Please sign up and play.
You can also see films and plays, attend lectures, and go to concerts on campus. There are many international clubs where you can meet other students from your home country.
Emergencies
Weather Emergency
If the University of Houston closes because of emergency weather conditions, the LCC will also close. In the event of an emergency, all LCC students are advised to listen to major radio or television stations for announcements regarding cancellation of classes or the closing of the campus.
Teacher Emergency
Always wait in the classroom for 15 minutes for your teacher. If the teacher does not come after 15 minutes, you may leave. Please go to your next scheduled class on time.
Withdrawing from the LCC
You may withdraw from the LCC if you have a medical emergency, a family emergency, or if you wish to return to your home country. If you withdraw for one of these reasons, you may receive a partial refund of your tuition. The LCC cannot refund your application fee, contract fee, insurance fee, or late registration fee.
A tuition refund must be approved by the director and will be given according to the following schedule:
| | |
| --- | --- |
| Time of Withdrawal | Amount of Refund |
| Registration week | 90% |
| The first week of class | 75% |
| Second week of class | 50% |
| Third week and after | No refund |
Health Care
If you are ill, see a doctor at the University Health Center first. LCC students can visit a doctor at the Health Center. Medicines are available through the pharmacy. You should use the Health Center as often as you need to. The Health Center is located behind the Student Service Center.
For some health problems, you may need to see an outside doctor. The Health Center can help you find one. There are many clinics in Houston for minor emergencies. Some of them are open 24 hours a day. For big emergencies, there are good hospitals in Houston.
All LCC students must have health insurance. You must buy health insurance through the LCC unless you have proof of another health insurance plan or financial responsibility for at least $50,000.
LCC policies
Attendance and Academic Progress
The best way to learn English is to come to class regularly and to do your homework. If you miss several days of classes, for any reason, you cannot keep up with the other students. The Language and Culture Center is a serious academic program in intensive English and wants all of its students to succeed. Therefore, students are expected to attend all classes regularly, do all classroom assignments, meet all class requirements, and make academic progress. Students who do not meet these standards may be placed on academic probation. Students placed on academic probation will meet with their teacher(s) and with either or both the associate director and foreign student advisor. Students will be informed in writing of the terms and length of their probation.
Students who have 30 hours of absences are in danger of being placed on academic probation. Students failing to meet the terms of their probation will be terminated from the LCC for the remainder of the semester. This will also likely result in the loss of student status with the US Immigration and Naturalization Service.
Students who have 50 hours of absences will not receive a Certificate of Successful Completion and will be terminated from the program.
If a student is absent for ten consecutive days with no explanation, the student will be terminated automatically from the program.
Questions 21 – 27
Complete the sentences below with words taken from "Information for Students at the Language and Culture Center" on the previous pages. Use NO MORE THAN THREE WORDS for each answer. Write your answers in boxes 14-20 on your answer sheet.
21 In the UC students can play __________ or _______________
22 You can meet students from your own country at ____________
23 You should go first to the ________________ if you are sick.
24 ________________ must be held by every student.
25 Cancellation of classes due to ________________ is announced on radio and television.
26 If your teacher is late you should wait for________________
27 If you withdraw in the second week of classes you may receive_______________ of your tuition fees.
Questions 28 – 34
Complete the following flow-charts of actions and their consequences by choosing the appropriate consequence from the list in the box, and writing its letter in boxes 21-27 on your answer sheet.
N.B. You may use any consequence more than once.
A terminated from the program
B may lose student status with US Immigration and Naturalization Service
C receives advice and counselling
D may be put on academic probation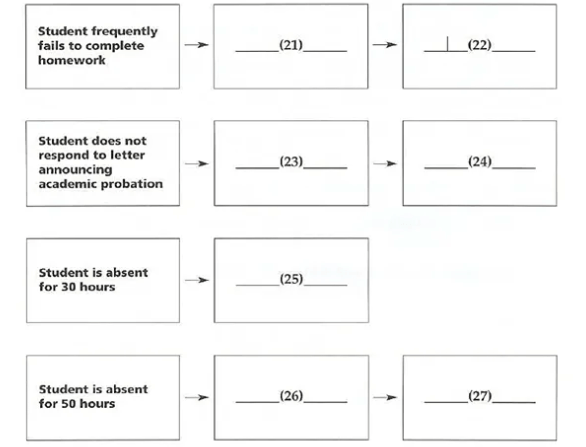 Section 3
Read the passage below and answer Questions 28-40 that follow.
Business Planning
What is a Business plan?
It is probably best described as a summary and evaluation of your business idea, in writing.
Preparation of a business plan is the first and most important task for the business starter. The plan should include details concerning the industry in which you operate, your product or service, marketing, production, personnel and financial strategies.
What purpose does it serve?
A business plan allows you to think through all the factors of a business, and to solve potential problems before you come to them. It will identify strengths and weaknesses and help to assess whether the business can succeed. It is a blueprint for starting, maintaining or expanding a business. It is a working plan to use in comparing your achievements to the goals you set. It should provide the information required by financial institutions when finance is sought.
How to produce a Business plan
Step 1: Collect Information
Gather as much relevant information as possible concerning the industry in which you intend to operate (the number of businesses already operating, the size of their operations, where they are located). Use books, industry associations, and existing business owners to help you.
Collect all possible information regarding the market/s you are aiming for (who buys, why do they buy, what are the key features the customer looks for).
Learn all you can about the product/s or services you intend to produce, distribute or offer.
Step 2: Analysis
Read over all the material you have collected and decided what is relevant to your business idea. You may have to modify your idea depending on what your research shows. The key question to ask is:
"Can you design a business that will earn enough to cover costs and pay a wage and reasonable profit to you as a proprietor?"
When Steps 1 and 2 are completed, you should have decided if there is a market for your product or service which is large enough and sufficiently accessible to make your new business financially worthwhile. Now you are ready to commit your plan to paper.
Step 3: Strategy Formulation
Decide how the business will operate. You should describe how the business will be managed, and the staff and organisational structure that will be in place. Diagrams may be useful to show how these areas will work. Don't forget to include the areas of responsibility for each member of staff. This is especially important if some of your staff will be family members.
There are three further parts that go together to make a comprehensive business plan:
A Marketing plan, which includes location, method of selling, packaging, pricing and so on. In all these areas you must be aware of consumer trends to make sure that your business does not become outdated or irrelevant.
An Operational plan, which describes the day-to-day running of the business. You should include supply sources, cost and quantities of materials, processes, equipment and methods of extending the services or products offered.
A Financial plan, which is a master budget for the operation and includes:
– cash flow forecast
– balance sheet
– profit and loss statement
– sources of finance
– sales forecast and target.
The financial aspects of the plan are most important and you should develop or access financial skills to make sure this part of your plan is accurate and realistic. Don't forget set-up costs and the money needed to see you through an initial period of low cash flow when calculating your first year's budget.
Update your Business plan
Nothing remains constant in business; circumstances change, markets change, fashions change, methods change.
From time to time you must check your sources of information and reassess your business plan. What is relevant when you start is not necessarily so in five years' time. You may also need to revise targets and budgets if external factors (such as interest rates) vary.
Keep your information up-to-date and be prepared to change as circumstances demand. A business plan should be thought of as flexible, not fixed. If you use these steps to develop a business plan, changing it according to circumstances, you will be well on the way to a successful business.
Questions 35 – 41
Do the following statements agree with the views of the writer in the passage "Business Planning?"
In boxes 35-41 on your answer sheet write
YES if the statement agrees with the writer
NO if the statement does not agree with the writer
NOT GIVEN if there is no information about this in the passage
35 A business plan must be written down.
36 Creating a business plan is only necessary for a new business.
37 A business plan should include a diagram of your proposed office or shop layout.
38 A business should generate enough money to pay salaries and some profit to the owner.
39 The roles of family members in the business must be clearly defined in the business plan.
40 You should expect not to earn much money in the first year.
Answer Key
Section 1
1
E
2
B & C
3
D
4
A
5
D
6
C
7
R
8
E
9
R

| | |
| --- | --- |
| 10 | CP |
| 11 | R |
| 12 | CP |
| 13 | birdsong |
| 14 | binoculars |
| 15 | (billy) tea |
| 16 | damper |
| 17 | Possum Prowl |
| 18 | torch |
| 19 | non-slip shoes |
| 20 | (lovely) (water) views |
Section 2
| | |
| --- | --- |
| 21 | pool, table tennis (must have both answers) |
| 22 | international clubs |
| 23 | University Health Center |
| 24 | Health Insurance |
| 25 | (weather) emergency / emergency weather conditions |
| 26 | 15 minutes |
| 27 | 50% |
| 28 | D |
| 29 | C |
| 30 | A |
| 31 | B |
| 32 | D |
| 33 | A |
| 34 | B |
Section 3
| | |
| --- | --- |
| 35 | YES |
| 36 | NO |
| 37 | NOT GIVEN (even though the plan is comprehensive, it cannot be argued that by implication the answer would be NO) |
| 38 | YES ("the key question to ask") |
| 39 | YES |
| 40 | YES |