IELTS Marking Scheme 2023 – Complete Overview
Courtney Miller,
Updated On
Learn how to maximize your IELTS score by understanding the latest IELTS marking scheme and planning your test strategy accordingly.
Results for the IELTS are given on a 9-band scale. The results are intended to be straightforward and easy to interpret. The results are given in band scores ranging between 1 and 9, with 1 being the lowest and 9 the highest. The same scoring system is used for both IELTS test types – Academic and General.
You will benefit from understanding the IELTS marking scheme and evaluation criterion, which provide clear signs of English proficiency and assist in understanding the IELTS band scores. For further reading to improve your IELTS performance, take a look at How to prepare for IELTS?
The IELTS band scale is illustrated below.
IELTS Band
Skill Level
Interpretation
9
Expert user

fully operational command of the language.
use of English is appropriate, accurate and fluent
shows complete understanding.

8
Very good user

fully operational command of the language with only occasional unsystematic inaccuracies and inappropriate usage.
may misunderstand some things in unfamiliar situations.
handle complex and detailed argumentation well.

7
Good user

operational command of the language, though with occasional inaccuracies, inappropriate usage and misunderstandings in some situations.
generally handle complex language well and understand detailed reasoning.

6
Competent user

effective command of the language despite some inaccuracies, inappropriate usage and misunderstandings.
can use and understand fairly complex language, particularly in familiar situations.

5
Modest user

partial command of the language and copes with overall meaning in most situations, although they are likely to make many mistakes.
should be able to handle basic communication in their own field.

4
Limited user

basic competence is limited to familiar situations.
frequently show problems in understanding and expression.
not able to use complex language.
For further insight into IELTS bands, check out IELTS Band Scores Explained | How does IELTS Scoring Work?
What is the IELTS Marking Scheme for 2023?
When scoring IELTS tests, examiners employ specific performance indicators and consider a test taker's proficiency in –
task response
coherence and cohesion
lexical resource
grammatical range and accuracy.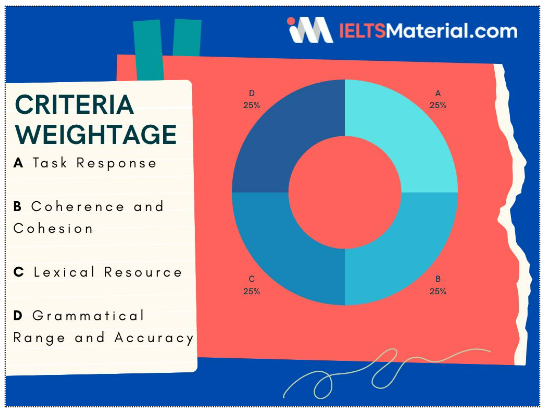 Your prospects of passing the IELTS exam can be hindered if you don't understand the topic or don't respond in accordance with the established guidelines.
Let us consider each of these one by one.
Task Response
In the IELTS, task response refers to thoroughly reading the provided text and question, followed by composing an answer that stays on topic. It tests the student's ability to respond to the question in its entirety and the quality of the thoughts they produce to back up their response. Good task response is a condition where all of the task-related requirements are fully satisfied. These objectives may include word counts, time limits, and content specifications.
Coherence and Cohesion
Coherence is predicated on the reasoning of the ideas and how they have been presented. Meanwhile, cohesion describes the path of connection between phrases or distinct clauses within a sentence so that the flow of ideas is easy to follow and clear. To achieve a high band score for coherence and cohesion, you must pay special attention to the following factors:
Organisation of content
Progression of ideas
Use of cohesive devices
References
Paragraph structure
Lexical Resource
Lexical Resource is language vocabulary, to put it simply. Developing your vocabulary for the IELTS test is essential. It's crucial to keep in mind that examiners do not want you to always use uncommon, complex, or flowery language. Instead, choose words that are closely related to and relevant to the subject instead.
Grammatical Range and Accuracy
Grammatical accuracy is the capacity to employ accurate grammar in a sensible way. Mistakes that interfere with communication are viewed as being more serious and can cause you to lose points.
Grammatical Range is the ability to convey intended meaning by utilising a range of sentence patterns, tenses, and other language elements.
To achieve a high score in this criterion, you must create sentences that are completely free of grammatical errors. A good variety of structures must also be evident to the examiner.
You can utilize the assessment criteria guidelines to
assist you in marking your responses to practice tests and questions.
improve your spoken English.
comprehend the key distinctions between band scores and understand the requirements to attain your goal band score.
Conclusion
You must have a good grasp of the IELTS marking scheme for insights into obtaining an expert English user IELTS band. The IELTS marking scheme indicates to students why they have obtained certain scores for their efforts and what they can do to improve in the future.
To promote transparency in the assessment process and prepare students to evaluate their own work, clear and precise assessment criteria are used. This also facilitates deep learning and the growth of self-judgement skills. Get started on your IELTS journey by signing up at IELTSMaterial.com!