Improve IELTS Reading: Strategies, Tips, and Techniques for Success
Raajdeep Saha,
Updated On


Limited-Time Offer : Access a FREE 10-Day IELTS Study Plan!
The IELTS reading section holds significant weight in determining your language proficiency as a non-native English speaker. Excelling in this portion of the exam requires a solid understanding of the test structure and adeptness in navigating various question types.
In this blog, we will delve into effective strategies, techniques, and tips to improve IELTS reading skills. By implementing these recommendations, you will be equipped to comprehend complex texts, manage your time efficiently, and excel in the IELTS reading test.
Top 10 Strategies to Improve IELTS Reading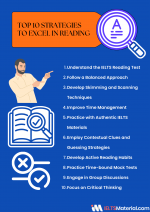 The strategies mentioned underneath will not only help you improve your IELTS reading skills but will also give you deep insights into every technique so that you can incorporate it into your style of learning.
1. Understand the IELTS Reading Test
To improve the IELTS reading section overall, it is crucial to have a clear understanding of its structure and requirements. The test consists of three sections, each containing a different type of text, such as informational articles, advertisements, or opinion pieces. Familiarize yourself with the different question types, including multiple-choice, matching headings, sentence completion, and True/False/Not Given. Understanding the format and expectations will help you approach the test with confidence.
2. Follow a Balanced Approach
While it's important to focus on improving specific skills and strategies, it's equally crucial to maintain a balanced approach. Dedicate time to each aspect of the IELTS reading section, such as vocabulary building, practice tests, and analyzing your performance. By addressing all areas, you ensure a well-rounded development of your reading abilities, leading to an overall improvement in your IELTS score.
3. Develop Skimming and Scanning Techniques
Improve IELTS reading with 'Skimming and scanning' as they are two invaluable skills for efficient reading in the IELTS test. Skimming involves quickly glancing through a passage to gain a general understanding of its main ideas. Practice skimming by reading newspaper headlines or book summaries, paying attention to the main points without focusing on every detail.
Scanning, on the other hand, entails swiftly searching for specific information, such as keywords or numbers, in the text. Both of these techniques will enable you to improve your IELTS reading skills effectively and fast.
4. Improve Time Management
Time management is crucial to improve in the IELTS reading section, as you have limited time to read the passages and answer the questions. Start by practicing timed reading exercises to build your speed. Allocate a specific amount of time to each passage and question set. If you struggle with time, consider leaving the most difficult questions for later and focusing on the ones you can answer quickly. Practicing under time constraints will help you develop a sense of pace and maintain a steady rhythm throughout the test.
5. Practice with Authentic IELTS Materials
To become familiar with the style and difficulty level of IELTS reading passages, it is essential to practice with authentic materials. Use official IELTS practice tests and past papers to simulate the exam environment. Pay attention to the types of questions and the way they are phrased. Practice regularly to sharpen your comprehension skills and get accustomed to the time pressure. Additionally, seek feedback from a teacher or an experienced IELTS tutor to identify areas for improvement.
6. Employ Contextual Clues and Guessing Strategies
Sometimes, the answer to a question may not be explicitly stated in the passage. In such cases, employ contextual clues and educated guessing strategies. Use the information provided in the surrounding sentences to infer the answer. Pay attention to synonyms, antonyms, or paraphrasing used in the passage. Eliminate incorrect options based on logic and deduction. These techniques will help you make educated guesses and increase your chances of selecting the correct answer.
7. Develop Active Reading Habits
Active reading involves engaging with the text actively rather than passively scanning through it. Develop the habit of highlighting key information, underlining important details, and making brief notes while reading. This will help you stay focused, retain information better, and quickly locate relevant details when answering questions. Additionally, actively summarizing each paragraph or section in your own words can enhance your comprehension and retention of the passage.
8. Practice Time-bound Mock Tests
To simulate the real IELTS reading test conditions, practice with timed mock tests. Set a strict time limit for each passage and the corresponding questions. This exercise will help you get accustomed to the time pressure and improve your ability to manage time effectively during the actual exam. Additionally, reviewing your performance after each mock test will allow you to identify weak areas and focus your efforts on specific skills or question types that require further attention.
9. Engage in Group Discussions
Collaborative learning can be a powerful tool for improving IELTS reading skills. Form a study group with fellow IELTS aspirants and engage in discussions about different reading passages. Share your interpretations, debate ideas, and exchange strategies. This dynamic interaction helps gain fresh perspectives, improve comprehension, and enhance critical thinking skills.
10. Focus on Critical Thinking
Developing critical thinking skills can significantly enhance your performance in the IELTS reading section. Go beyond merely understanding the text and strive to analyze, evaluate, and draw conclusions from the information presented. This includes identifying biases, recognizing the author's intent, and evaluating the validity of arguments. Engaging in critical thinking exercises outside of IELTS preparation will sharpen this essential skill.
The Reading Tactic: A Fitting Conclusion to Flourish Seamlessly
Improve IELTS reading skills by practicing regularly with authentic materials, employing effective strategies such as skimming and scanning, and analyzing question types for better performance.
Remember to seek feedback, and maintain a positive mindset. With determination and perseverance, success in the IELTS reading test, whether it be the General section or the Academic, everything is well within your reach.
You can also check out our IELTS Reading book to improve your understanding of the reading component.