Common Mistakes to Avoid in the IELTS Speaking Test
Janice Thompson,
Updated On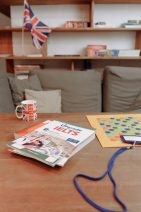 The IELTS speaking test assesses your ability to communicate effectively in English and your basic command of the language. When you have to move abroad to study and live in student accommodation, it is important for you to know the language, focus on expressing yourself clearly, use a range of vocabulary and grammar, and maintain a natural conversation flow.
The speaking test is taken by a professional teacher and speaker, who guides you through the test by asking you basic questions about yourself, your work, any interesting experiences you may have had, your willingness to move or study abroad, and why you are taking the IELTS test.
It is very normal to make mistakes during a test or an interview, but here are some common mistakes you should avoid during the IELTS speaking test –
Long, Rambling Answers: While it's important to provide thorough answers, avoid going off-topic or providing overly lengthy responses. This can deviate you from your original answer, and you may end up waiting time. Try to stick to the question asked and provide only relevant information.
One-Word Answers: On the other hand, avoid giving very short responses that don't demonstrate your language skills. The test taker is looking to hear from you and assess your speaking skills, and saying one or two words is counterproductive. Expand your answers with relevant details and examples.
Lack of Clarity: Speak clearly and at a moderate pace. It is okay for you to take some time to think of an answer, but it is important to answer diligently and keep it relevant. Avoid mumbling or speaking too quickly, as this can make it difficult for the examiner to understand you.
Overusing Fillers: Excessive use of fillers like "uh," "um," and "you know" can make you appear less confident and hinder the flow of your speech. Practice reducing these in your everyday speech, and more than that, try to notice or realise when and how you are using the fillers so you can actively work on replacing them with natural pauses or words.
Repeating the Question: While a small amount of repetition is natural, avoid repeating the question word-for-word as your response. This is a very common practice and the test taker can easily catch you on that, which may result in lesser marks! Instead, rephrase the question to demonstrate your language skills.
Ignoring Grammar and Pronunciation: Aim to use correct grammar and pronunciation to showcase your language abilities. Don't sacrifice accuracy for speed.
False Fluency: Using overly complex vocabulary or structures you're not comfortable with can backfire if you make mistakes. Stick to what you're confident with and how you generally speak. If you are not aware of the meanings behind certain words, do not use them.
Not Managing Time: In Part 1, each question should take about 1-2 minutes. In Part 2, manage your time wisely to cover all points of the task.
Ignoring Nonverbal Communication: Your body language and facial expressions are also part of communication. Maintain eye contact and use gestures naturally.
Overthinking: Don't stress over minor errors; to err is human. Keep the flow of conversation going, and don't let a mistake derail your entire response. Nervousness is natural, but overthinking and excessive anxiety can affect your performance.
Not Seeking Clarification: If you don't understand a question, politely ask the examiner to repeat or rephrase it. It's better to seek clarification than to provide an irrelevant answer.
Monotone Speech: Vary your tone, pitch, and intonation to make your speech engaging. Monotone speaking can make you come across as uninterested or lacking enthusiasm.
Not Using Examples: Adding examples to your responses can make them more vivid and convincing. Try to add as many relevant examples as you can as it show your involvement in the test, and provide specific instances to support your points.
Amber and you- AmberStudent is an online student accommodation that helps you secure a home of choice on your study abroad journey. Having served 80 million students (and counting), AmberStudent is your one-stop shop for all your accommodation needs, with great choices for student housing in Australia and UK Accommodation. Amber helps with assistance, booking, and price match guarantees! Check out their Facebook and Instagram and stay connected!