How to Do IELTS Writing Task 1 With Only One Chart?
Justin,
Updated On
The chart below gives information about" Istanbul Promo plus "sales in 2007. Summarize the information by selecting and reporting the main features, and make comparisons where relevant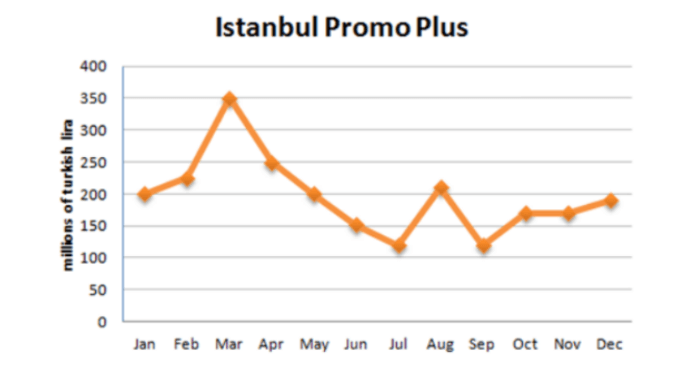 Writing task 1 of the IELTS Academic Writing test is always report writing. Task 1 asks you to write a report in at least 150 words in response to a bar graph, pie chart, line graph, maps, process, or any diagram that is given in the question within a time frame of 20 minutes. Your ability to use correct vocabulary, present the key information, compare and contrast data, and present the logical flow of the graph all contributes to achieving a high band score in IELTS Academic Writing task 1. 
There are two types of charts that you can encounter. In the first type of question, you get only one diagram, and it can be a pie chart, line graph or bar graph, etc. In another type of question, you can get two diagrams that can be the same or of two different types. So, for example, it can be one pie chart and one bar graph, or it can be two or three bar graphs and so on. 
1. Read instructions and form an introduction.
The first step in completing IELTS Writing task 1 with just one chart is to read the question and instructions carefully. There are often brief details about the task written alongside the chart. It is necessary to read the instructions and questions carefully because it can assist you in writing an effective introduction. After that, you can simply paraphrase the question statement and use all other additional detail written in the diagram. For example, for the line graph given above, examine the map heading, x-axis, and y-axis before writing instructions.
2. Find the main features of the diagram by analysing it.
You should thoroughly examine the map after writing the introduction and check for key details. In IELTS writing task 1, the most critical things to mention are important details. It helps to form a fully developed response. You can do that with the highest and lowest numbers in the diagram with just one chart. You should also analyze and mention any parallels or inconsistencies in data within the chart. For example, in the line graph above, there are two major dips in sales at nearly the same level, once in July and again in September. It would be beneficial to emphasise important information like this.
3. Compose the body paragraph
After observing the relevant details, write a body paragraph in which you can logically list them using connectors and mention estimated figures and units to back up your points. You may not find many details in the IELTS Writing task 1 single diagram question. So you can compose just one body paragraph, but make sure you meet the 150-word limit. If the paragraph gets too long as a result of the additional information in the graph, you can split it into two.
4. Draw out conclusion
You should write a brief conclusion at the end of IELTS writing task 1. It should not be as long as a body paragraph, so write just two or three lines. To write the main concluding statement in IELTS writing task 1, you can observe the diagrams by analysing their overall high and low peaks. For example, in the line graph above, you can observe the high peak in the month of March and the low peak in the month of July and September. Hence, you can write it as 'sales were at their highest in March while the weakest sales figures could be observed in July and September.
The way you explain and present is the major aspect when it comes to evaluation in the IELTS exam, and so our
IELTS online classes
foster all the attributes that you require to ace this test
Also Check: