Today, some people on Quora.com asked me How to get a high score (Band 7.5+) in IELTS in ONE MONTH?
My answer is "The chance of getting the score you want in one month is pretty unpredictable. It depends on your current level of English proficiency, your hard work, focus, and commitment."
Importance of Study Plan
Before understanding the tips to score a high band in the IELTS exam in 1 month, we need to understand why the study plan is necessary. Below are the few points which tell why study plan is important:
If you have a study plan, you will have an idea of how to take the test and you will be stress while actually taking the test. Thus, you will be able to score the band that you desire.
There is no such plan which is already given in the IELTS, you can customize your study plan according to your personal requirements as well as your personal convenience.
If you do not have sufficient time to make a plan, make sure you practice every day whenever you have time and if you do so you will be able to achieve your dream band score in the IELTS exam.
Here are tips to score high in IELTS in 1 month ( IELTS 1 month Study Plan )
If you currently have a high level of English proficiency (Band 6.0 – 6.5), you just need to learn and accumulate some proper techniques, tips and apply to practice tests daily to get the score you need (Band 7.0 – 7.5). You can download or buy Cambridge IELTS practice tests 8 – 12 to practice at home. You can also learn Exam Tips, using IELTS Target Band 7: How to Maximize Your Score, The Official Cambridge Guide to IELTS. If you are worse at one IELTS skill than others, you should focus more on it. For example, your IELTS Reading score is 5.5 while other skills are over 6.0, you should get down to improving your reading skills by using this excellent book by Sam McCarter: Improve your IELTS Reading Skills (this famous IELTS author published an "Improve your IELTS skills" series including the above-mentioned book, Improve your IELTS Writing Skills and Improve your IELTS Listening and Speaking Skills, you can check out for these great books). Each day, you should learn at least 10 English Collocations and New Words for the top 9 common topics in IELTS (crime, education, health, media, work, energy and environment, traffic, people, home).
Three main ways that you can focus on while preparing a study plan to prepare for the IELTS exam in a month can be:
Try to give at least 4 hours a day and an hour for each section every day.
Mainly you have a focus on your English proficiency as well as give most of your time in improving the weaker areas.
One of the best tips can find out in which area you commit more mistakes and try to overcome that.
Prepare for IELTS in a month
if you are worried about the IELTS examination which is just a month away you can refer to these following points while preparing you need to understand the important concepts and proceed with the same:
Writing versus Reading skills:
You do not have to focus more on reading skills as far as you can read the passage given and comprehend it well. Keep your focus more on writing, take a few topics from IELTS writing which have appeared before and just try to put your thoughts in writing so that you get a practice of writing test.
You need to practice grammar but do not get stuck if there is any difficult structure or word, try to focus on other things also which are more important. if you know how to frame a sentence then it is easy to score well in IELTS.
Improve Listening and Speaking skills:
You can improve your listening and speaking skills by watching several English movies and also you can speak, read, listen and write more of English and improve your skills.
Once you enroll in IELTS there are different online trainings available you can take one of them to get a realistic experience about the IELTS tests. So that when you give an actual IELTS test it will be easy for you to take the test easily.
How to learn Vocabulary in the most effective way?
Jot a new word down to a notebook in terms of various topics (with its translations or definitions)
Write the words and definitions on sticky notes or a small piece of paper (you should write the New word on the front side and its definition on the backside. So that you can only turn the note back when you forget its meaning)
Speak new words out repeatedly. In case you get access to the Internet, you can use the online dictionary to learn how to pronounce them)
Make associations (in pictures or with other words)
Have somebody to test you about new vocabulary
Utilize them to practice for your IELTS speaking or writing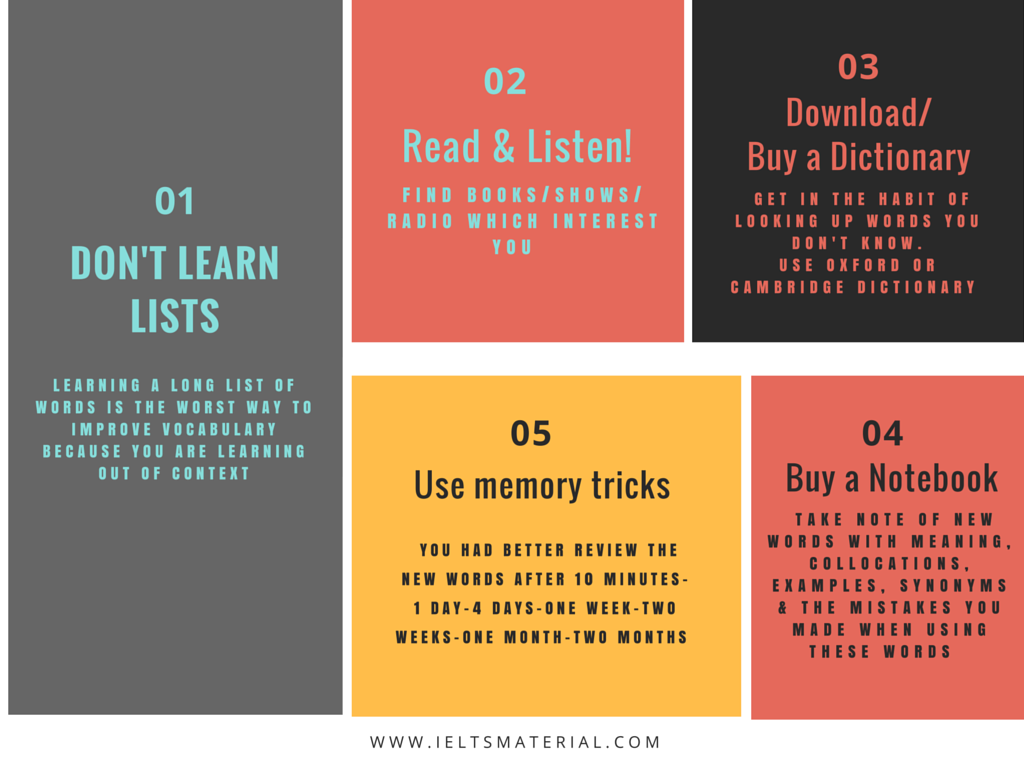 Source: http://ieltsmaterial.com/how-to-boost-your-vocabulary-score-in-ielts-writing-and-speaking/
However, if your English level is quite low (like the current band is 5.0 – 5.5 and you want to get Band 7.5+) you are less likely to get the score you need. In fact, IELTS learners with just one month left for the IELTS exam will get panic and work their socks off to improve their Vocabulary, Speaking, Listening, Reading, Writing, and Grammar. They just digest tons of books without any study strategy. My suggestion is that you need to draw up an effective and coherent study strategy to improve your general level of English and learn exam technique.

For scheduling your study
 A multitude of students have more than 3 months to study and they do a little bit of work every week for the first 2 and a half months and then realize that their exam is next week and they still know very little. So what should you do? Don't let this happen to you by scheduling your study. As I mentioned above, you need 3 factors to get a high score: Focus, Commitment, and Hard Work.
First of all, you must stop doing non-essential things for the entire time before your exam (stop checking Facebook every 10 minutes, playing games on your cellphone, wasting time with friends or watching TV). These non-productive things waste an unbelievable amount of time that could be better spent on improving your chances of getting the score you need. This might sound harsh, but if you want to get a seriously high score, you have to work seriously hard. For me, hard work is the number one differential. It doesn't matter how intelligent you are or how naturally good you are at learning English, if you work hard, you will get the scores you need.
Make a to-do list. These should be as specific as possible e.g. learn the technique for part 2 of the speaking test, listen to the podcast every day, read 4 English newspaper articles each day, practice test, etc.
Work out how much free time you have every day from now until your test.
Get a calendar (make your own calendar or use an electronic one) and fill out what you are going to do every day before your test.
Tick off every day and every task you complete as you do them.
Don't skip. If you miss something, go back and do it.
If you follow the advice above you will be more prepared than 95% of people doing the test.
For improving your general level of English proficiency
To learn the exam technique
You must also learn about all of the different types of questions and how to approach them for Listening, Reading, Writing and Speaking. The great thing about IELTS is that it is fairly predictable. For example, if you are doing Academic Writing Task 1, you just need to learn how to write a summary of at least 150 words in response to a particular graph (bar, line or pie graph), table, chart, or process to get a decent score.
You can also make use of the following books to learn more exam tips, techniques:

IELTS Target Band 7: How to Maximize Your Score, The Official Cambridge Guide to IELTS

. You can also look at the pages below that will show you exam technique for the four main areas:
You have accepted a big challenge in your life. Follow these suggestions to maximize your limited time to score your highest in IELTS!