How To Get A High Score In IELTS In One Month? | Preparation/Study Plan Guide
Zuhana,
Updated On
Today, some people on Quora.com asked me, "How to get a high score (Band 7.5+) in IELTS in ONE MONTH?"
My answer is "The chance of getting the score you want in one month is pretty unpredictable. It depends on your current level of English, your hard work, focus, and commitment."
Why You Need a Study Plan
Before getting to know the tips to score a high band in the IELTS exam in 1 month, we need to understand why a study plan is necessary. Below are the few points which tell us about the importance of a study plan.
There is no standard study plan as such to prepare for IELTS.  You can customize a study plan according to your personal requirements and convenience.
If you do not have sufficient time to make a plan, make sure you practice every day, whenever you have time and it will enable you to achieve your dream band score in the IELTS exam.
Here are tips to score high in IELTS in 1 month ( IELTS 1 month Study Plan )
If you currently have a high level of English proficiency (Band 6.0 – 6.5), you just need to learn some proper techniques, tips and apply them in practice tests daily to get the score you need (Band 7.0 – 7.5).
You can download or buy Cambridge IELTS practice tests 8 –

1

2

 to practice at home. You can also learn Exam Tips, using IELTS Target Band 7: How to Maximize Your Score, The Official Cambridge Guide to IELTS.
IELTS requires four skills: Reading, Listening, Writing and Speaking. If you are weak in any particular skill, you should focus more on it. For example, your IELTS Reading score is 5.5 while other skills are over 6.0, you should try to improve your reading skills by using this excellent book by Sam McCarter: Improve your IELTS Reading Skills (this famous IELTS author published an "Improve your IELTS skills" series – Improve your IELTS Writing Skills and Improve your IELTS Listening and Speaking Skills, you can check out these great books).
Each day, you should learn at least 10 English Collocations and New Words for the top 9 common topics in IELTS (crime, education, health, media, work, energy and environment, traffic, people, home).
Three main ways, you can practice :
Try to give at least 4 hours a day and an hour for each section every day.
Focus on hard areas. Allot more time for practising them.
One of the best tips is to find out where you make more mistakes and overcome them.
Prepare for IELTS in a month
If you are worried about the IELTS examination which is just a month away you can refer to the following points.
Writing versus Reading skills:
You do not have to focus much on reading skills. Read the passage given and comprehend it well. Devote more time to writing. Take a few topics from previous IELTS  test papers and try to put down your thoughts in writing.
Learn Grammar:
You need to practice grammar but do not get stuck if you come across any difficult structure or word. If you know how to frame a sentence then it is easy to score well in IELTS.
Improve Listening and Speaking skills:
You can improve your listening and speaking skills by watching several English movies.
Practice Online:
Once you enrol for IELTS there are different kinds of online training available. You can choose one of them to get a feel of the real IELTS test.
How to learn Vocabulary in the most effective way?
Jot down a new word in a notebook.
Write the words and definitions on sticky notes or a small piece of paper (you should write the new word on the front side and its definition on the backside. So that you can only turn the note back when you forget its meaning)
Speak new words repeatedly. In case you get access to the Internet, you can use the online dictionary to learn how to pronounce them
Create associations (in pictures or with other words)
Have somebody to test you on the new vocabulary
Utilize them to practice for your IELTS speaking or writing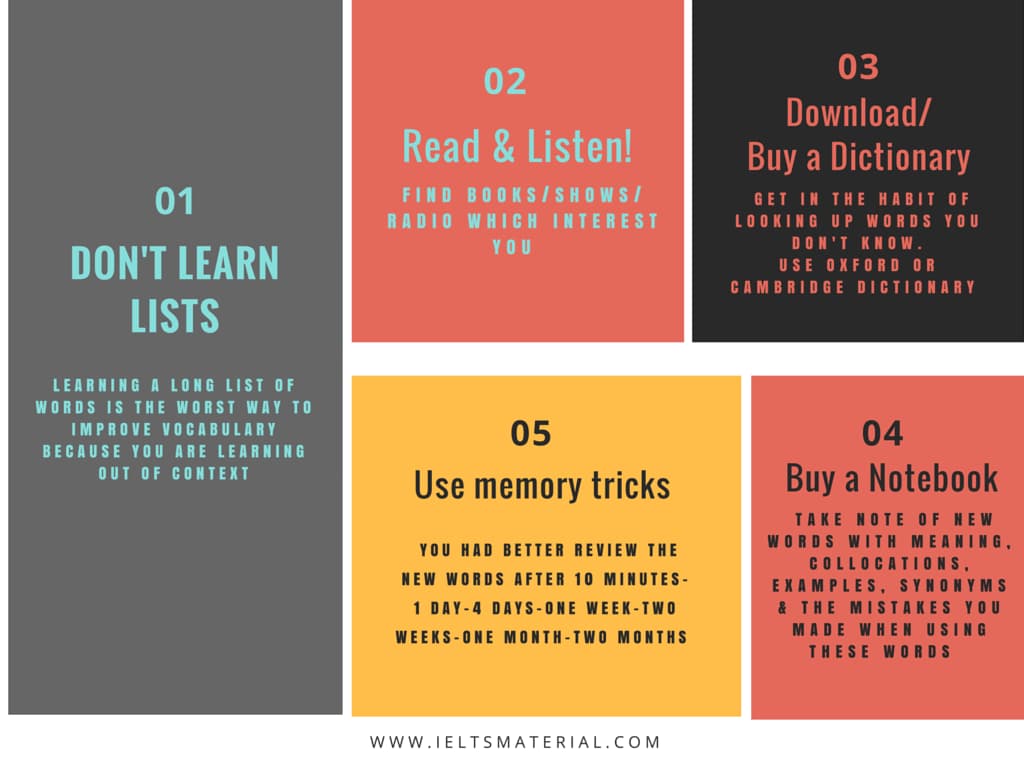 Source: https://ieltsmaterial.com/how-to-boost-your-vocabulary-score-in-ielts-writing-and-speaking/
However, if your English level is quite low (like the current band is 5.0 – 5.5 and you want to get Band 7.5+) you are less likely to get the score you need. In fact, IELTS learners with just one month left for the exam will panic and work their socks off to improve their Vocabulary, Speaking, Listening, Reading, Writing, and Grammar. They will just read books without any study strategy. My suggestion is that you need to draw up an effective and coherent study strategy to improve your general level of English and learn exam technique.
For scheduling your study
A lot of students who have more than 3 months to study, don't work so hard. Hence, when the exam approaches, their preparation will not be up to the mark. Proper scheduling will help in better preparation. Success in IELTS exam requires the following three qualities : Focus, Commitment, Hardwork.
There is no substitute to hardwork.
Make a to-do list. These should be as specific as possible e.g. learn the technique for part 2 of the speaking test, listening to the podcast every day, reading 4 English newspaper articles each day, practice test, etc.
Get a calendar (make your own calendar or use an electronic one) and fill out what you are going to do every day before the test.
Tick off every day and every task you complete, as you do them.
Don't skip. If you miss something, go back and do it.
If you follow the advice above you will be more prepared than 95% of people taking the test.
For improving your general level of English proficiency
You should engage yourself in learning English for at least 6 hours per day. It means you will be a full-time IELTS learner and you need to listen to English and read English daily. You should also be writing and speaking in English as much as possible.
I suggest that you should get access to the most popular magazine World News, Politics, Economics, Business & Finance, BCC learning English to improve your Reading and Listening skills and learn Vocabulary and useful structures for Writing Task 2.
For Speaking, you just need this site: IELTS Speaking: Face the IELTS Speaking exam with confidence.
You can also study from these great Youtube Channels: Learn English with Emma [engVid] | AcademicEnglishHelp | IELTS Ryan
To practice daily, you can download Top IELTS Books and do at least 1 practice test per day.
To learn the exam technique
You must also know about the different types of questions and ways to approach them. The great thing about IELTS is that it is fairly predictable. For example, if you are doing Academic Writing Task 1, you just need to learn how to write a summary of at least 150 words in response to a particular graph (bar, line or pie graph), table, chart, or process to get a decent score.
You can also make use of the following books to learn more exam tips, techniques: IELTS Target Band 7: How to Maximize Your Score, The Official Cambridge Guide to IELTS. You can also look at the pages below that will show you exam technique for the four main areas:
You have accepted a big challenge in your life. Follow these suggestions to maximize your limited time to score your highest in IELTS!