IELTS on Computer: Advantages, Practice, and Tips for Success
Nehasri Ravishenbagam,
Updated On


Limited-Time Offer : Access a FREE 10-Day IELTS Study Plan!
The International English Language Testing System (IELTS) is now available on the computer, offering test-takers a convenient and efficient way to showcase their English language proficiency. This blog article will examine the advantages of taking the exam of IELTS on computer, go over the format of the computer-delivered IELTS, offer advice on how to prepare well using computer-based practice exams and provide insights into the computer-based IELTS listening section.
Understanding the IELTS CBT Format
The computer-delivered IELTS exam format closely mirrors the traditional paper-based test while incorporating the benefits of digital technology. Familiarizing yourself with the structure and features of the computer-delivered IELTS exam is crucial for optimal performance.
Sections of the IELTS CBT: An Overview
The computer-based IELTS test consists of the same sections as the paper-based test: Listening, Reading, Writing, and Speaking. However, the format and delivery differ.
Listening Section
In the computer-delivered IELTS exam, the Listening section comprises four parts, with each part containing different question types. Test-takers listen to audio recordings through headphones and answer questions on the computer.
Reading Section
The Reading section in the computer-delivered IELTS exam contains a variety of texts, including articles, advertisements, and extracts from books. Test-takers navigate through the texts using the computer and answer questions accordingly.
Writing Section
In the Writing section, test-takers type their responses directly on the computer. They need to complete two tasks: Task 1, which may include writing a letter, diagram description, or process explanation, and Task 2, an essay on a given topic.
Speaking Section
The Speaking section of the computer-delivered IELTS exam remains face-to-face with an examiner. It is conducted in a separate room and not recorded. This section assesses your ability to communicate effectively in English through a conversation with the examiner.
Features and Tools
The computer-delivered IELTS exam offers useful features and tools. Test-takers can highlight text, make notes, and use a word counter during the Writing section. In the Reading section, they can highlight text and use the search function.
Check Out a Few More Apps to Help in Your IELTS Preparation Here.
Advantages of Taking IELTS On Computer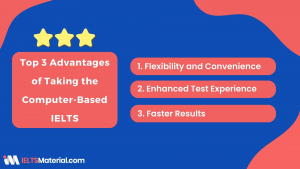 Flexibility and Convenience
Taking the IELTS on computer provides test-takers with greater flexibility in choosing test dates and locations. It offers multiple test sessions per day, allowing candidates to schedule their exams according to their convenience.
Enhanced Test Experience
The computer-delivered IELTS offers features like highlighting, note-taking, and easy navigation between sections. Test-takers can manage their time more effectively and have a better overall experience during the exam.
Faster Results
With computer-delivered IELTS, results are available within 3 to 5 days, compared to the paper-based test, which takes around 13 days. This expedited result release enables candidates to receive their scores quickly and proceed with their future plans.
Preparing for the Computer-Delivered IELTS
Utilize Computer-Based Practice Tests
Familiarize yourself with taking the IELTS on computer and its test format by practising with official computer-based practice tests. These tests simulate the actual exam environment and help you become comfortable with the interface and features.
Practice More Tests for Taking Your IELTS on Computer here.
Practice managing your time effectively during the computer-based test. With the ability to move back and forth between questions, allocate time wisely to answer each question while keeping an eye on the clock.
As the exam is conducted on a computer, it's important to develop efficient typing skills. Practice typing essays, letters, and reports to improve your speed and accuracy.
Overcoming the Challenges
The CBT in the IELTS has numerous advantages for test-takers. Nevertheless, it also poses a few challenges. By recognizing the possible challenges and implementing effective strategies, you can overcome them and perform your best on this test.
Gain Access to Expert Tips On How to Crack IELTS in the First Go!
Familiarity with the Digital Interface
One of the initial hurdles is becoming comfortable with the computer-based format. Practice with online resources and take advantage of official IELTS CBT practice tests to familiarize yourself with the digital interface.
Adapting to Listening on a Computer
Listening to audio recordings through headphones can be a new experience for some test-takers. Practice listening to various accents and recordings using headphones to become comfortable with this setup.
Want to Supercharge Your Listening Skills for IELTS on Computer? 
Try Our Listening Ebook With the Latest Question Papers Now! 
Effectively Managing Your Time
Efficient time management is crucial in IELTS CBT, as candidates need to navigate through different sections and questions within a given timeframe. Practice using a timer during mock tests to hone your time management skills.
Typing Speed and Accuracy
As the entire test is conducted on a computer, having good typing skills is essential. Practice typing essays, letters, and reports to improve both your speed and accuracy.
By understanding the structure and features of the computer-based IELTS exam, you can approach the test with confidence and crack it in a go. Remember to practice using computer-based resources, manage your time effectively, and adapt to the digital environment.
Struggling with IELTS? Sign up today for a FREE IELTS Demo with one of our Star IELTS trainers!