IELTS Reading Actual Test series is one of the "must-have IELTS books" for all IELTS candidates. It accumulates the authentic IELTS reading tests from IDP and British Council from 2006 – 2015.
Some of these tests re-appeared in the real IELTS. Therefore, this IELTS reading book is one of the best resources to help you prepare for the Reading section of IELTS exam.
Each book in IELTS Reading Actual Recent Test series has 6-8 reading tests.
The last part of the book is the answer keys to help students easily track your results and polish up your reading skills.
IELTS Reading Actual Test Volume 4 (the latest edition) was published in July 2015. It includes 6 authentic reading tests from 2011 – 2015.
You can also download IELTS Reading Actual Test Volume 1, IELTS Reading Recent Actual Tests Volume 2, Volume 3, to be well-prepared for the Academic IELTS Reading module.
Main Content
Test 1
The impact of the potato
Ancient Chinese Chariots
Stealth Forces in Weigh Loss
Test 2
Andrea Palladio: Italian Architect
Corporate Social Responsibility
The Significant Role of Mother Tongue in Education
Test 3
Voyage of Going: Beyond the Blue Line 2
Does IQ Test Prove Creativity?
Monkeys and Forests
Test 4
T-rex: Hunter or Scanvenger?
Leaf-cutting Ants and Fungus
Honey Bees in Trouble
Test 5
Ants Could Teach Ants
The Development of Plasticcs
Global Warming in New Zealand
Test 6
Computer games for Preschoolers: Nintendo's Research and Design Process
The History of Pencil
Motivating Drives

Sample Unit
Reading Passage 1
You should spend about 20 minutes on Questions 1 – 13, which are based on Reading Passage 1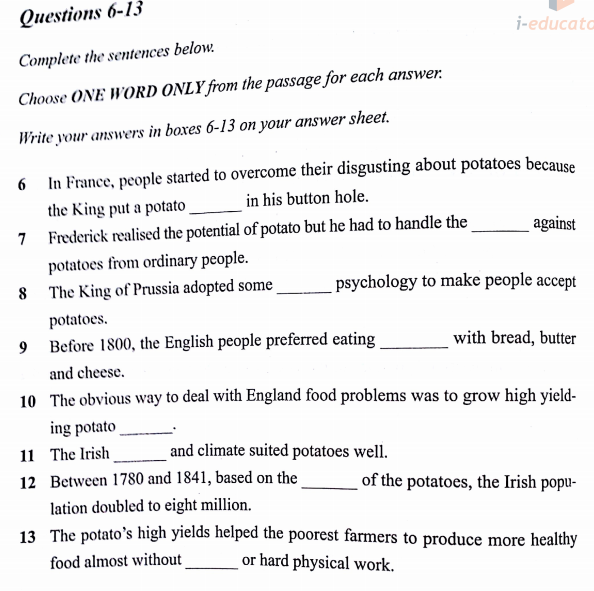 Free Download
IELTS Reading Actual Test Volume 4 Mirror 1
The following two tabs change content below.
Improve your IELTS skills with tips, model answers, lessons, free books, and more ------------ "The more you share, the more you get."
Latest posts by IELTS Material (see all)
Main IELTS Pages:
This website is to develop your IELTS skills with tips, model answers, lessons, free books, and more. Each section (Listening, Speaking, Writing, Reading) has a complete collection of lessons to help you improve your IELTS skills.
Get all the latest updates/lessons via email:
Subscribe for free IELTS lessons/Books/Tips/Sample Answers/Advice from our IELTS experts. We help millions of IELTS learners maximize their IELTS scores!
Subscribe to IELTS Material to receive the latest lessons