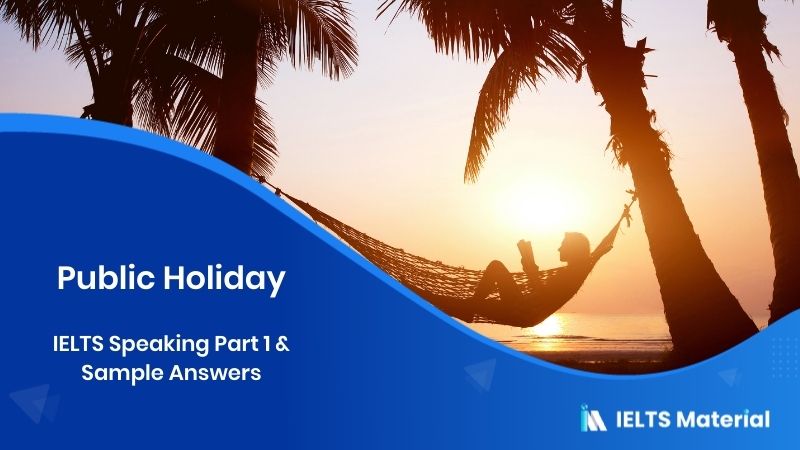 IELTS Speaking Part 1 in 2017 – Topic : Public Holiday & Sample Answers
Read our Band 9 Samples for IELTS Speaking Part 1 – Topic: Holidays to polish up your English skills and boost your IELTS speaking score.
You can get our IELTS speaking ebook titled "IELTS Speaking Actual Tests & Suggested Answers (Ebook)" which covers all the latest IELTS Speaking Actual Tests in 2017 with Band 9.0 Model Answers to boost your IELTS score.
Part 1
1. What public holidays does your country have?
My country has a great range of public holidays but to me the most important one is the Independence Day. It is considered as a national holiday, which is annually celebrated on July 4. These day are to celebrate the day the US secured independence from the British Empire after the Revolutionary War and usher in a new era of peace and reunification.
Usher in (v): to make an activity or process begin
Era (n): a period of time that has a particular quality or character
2. Which public holiday do you like the best and why?
Out of all the public holidays celebrated in the US, Thanksgiving has to be my favorite! My family and I bond over making dinner together, and we also play touch football in the evening. We also use this time to reflect on what we are thankful for, which I think is really important.

3. Do people in your country celebrate foreign festivals?
Of course we do. We celebrate Christmas with extraordinarily colorful lights and decorations similar to those found in Western countries. It is a grand party when the fun-loving and sociable citizens, whether being a Christian or not, celebrate with gusto. Besides, there are also sparkling lighting decorations on the streets and in front of houses, turning particular places into Christmas area. Usually the shops will have their signs advertising sales for Christmas seasons, and the piercing cold is a wonderful chance for people to get dressed up.
With gusto (phrase): if you do something with gusto, you do it with a lot of enthusiasm
4. What do you usually do during public holidays?
Well, I often spend my time gathering with my beloved family and friends. Maybe go shopping and take advantage of the sales which my favorite shops are offering or hanging out with friends and having a whale of time at some entertaining places.
Take advantage of (phrase): to use an opportunity to achieve results
Have a whale of time (n): to have an exciting or fun time; to have a big time
5. Do you like short holidays or long holidays?
Both options have their own merits, but if I have to choose one, I would pick short holidays. The reason for this is that I can feel more prepared to go back to study and feel less fatigued than spending a week for playing or travelling. Tthe purpose of holiday should be to give people a temporary rest and help them recharge the batteries for a fresh period ahead. Therefore, it is not recommended that people turn their days off into a long holiday, indulge themselves and neglect their study and work.
Fatigued (a): feeling extremely tired, either physically or mentally
Indulge (v): to have or eat something that you enjoy but that you should not have much of
Also check: