What is a Good Score in IELTS? || IELTSMaterial 2023
Janice Thompson,
Updated On
While more than three million people from around 140 countries take the IELTS for education, career, or immigration, a common question that concerns them all is what a good score in IELTS will be.
So, if you need an answer to this question, dive into the information provided in this article.
What do you mean by a good score in IELTS?
IELTS is scored based on band scores, with 0 being the lowest and 9 being the highest. So, ideally, the best score for any candidate, irrespective of his/her purpose of taking the test, is a band score of 9.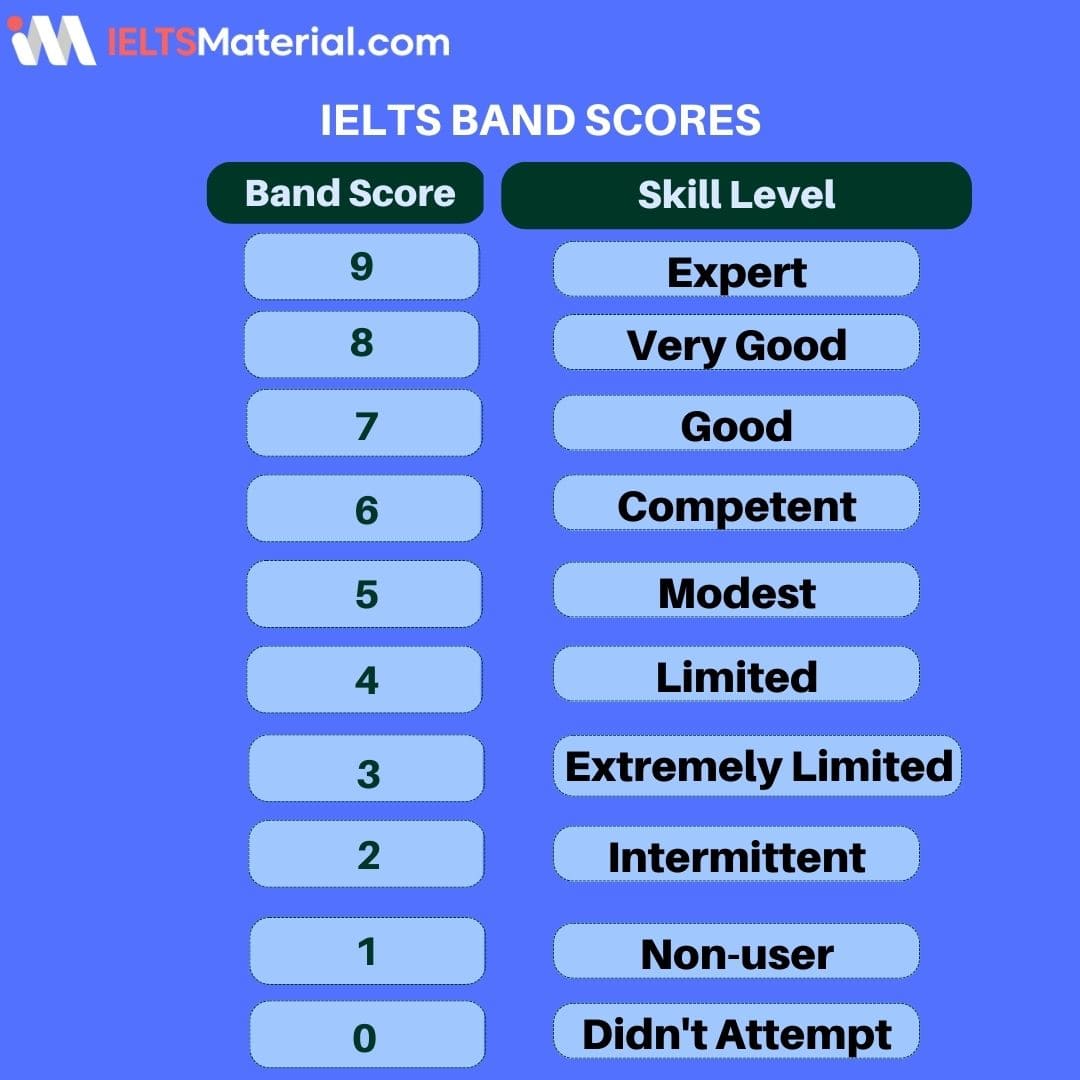 Fortunately, a good score in IELTS does not mean that you have to achieve the top band.
Depending on the purpose and the institution you are taking the exam for, a good score for you can range from a band score of 6.5 to a band score of 9. For example, most universities in Canada and Australia require a band score of 6.5 to 7. Similarly, top universities in the United Kingdom, like Oxford and Cambridge, require 7.5 or higher band scores.
Is an overall band score of 7 a good score in IELTS?
As you might have noticed in the image given above, a band score of 7 signifies "a good user". In other words, if you score an overall band score of 7, you are more than a competent user who has a good command of the English language with thorough reasoning, accompanied by some minor errors.
Moreover, most universities of major universities or organizations demand a minimum overall score of 7. So, if you are able to score the same, you will not only prove your proficiency in the English language but will definitely get admission in one of the top universities or a well-deserved job in an international organization.
But, you might feel that as there are two types of IELTS – Academic and General, how they might affect your chance of scoring band 7 or more.
Well, read on to know more!
Band 7 in IELTS Academic
Since IELTS Academic is suitable for those who are aiming at higher education or professional processes in an English-speaking country, it is comparatively challenging. But remember, nothing is impossible if you are determined to give your best.
Even though most students who take IELTS Academic aim for a band score of 6.5 to 7, as they are the minimum requirements, you can definitely achieve band 7 or more if you identify your weak areas, work on them and improve your vocabulary and grammatical knowledge. So, check out relevant IELTS Academic books, courses and past Academic test papers that will help you score a band score 7 or more.
Band 7 in IELTS General
Candidates who aim to study below degree courses, immigration, or employment training take IELTS General. As a result, this version of the exam is easier than the Academic one.
Therefore, even if you feel that your English proficiency level is not very advanced, with systematic preparation along with practice tests and courses, you will surely score a band score of 7 or higher.
How to get a good score in IELTS?
By now, it is quite clear that a band score of 7 and above is definitely a good score in IELTS. To make it easier for you to achieve this score, follow the guidelines given below.
Begin your preparation by taking past papers and allocating the time you have according to your strengths and weaknesses. You can check our one-month plan for IELTS preparation.
Make sure to get enough practice for each module based on authentic study materials and mock tests.
Assess your own development and make necessary adjustments.
To conclude, check the score guide or IELTS requirement for the organization, country, or university you are applying for in order to find out what is a good IELTS score for you. And if you want to gather more information on IELTS scores or related topics, you can talk to our experts by booking a free session or following our webinars.