A Comprehensive Guide to OET for Nurses for your Success
Ruben Smith,
Updated On


Limited-Time Offer : Access a FREE 10-Day IELTS Study Plan!
If you're wondering which English test a nurse should take, look no further.
OET for nurses is one of the 12 OET test variations offered to healthcare providers according to their specialisation. This English language proficiency test has been exclusively intended for health care professionals and is conducted by Cambridge Boxhill Language Assessment (CBLA). So, in this article, we will discuss all important information related to OET for Nurses.
Who is the OET for?
Competent and skilled communication enables healthcare personnel to build rapport with their patients, obtain critical health information, and collaborate effectively with all members of a medical team and the public. To ensure that patients receive the best possible care, providers must communicate treatment plans and health education in a clear, accessible, and empathic manner.
The OET is available in 12 different versions for various healthcare professions, namely:
Dentistry
Dietetics
Medicine,
Nursing
Occupational Therapy
Optometry,

Pharmacy
Physiotherapy
Podiatry
Radiography
Speech pathology
Veterinary science
What is the importance of OET for Nurses?
Considering that taking an English test is a must for nurses who want to work in an English-speaking country, opting for the OET can make a major difference in your results. If you're a nurse, you will have a much better chance to clear the test with a good score as it is the only global English test designed particularly for nurses as you do not have to study topics which are unrelated to your practice.
There are several other general English tests offered and accepted by medical organisations, such as the IELTS. Overseas-trained nurses must pass an English exam to demonstrate that they have the necessary level of English to function safely in an English-speaking setting.
Nursing authorities all around the world determine the level of English required to register and work in that nation. In the United Kingdom, for example, the Nursing and Midwifery Council assigns precise grades required in each of the English exams. The Nursing and Midwifery Board set the criteria in Australia.
However, only a healthcare-specific English test like the OET assesses your English skills using nursing and healthcare language, exercises, and activities. Let's have a closer look at why the OET is the ideal test for nurses.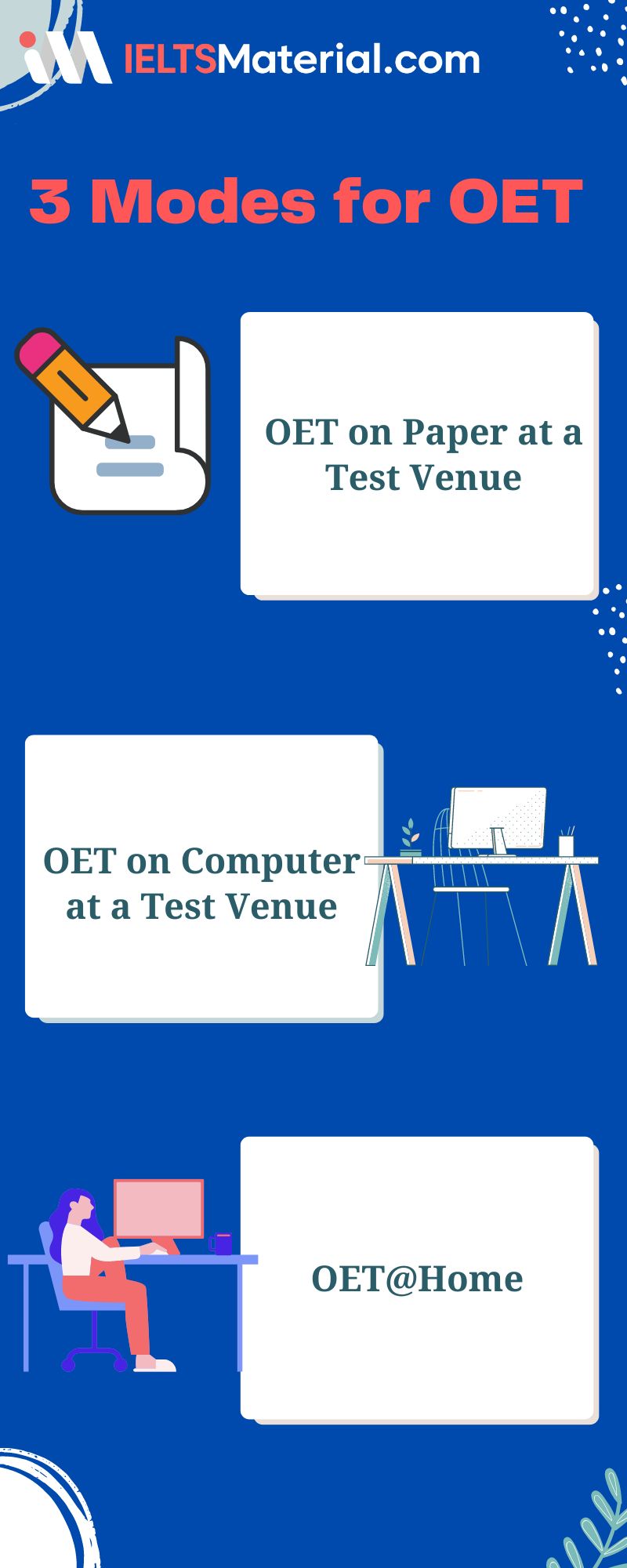 Why should nurses choose OET?
Healthcare boards and councils in the United Kingdom, Ireland, Australia, New Zealand, and Singapore recognise and trust OET. Many organisations, including hospitals, universities, and schools, use OET to demonstrate a candidate's capacity to communicate successfully in a demanding healthcare setting. Thus, the OET makes it easy for nurses to migrate to and settle in English-speaking countries by proving their skills and credentials.
The greatest advantage for nurses is that the OET uses nursing terminology. Since the OET is intended for nurses, the vocabulary utilized throughout the test is taken from the nursing and medical fields in general.
In a general reading and listening test like the IELTS, you will have to listen to audio excerpts that have very little to do with nursing or healthcare. However, in the OET Listening and Reading sub-tests, you will only be required to listen to and understand health-related information, which may include patient-nurse consultations, healthcare documentation etc. This means that nursing students have a greater natural advantage while giving the OET.
The Speaking test will be specifically designed for nurses. You will participate in two role-playing exercises based on realistic workplace scenarios. You play a nurse while the interlocutor plays a patient or client, or occasionally a relative or caregiver for the patient. This means that you can draw on your real-life experiences to perform well on the subtest.
OET writing is similarly career-focused. The capacity of nurses who take the OET Writing sub-test to produce a referral letter or a discharge letter is evaluated. OET Writing assignments are based on real-life scenarios that nurses face on a daily basis, such as writing a letter to a senior nurse or a discharge letter to a patient leaving the hospital to be cared for at home. The OET is the only English test that evaluates your English through the use of everyday nursing duties.
OET provides greater certainty about candidates' capacity to communicate effectively in high-stress healthcare contexts. Speaking criteria have been decided specifically to measure clinical communication abilities that are already being taught in the classroom.
OET's detailed scoring has been improved, providing a complete picture of candidates' exam performance. It will be simpler to compare OET results to the outcomes of other English language tests.
Overview of OET format for nurses
It is important to have an understanding of the format of OET for nurses so that you are well prepared for the test day. The OET for nurses covers all four language skills, with a focus on communication in a healthcare setting.
The OET exam design for nurses would begin with a 45-minute Listening Section, with the content of the test being the same for all healthcare workers.
The following component is the Reading Section, which lasts 60 minutes and is the same for all healthcare practitioners.
The third component is a 45-minute Writing section that is specific to the field and based on normal workplace settings.
The final section is a 20-minute Speaking section that is also relevant to the profession and centred on common workplace situations.
Score Requirement of OET for Nurses
Though the OET for nurses does not have a set benchmark of a passing score, candidates are often required to score far above 350 in each sub-test to be considered for the top healthcare institutes and organisations.
List of Study Material and Courses for Preparation of OET for Nurses
Learning materials don't just refer to books or other educational tools that can advance your understanding in a certain subject. Candidates must also use practise tools, workbooks, and example papers for an exam like the OET in order to maximise preparation.
Therefore, the following is a list of the official and best study resources, some of which are free and others may expect payment:
Conclusion
Candidates are usually encouraged to verify with the relevant council or board to stay current with market needs. With an excellent OET score, you can develop your career significantly. To start preparing for the OET, check out our OET learning resources!