Nursing Referral Letter OET Writing Sample: Know Your Way To Success
Ruben Smith,
Updated On
In the OET Writing subtest, various letter types are provided, and it doesn't really require applicants to write their letters in a specific format. There is flexibility in the format employed as health professionals utilise a variety of formats in different local situations. However, it is critical that your layout is clear and accurate for the work at hand.
Therefore, in this article, we will check Nursing Referral Letter OET Writing Sample for reference after going over the details of the Nursing referral letter, which is a part of the OET Writing Task.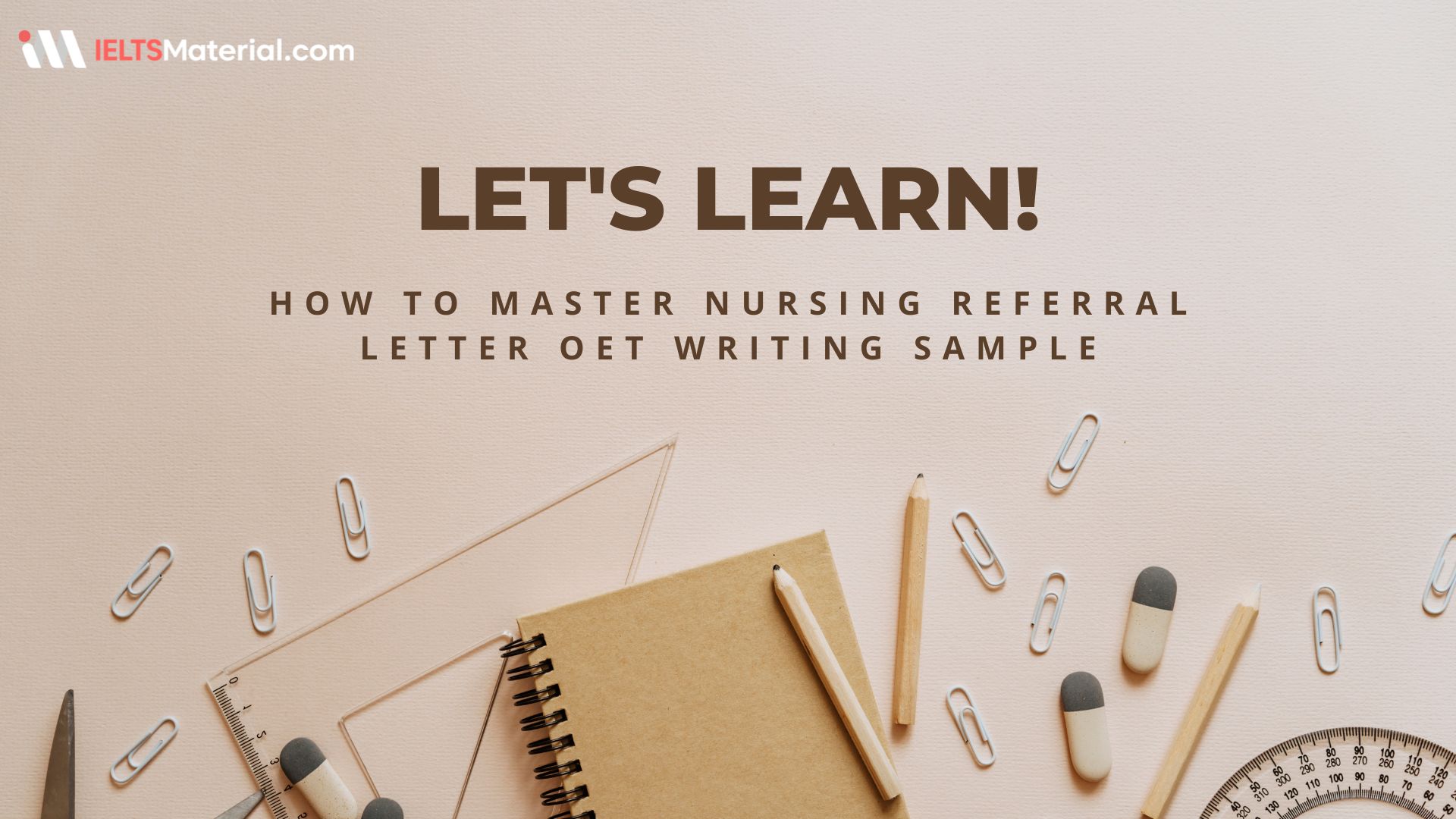 Before we move to the tips and nursing referral letter OET writing sample, let us learn about referral letters in OET.
What is an OET Referral Letter?
A referral is a written request from one health expert to another health professional or health service to diagnose or treat a specific ailment. It is an important form of communication between primary and secondary care, providing a full account of the patient's presenting complaint and medical history to the receiving clinician/department to enable a smooth transition of care. Because it is frequently the only method information is conveyed from general practice, all pertinent details must be included.
Patients are referred to hospitals, specialists, and other institutions as part of primary health care. Otherwise, they are referred to specialists when primary care investigative or therapy options have been explored or when their opinion or advice is required.
Referral indications can be routine, urgent, or emergency. The idea behind referral is for two physicians with diverse experience and skills to speak with each other in order to solve a patient's problem and provide the best possible care at the right time and right place. Referral has far-reaching consequences for patients, the healthcare system, and healthcare expenses.
Why is a Referral Letter Important?
A well-functioning healthcare system requires effective communication between primary and secondary care. Most of the time, referral and response letters are the only method of communication between doctors, and a breakdown in communication could result in poor continuity of treatment, delayed diagnoses, increased lawsuit risk, and wasteful testing. So, let us go through the importance of referral letters to get an insight into how to make them relevant.
A referral letter gives information about the patient and their illness so that the person to whom they are referred does not have to ask as many questions, the new healthcare professional is aware of crucial background information, and they understand exactly what they are being requested to do.
It can also suggest that the recommended consultation or test is clinically significant and that medicare should reimburse at least a portion of the cost.
A reference letter can also help to reduce patient unhappiness and loss of trust in the family doctor.
Referral letters, in addition to transmitting information, serve as a vital source of reference, evidence of informed consent, and a medicolegal record.
The referral letter displays the doctor's diagnostic abilities, communication skills, and professionalism.
According to studies of referral letters, specialists are disappointed with their quality and content. Some lack appropriate information, and retrieving information is difficult due to poor legibility and clarity. Incorporating letter-writing tasks into the OET has let healthcare organisations test the quality of referral letters written by aspirants.
How to write a Referral Letter?
Here are some tips to keep in mind when drafting your letter from the case notes provided:
Read the question thoroughly and skim through the case details.
Determine the letter's purpose.
Identify and quickly note essential facts, bearing in mind both the question prompt and the goal of the letter.
Arrange your chosen points in a predetermined sequence; you can rely on this to create an outline to structure your letter.
Remember that, depending on the objective of the letter, not all of the material will be useful to a certain reader; select your points thoughtfully and with discernment.
You must also stick to a word restriction of 180-200 words, which is achievable if you properly select only the most important material.
Start with a concise introduction that makes the objective of the message clear.
Depending on the kind and quantity of content, split your letter into brief, concise paragraphs.
There should be a clear conclusion paragraph, usually with a call to action.
While the information in the case notes will be presented in point form, you should write in full sentences and paragraphs.
Any abbreviations or profession-specific jargon must be utilised with the target reader's expected comprehension in mind.
A clean and succinct letter with adequate information can benefit both the specialist and the patient in numerous ways. A letter like this also helps to reduce patient unhappiness and loss of trust in the family physician.
Nursing Referral Letter OET Writing Samples
Presented below are some sample questions, as seen in a real OET test, along with a proficient sample answer. By studying this, you will be able to familiarise yourself with the expectations of this writing task.
Nursing Referral Letter OET Writing Sample 1
Nursing Referral Letter OET Writing Sample 2
In case you want to latest OET ebooks or workbooks for practice, you can check out these links:
We hope that this article has given you a clear idea of what to expect on the day of the test. To learn more about the OET preparation and start your OET journey today, check out more of our learning resources.