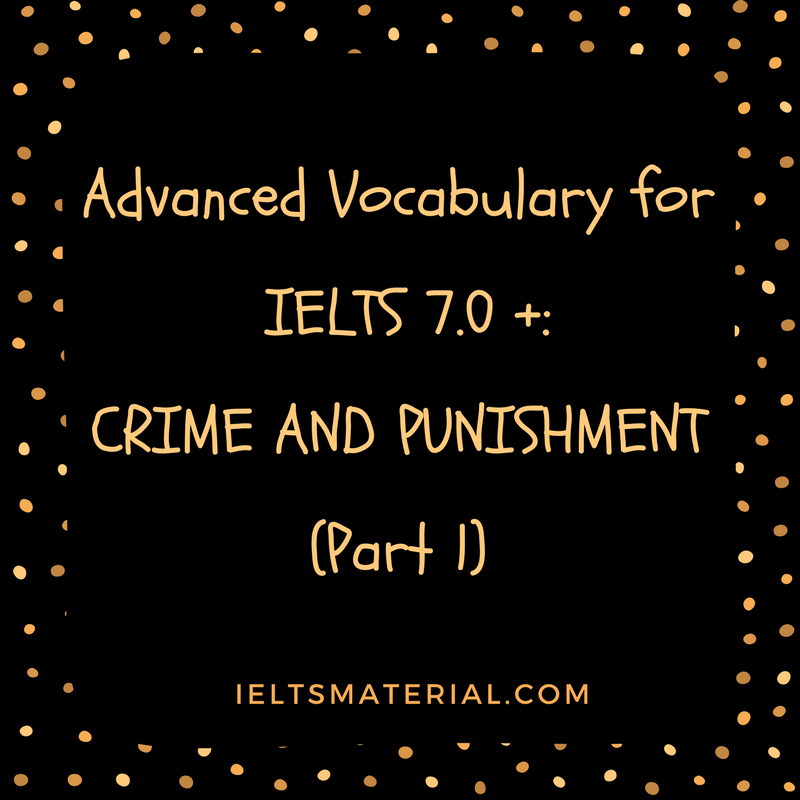 Advanced Vocabulary for IELTS 7.0 +: CRIME AND PUNISHMENT (Part 1)
CRIME AND PUNISHMENT (PART 1)
Types of Crime
Match the crime to the correct definition as in the example.
(a) abduction

(b) affray

(c) assault

(d) battery

(e) blackmail

(f) burglary

(g) domestic violence

(h) embezzlement

(i) extortion

(j) forgery

(k) fraud

(l) gerrymandering

(m) harassment

(n) hijacking

(o) homicide

(p) hooliganism

(q) manslaughter

(r) money laundering

(s) mugging

(t) perjury

(u) petty crime

(v) racketeering

(w) smuggling

(x) stalking

(y) vandalism

 

(i) the striking of a person with intent to do them harm

(ii) a threat or attempt to strike someone, whether or not successful

(iii) deliberate destruction or damage of property

(iv) fighting in a public place

(v) breaking into a house with intent to steal from it

(vi) acts of abuse against a person living in your household

(vii) following someone around persistently when not invited to

(viii) involvement in a dishonest scheme to trick people

(ix) obtaining money or something else by abusing your power

(x) dividing a voting area so as to give one party an unfair advantage

(xi) repeatedly troubling or tormenting another person

(xii) acts of general lawlessness, often associated with football

(xiii) the killing of one person by another

(xiv) not very serious crime

(xv) importing or exporting goods in a way that breaks the law

(xvi) robbing someone under threat of violence in a public place

(xvii) lying under oath in court

(xviii) hiding the source of money gained illegally

(xix) seizing a vehicle by force or threat of force

(xx) falsely making or altering a piece of writing that has legal standing

(xxi) forcing a person into a particular action by use of threats

(xxii) theft of money or property a person has put in your care

(xxiii) the carrying, taking or enticing away of a person, esp. a child

(xxiv) general acts of deceit or trickery

(xxv) the unlawful killing of a person without forethought or malice

Perpetrators of Crime 
Write the word for the person who carries out the crime in the square brackets as in the example. Where not available just put o slash (/).
(a)        abduction

(b)        affray

(c)        assault

(d)       battery

(e)        blackmail

(f)        burglary

(g)        domestic violence

(h)        embezzlement

(i)         extortion

(j)         forgery

(k)        fraud

(l)        gerrymandering

(m)       harassment

(n)        hijacking

(o)        homicide

(p)        hooliganism

(q)        manslaughter

(r)        money laundering

(s)        mugging

(t)        perjury

(u)        petty crime

(v)        racketeering

(w)       smuggling

(x)        stalking

(y)        vandalism
ANSWER KEY
Types of Crime
a. xxiii

b. iv

c. ii

d. i

e. xxi

f. v

g. vi

h. xxii

i. ix

j. xx

k. xxiv

l. x

m. xi

n. xix

o. xiii

p. xii

q. xxv

r. xviii

s. xvi

t. xvii

u. xiv

v. viii

w. xv

x. vii

y. iii
Perpetrators of Crime
a. abductor

b. affrayer

c. assaulter

d. batterer

e. blackmailer

f. burglar

g. /

h. embezzler

i. extortioner/ extortionist

j. forger

k. fraudster/fraud

l. gerrymanderer

m. harasser

n. hijacker

o. /

p. hooligan

q. /

r. money launderer

s. mugger

t. perjurer

u. petty criminal

v. racketeer

w. smuggler

x. stalker

y. vandal
Also check :