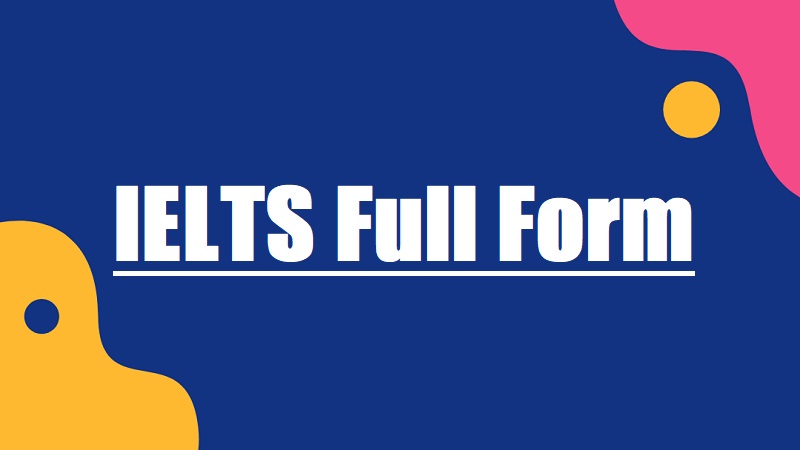 IELTS Full form | What is IELTS?
What is the full form of IELTS?  The full form of IELTS in English is – International English Language Testing System.
IELTS, established in 1989, is the most popular English language proficiency test for work, study or migration. The exam is designed to assess the English language ability of applicants who plan to study or work in a foreign country where English is one of the languages of communication.
What is IELTS?
The IELTS Exam is a test of all the four language skills, i.e. the ability to listen, read, write and speak in English. The test is then graded on a 9-band scale (1 being the lowest and 9 being the highest).
Types of IELTS
There are 2 versions of the IELTS examination as given below:
1. IELTS Academic
The Academic version of the IELTS examination is for those who plan to travel for education or registration for professionals like doctors, nurses engineers, etc. who are willing to serve abroad.
2. IELTS General Training
The general training test is taken by those not travelling for educational purposes, but for immigration purpose or to gain work experience in foreign countries.
Eligibility Criteria for IELTS Examination
The minimum required age to take the IELTS examination is 16 years.

You should be holding a valid passport.

You have to choose your type of IELTS exam, based on your purpose of migration.
IELTS Test Pattern
The IELTS test syllabus includes 4 sections, that is speaking, listening, reading and writing. The test will be 4 hours 45 minutes long.
The Listening section of IELTS test will take around 30 minutes and it is divided into 4 parts. The students will be required to answer 40 questions within the time frame.

The Reading part consists of 3 sections and involves issues faced by postgraduate/ undergraduate students during their study. Even this section will be of 30 minutes and consist of 40 questions.

The Writing part of the IELTS exam is having the highest time limit that is 60 minutes. And you'll have to use this one hour wisely to complete two tasks. In task 1 you have to make sure to write at least 150 words while for task 2, the examiner will give you a topic for essay writing for which you'll have to write at least 250 words

The Speaking section will take around 12-14 minutes and this test is to assess your ability to speak the English language fluently.
IELTS Registration
While registering for the IELTS examination, keep your passport ready as your passport number will be required. You're also asked to carry your passport while coming for the examination hall. To register for the IELTS examination, you need to follow the steps below:
Visit the official site of the British Council Registration.

Create an account with the British Council.

Register and pay online.

Find out the nearest examination centre.
Click here for IELTS Registration detailed information
Advantages of taking an IELTS preparation course
Here are some benefits that you get if take a preparation course before actually attending the test.
Taking a preparation course will make you more confident, which will, in turn, make a great difference in your score.

You may be comfortable in your language proficiency but you could still get confused if you're not familiar with some questions that are asked in the test. So then taking this preparation course will help you in time managing.

This preparation course will help you improve your speaking skills which will be useful abroad, while you migrate.

This course not only improves your vocabulary and grammar in the exam but also in natural conversations.
Scoring Pattern of IELTS
In the Speaking and Writing sections of the IELTS examination, the questions will be subject-related, and the scores for the same are given based on the sentence structure and usage of vocabulary. 
For both, Reading and Listening, you will have 40 questions, and each question will carry a mark that will be converted to the IELTS band score.
Each section will have a separate band score and based on the marks that you receive the band is awarded to you.
FAQs
What is the full form of IELTS?
IELTS stands for International English Language Testing System
Is there any age limit for IELTS?
It is not recommended for test-takers below the age of 16
What are the four sections in IELTS?
The four sections are:
Listening
Reading
Speaking
Writing
Do I need to attend any preparation course, before actually attempting the test?
It is your choice. But attending one will definitely help.
Will I be marked separately for every section or will it be an overall score?
Yes. You will be marked individually for each section and the overall band will be derived from the average of the bands from the individual sections.