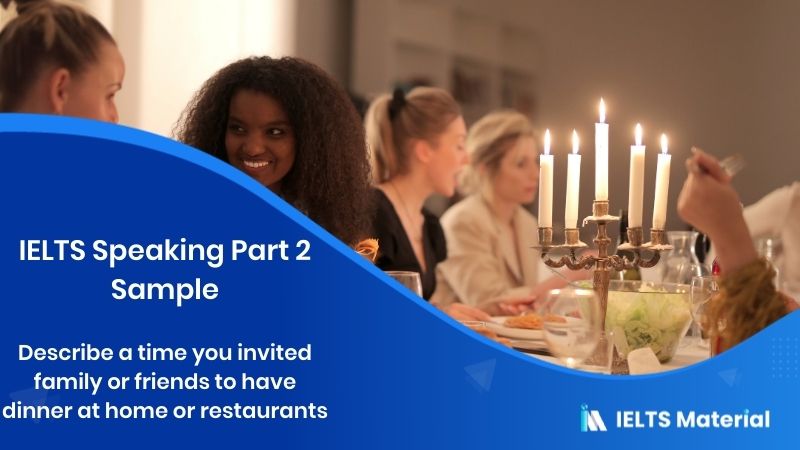 IELTS Speaking Part 2 Sample: Describe A time you invited family or friends to have dinner at home or restaurants 
Describe a time that you invited family or friends to have dinner at home or in a restaurant
You should say
who organized this meal
where you had it
what you talked about during the meal
what you ate and drank
explain why you had this meal with your friends
Sample Answer
Ok, so I'm going to talk about a time when I invited my friend to have dinner at a famous pizza restaurant called Pizza 4p's.
This friend of mine came to my city on a business trip and we wanted to catch up. I had to reserve the seats a day in advance since the restaurant was always fully booked. We both arrived at 6 in the evening and were led to our table, located near the entrance of a big dining room, with tall trees planted around us and some layers of the black net overhead to prevent leaves from falling into our food. I was told that there is a glass roof above the trees to stop rain from coming in as well. A nice environment, polite waiters and waitresses, everything was going great.
We ordered cheese, pizza, pasta and some wine. I think the food here is a blend of Italian and Japanese cuisine, which somehow appeals to consumers. The portions were moderate, leaving us satisfied but not full.
We talked happily over the dinner, catching up on each other's lives, asking after our mutual friends. The night was great.

Part 3
Do people in your country prefer to eat at home or in restaurants?
What would you say are the benefits and drawbacks of eating in a restaurant?
What do people usually cook for special festivals?
More and more people are having (or, getting) their meals delivered, so would people cook at home?
Also check: