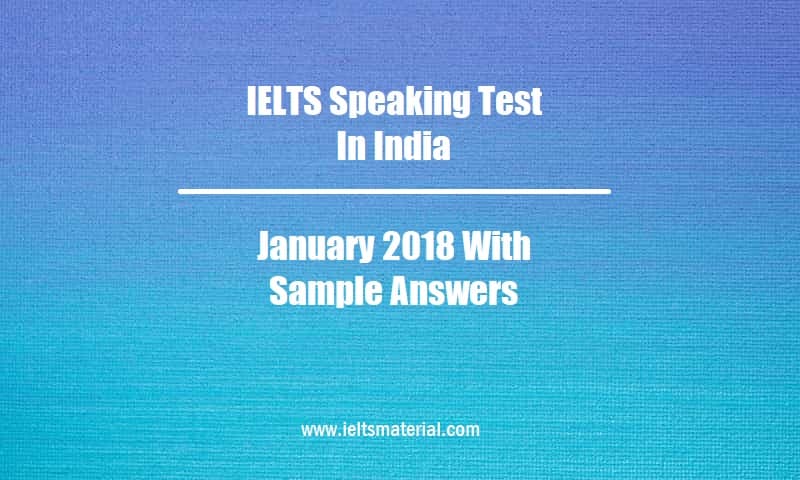 IELTS Speaking test in India – January 2018 with Sample Answers
IELTS Speaking Part 1
– What is your full name?
– Which city are you from?
– How far is it from here to your current place of residence?
Our place is situated in the heart of the city, so it is approximately 6km from there to here and can take probably 15-minute drive if the traffic is not too heavy.
– What do you think about your hometown?
Well, I think my hometown is one of the best places to live. It is well known all over the country for its amazing history, architecture, and food. What makes my hometown more special is the fact that the highest mountain in our country is located there, which offers breathtaking views of the white, fluffy sea underneath.
– Do you like to travel?
Yes, definitely! I think seeing the world, from great historical monuments to white sandy beaches, is what life is all about. It's a very interesting way to learn about new cultures and explore new places.
IELTS Speaking Part 2
Talk about an unusual food you have eaten. Please say
– What was the food?
– Where and when did you try it?
– Did you like or dislike that food? Why?

Sample Answer
I am a foodie and a frequent traveler. So, I get opportunities to taste dishes from different cultures.
Last year I traveled to China's capital Beijing. In a traditional Chinese restaurant, I tried a strange dish made up of sea weeds. Sea weeds, as you know, are vegetarian foods grown in the sea and are very nutritious.
IELTS Actual Tests Questions (January - April 2021) with Answers
I loved tasting it the first time. No other food comes close to it in terms of taste and it is difficult for me to explain it. I loved it not only because of the taste but also due to the abundance of nutrients in it.
Since I'm a traveler, I have first-hand experience of how humans will face a shortage of nutritious food in the future. Scientists have proposed seaweed farms as a solution to the problem. I just wanted to taste the future of human food.
IELTS Speaking Part 3
– What do you think about the fast food trend?
– Do you think science and technology affected food and agriculture in a positive or a negative way?
– What do you think is the impact of the ability to transport the food over long distances?
– Do you think technology has also affected the food that we have traditionally been cooking at home?
Also check :