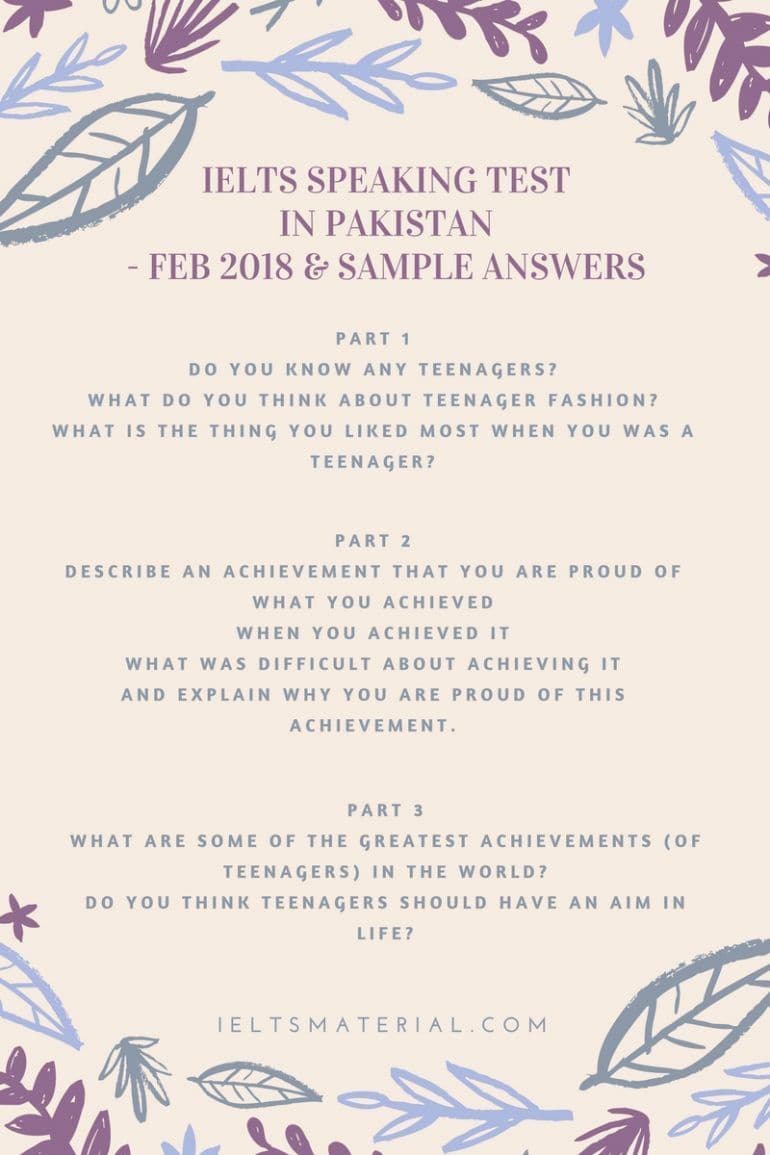 IELTS Speaking Test in Pakistan – Feb 2018 & Sample Answers
Check out IELTS Speaking Recent Actual Test in Pakistan.
For Band 9.0 Model Answers for all Part 1, 2, 3 topics in 2018, you can take a look at IELTS Speaking Actual Tests (January – April 2018) & Suggested Answers (Ebook)
Part 1
Do you know any teenagers?
What do you think about teenager fashion?
What is the thing you liked most when you was a teenager?
IELTS Actual Tests Questions (January - April 2021) with Answers
Part 2
Describe an achievement that you are proud of
You should say :
what you achieved
when you achieved it
what was difficult about achieving it
and explain why you are proud of this achievement.

Sample Answer
One of the great successes that I have ever achieved in my life was to pass the entrance exam at University of Languages and International Studies.
This examination took place about 4 years ago. It was so important to me because it fulfilled my dreams of becoming an English teacher in the future. Additionally, this exam required careful preparation throughout the whole period in the high school, so it was quite challenging for me. Before siting for the exam, I had to study around the clock three main subjects: Math, Literature, and English. During the lesson, I paid attention carefully to what the teacher was saying and noted down all the necessary information to learn it by heart. Beside the requiredclass, I also took the extra ones to broaden my horizons and enhance my skills. I pulled out all the stops to do as many assignments as possible to have a good performance in the exam. I also joined some study groups on Facebook where I asked friends for helping me with tricky exercises.
Finally, my hard work was paid off. I secured a seat at my dream University of Languages and International Studies. This success motivated me to become an English teacher to inspire the students to be passionate about learning English and have a great command of English.
So I think that success will come after hard work and determination, and I'm proud of myself passing this vital test.
By E-trainer
Part 3
What are some of the greatest achievements (of teenagers) in the world?
Do you think teenagers should have an aim in life?
Also check :