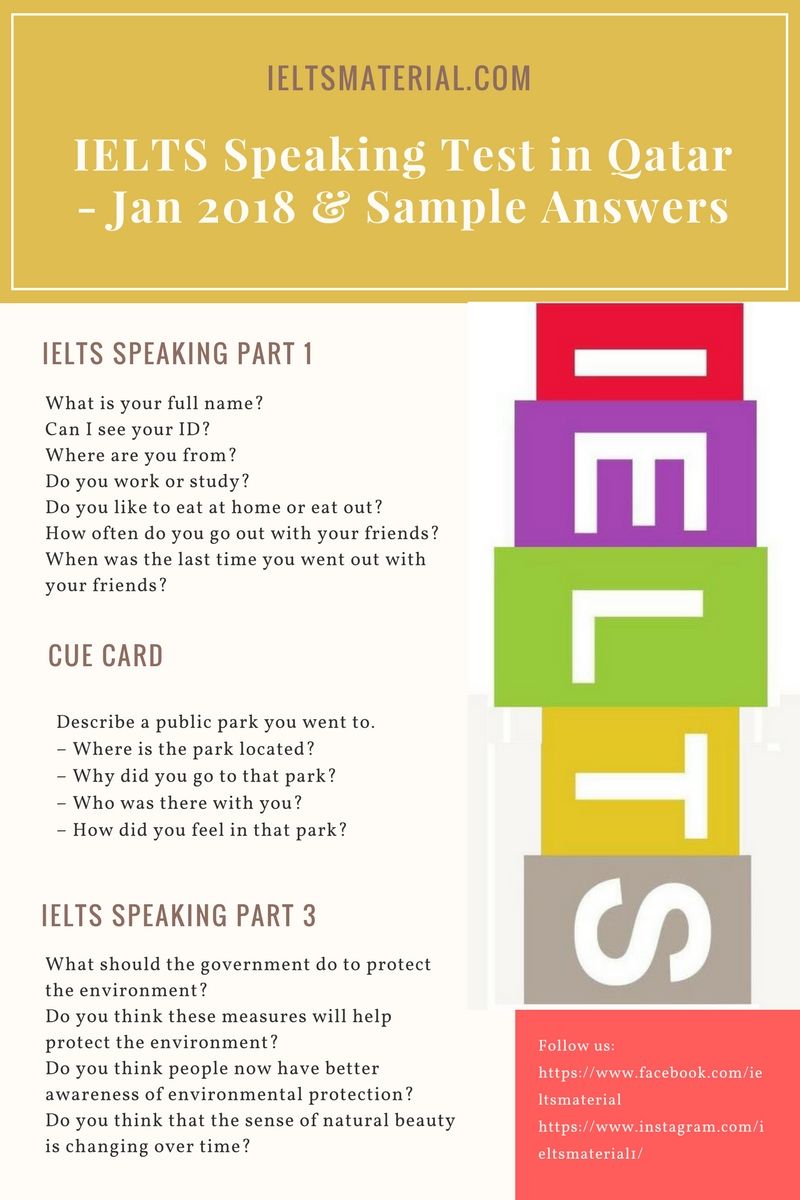 IELTS Speaking Test in Jan 2018 & Sample Answers
IELTS Speaking Part 1
– What is your full name?
– Can I see your ID?
– Where are you from?
– Do you work or study?
– Do you like to eat at home or eat out?
To be honest, I lead a busy lifestyle and I think cooking requires a lot of time and effort, so I usually eat out. However, I really enjoy eating at home because I can spend quality time with my loved ones.
IELTS Actual Tests Questions (January - April 2021) with Answers
How often do you go out with your friends?
Well, I'd say that I hang out with my friends on a weekly basis. Every time we have days off, we grasp the chance to gather at a coffee shop and chit-chat about this and that.
When was the last time you went out with your friends? & What did you talk about?
Well, it was last week when we threw a party at my close friend's house to celebrate her birthday. We had a whale of time at the party and didn't want to go home at all. So, we decided to stay and had a chit-chat all night about our favorite topics like shopping, traveling, etc.
IELTS Speaking Part 2
Describe a public park you went to.
You should say
– Where is the park located?
– Why did you go to that park?
– Who was there with you?
– How did you feel in that park?
Sample 1
Well, I am a sporty man, so I usually go jogging in the public parks in the vicinity of my house. Today, I'm gonna tell you about the nearest park I went to just a couple of weeks ago which is Botanical Park.
This large park was established decades ago with many different areas for different age groups and interests. The last time I was there, I saw people do all kinds of things there like playing badminton, having picnics, etc.
At the top of the hill in the park, there is a beautiful old house which is a great place for just sitting and contemplating while looking at the beautiful flowers. Also, there is a children's paddling pool where families can safely take their kids to cool down in the height of summer.
Living in a vertical city where millions of high-rise buildings were constructed, I felt really relaxed every time I went to the park. The last time I visited this park I luckily had chance to join a inspiring event there and it really lifted up my spirit because I just went through a nerve wrecking period and was buried with a tons of deadlines and projects. I truly hope that down the road I can spend more time at the park to get back to nature, or just simply sit on the grass and chill out without being disturbed by noise or other trivial things.
Sample 2
I'm a regular jogger (collocation) who visits various parks (collocation) for different running (collocation) experiences. Last month I visited New York and had an opportunity to run for five kilometers in The Kennedy Park which (cohesion) is the largest park in that city. Since (cohesion) I was there for a scientific conference (collocation), another colleague from the conference joined me.
Running in the park was an exciting and refreshing experience (collocation). There were a large number of people from different age groups who were either exercising or running. This (cohesion) was truly motivational (collocation). Moreover (cohesion), the park was well maintained (collocation) and had no litter. Also (cohesion), jogging for more than an hour was made more wonderful by fresh cool breeze of New York's early morning of October month.
IELTS Speaking Part 3
– What should the government do to protect the environment?
– Do you think these measures will help protect the environment?
– Do you think people now have better awareness of environmental protection?
– Do you think that the sense of natural beauty is changing over time?
Also check :