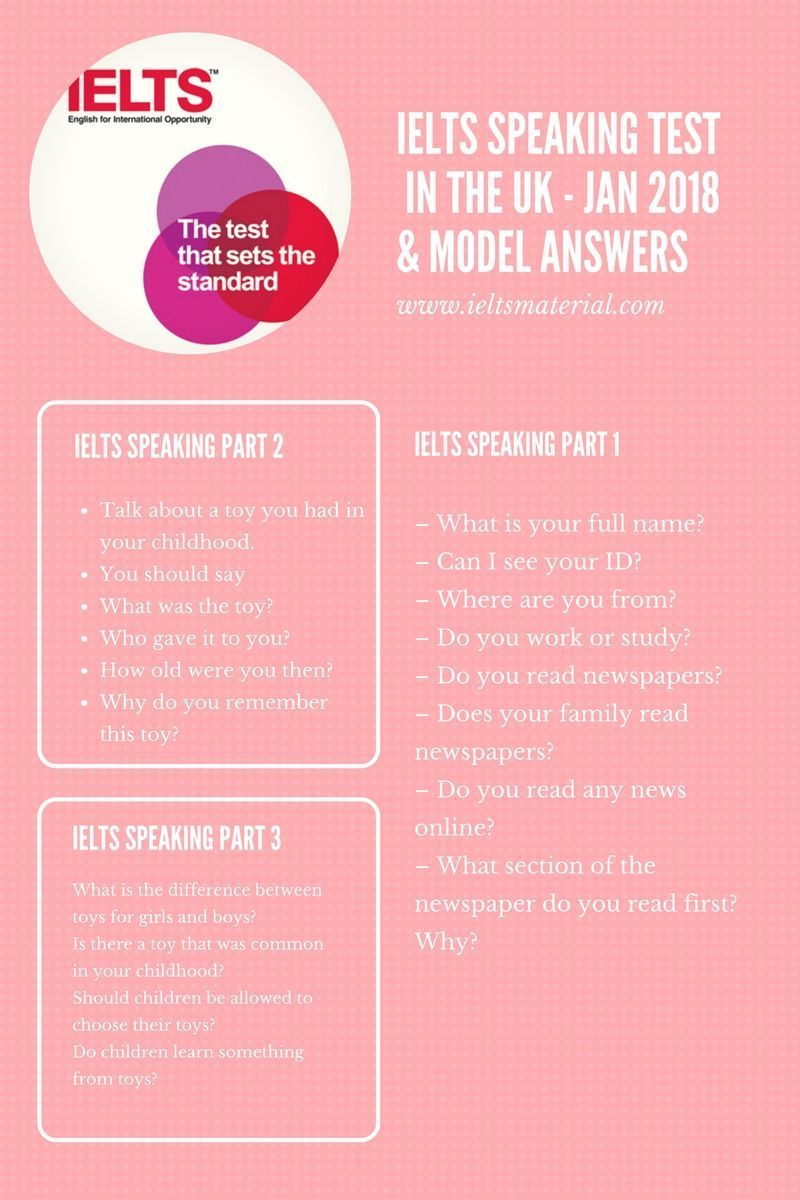 IELTS Speaking Test in the UK – Jan 2018 & Model Answers
IELTS Speaking Part 1
– What is your full name?
– Can I see your ID?
– Where are you from?
– Do you work or study?
– Do you read newspapers?
Yes, I read the newspaper everyday to keep up to date with the latest news and see what the hottest topic of the day is. I've been in the habit of doing this for a long time.
IELTS Actual Tests Questions (January - April 2021) with Answers
– Does your family read newspapers?
Yes, my family usually have breakfast and read newspapers together. I really love to spend a quality time for those with whom I share my life and discuss about some current affairs in the newspapers. It also helps strengthen our family bond a lot, so I want the habit of reading newspaper with my family to go on for ages.
– Do you read any news online?
– What section of the newspaper do you read first? Why?
IELTS Speaking Part 2
Talk about a toy you had in your childhood. Please say
– What was the toy?
– Who gave it to you?
– How old were you then?
– Why do you remember this toy?
Sample Answer :
As a child I had numerous toys (collocation) that my parents, siblings, and friends gifted on various occasions (collocation). However (cohesion), I loved the toy train that my dad gifted me on my seventh birthday.
The first three questions have been addressed till now. It is time to answer the fourth question in a great detail. Note: All pronouns such as IT are referencing words that promote cohesion.
This (cohesion) toy was very special and different from others not only (cohesion) because it (cohesion) was a self propelling train but also (cohesion) because my younger brother and I spent years playing with it. It was not a simple toy but a motorised train with tracks and barriers. I could remotely run the train at high or low speeds and apply breaks to stop it. Moreover (cohesion), my younger brother and I used to spend hours playing with it and, in case of any technical difficulty (collocation), my mom and dad used to repair it. Thus (cohesion), it was not just (cohesion) a marvelous toy (collocation) but also (cohesion) a social bond among my family members. My brother and I developed a close bond of cooperation and a spirit of competition while playing with it.
ELTEC English
IELTS Speaking Part 3
What is the difference between toys for girls and boys?
Is there a toy that was common in your childhood?
Should children be allowed to choose their toys?
Do children learn something from toys?
Also check :