What Everyone Must Know About OET Connectors for Speaking
Glen Brown,
Updated On
OET Speaking is regarded as the most straightforward of the four modules. It is not tough to score 350 or above on this module. All you have to do is to ensure that all the given bullet points on the guiding card are handled while simultaneously listening to the issue of the patient, the role played by the interlocutor, and responding satisfactorily to them. Apart from time management, which is a critical factor, using appropriate vocabulary, like connectors, is crucial.
Therefore, in this article, we will take a brief look at what OET connectors for Speaking and how you can use them to improve your score.
What are Connectors?
Connectors are words or phrases that are used to join sentences together. They are also known as 'connecting words' or 'conjunctive words,' and they add interest to a sentence.
They serve a variety of purposes inside the sentence. For example,
To emphasize the main idea more than others (obviously, considerably, noticeably)
To describe the time period more precisely (hence, finally)
To indicate a contrast between two ideas (although, despite)
To demonstrate cause and effect. (hence, accordingly)
But how are they used in OET Speaking?
Well, before we move to the answer to this question, let us know about the Speaking module of OET.
Pointers on the OET Speaking Task
The Speaking test will last about 15 to 20 minutes and will be divided into two separate roleplay settings, as well as a brief warm-up talk before the actual test begins.
The roleplay prompt is based on genuine scenarios relevant to your selected area of expertise. So a nursing candidate will be participating in a roleplay that unfolds based on a common context for nurses, such as taking care of a patient's daily medicine dosages.
The interlocutor will assume the position of the patient or the patient's guardian or caregiver.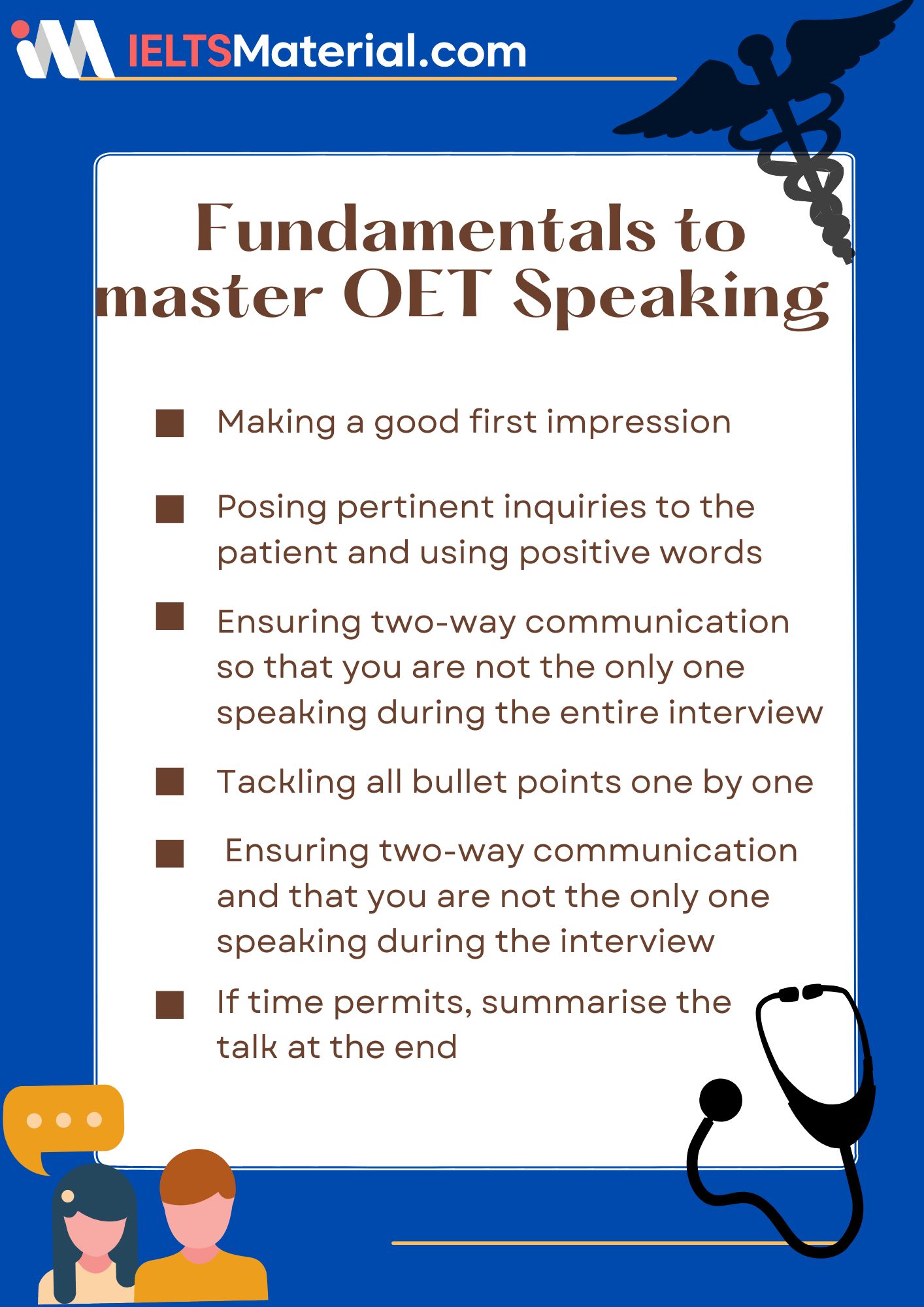 You should not consider the interlocutor to be an examiner because they will not be evaluating you directly.
Trained assessors who will listen to a recorded version of your discussion at a later time will grade you. So it is important to think of this individual as your conversational partner.
Instead of being apprehensive when speaking with them, try to see this as a typical, everyday situation.
The entire process is designed to determine how well you speak English in the specific medical environment.
You will be evaluated on a variety of abilities, including how clearly, fluently, and effectively you communicate.
To do so, you must understand the use of simple grammatical structures, like connectors, and know the tips to deal with OET Speaking.
Connectors and OET Speaking
The linking words have a significant impact on the results of the OET speaking test as they improve the logic and understandability of any phrase. It is critical to use the proper connectors when speaking in order to score well.
Let us take a look at the different types of connectors.
Logical connectors to show the contrast:
But
However
On the other hand/ on the one hand
Otherwise
Unlike
Conversely
At the same time

In spite of
Despite
Even though/ Although
Still/ Yet/ Nevertheless
Even so
On the contrary
In contrast
Whereas
Cause & Effect Connectors:
Therefore
So
Because
Thus
Hence

Due to
As a result
Consequently
Since
On account of
Other Advanced Connectors:
In addition/ besides
On top of that
Furthermore
Moreover
What's more
In order to
So as to
For example
To tell the truth

Personally
I think that
It is true that
I agree
As far as I am concerned
Essentially
Basically
In other words
How to use Connectors?
Connectors must be used correctly in order to provide accurate meaning to a statement. Given below are some tips to achieve this:
When linking sentences, be precise. Proper words should be used to ensure that the statement conveys the intended meaning.
E.g.: The patient has been suffering from fatigue and has frequently been urinating.
Avoid utilising connectors excessively. Excessive use of connectors makes sentences sound sloppy and frantic.
E.g.: I am writing to refer Mr. Singh, who is possibly suffering from osteoarthritis. Therefore, he requires further assessment and an appropriate management plan. ('Therefore' is not required here)
Choose the appropriate connectors. Many linked terms share the same meaning. As a result, selecting the appropriate connectors for OET speaking is essential.
E.g.: The following connectors have the same meaning:
and, also, additionally, in addition, in addition to this, along with, as well as
Examples of how to use OET Connectors for Speaking
Given below are a few example sentences with good use of connectors:
He has stabilised after a week in the hospital, and his respiratory problems have been cured. He still has some chest and abdominal pain, as well as a dry cough.
Due to more and more people having their medical history tracked over time, we will learn even more about how our bodies get sick and how they heal.
Mr. Ramamurthy was very weak when he was admitted to the hospital, but he gained weight thanks to the nutritionist assistance.
Ms. Martin may be at risk of social isolation despite the fact that she has a lot of family members who live close by.
We had full medical insurance and a pension program.
She will require a home care nurse due to her high dependency.
Despite good results, continued physiotherapy is advised.
In cases of poisoning by mushrooms, immediate medical advice should be secured.
She appeared with significant stomach pain and was subjected to a number of tests.
There are four hospitals, each of which is under the general supervision of a senior officer of the Indian medical service, and medical aid is given free to the whole population.
Ms. Bell retired from a management post at the end of 2016, and she has struggled to find a new routine in her retirement.
She also complains of polyuria and polydipsia, implying that diabetes should be ruled out.
The patient was starting to show signs of restlessness and poor sleep throughout the night.
Mr. Dunbar has been using a walking stick since October 2018 due to symptoms of diabetic neuropathy.
Despite daily exercise, she has developed a number of lifestyle ailments.
Conclusion
To ace the OET Speaking test, you will need to be fluent in English, but you will also need to employ the terminology and tone that is expected of a doctor or nurse. The efficient transmission of information is critical. So it is important to have a grasp of grammar and its usage in daily speech. Once armed with these skills, you are sure to excel in every aspect of spoken communication.