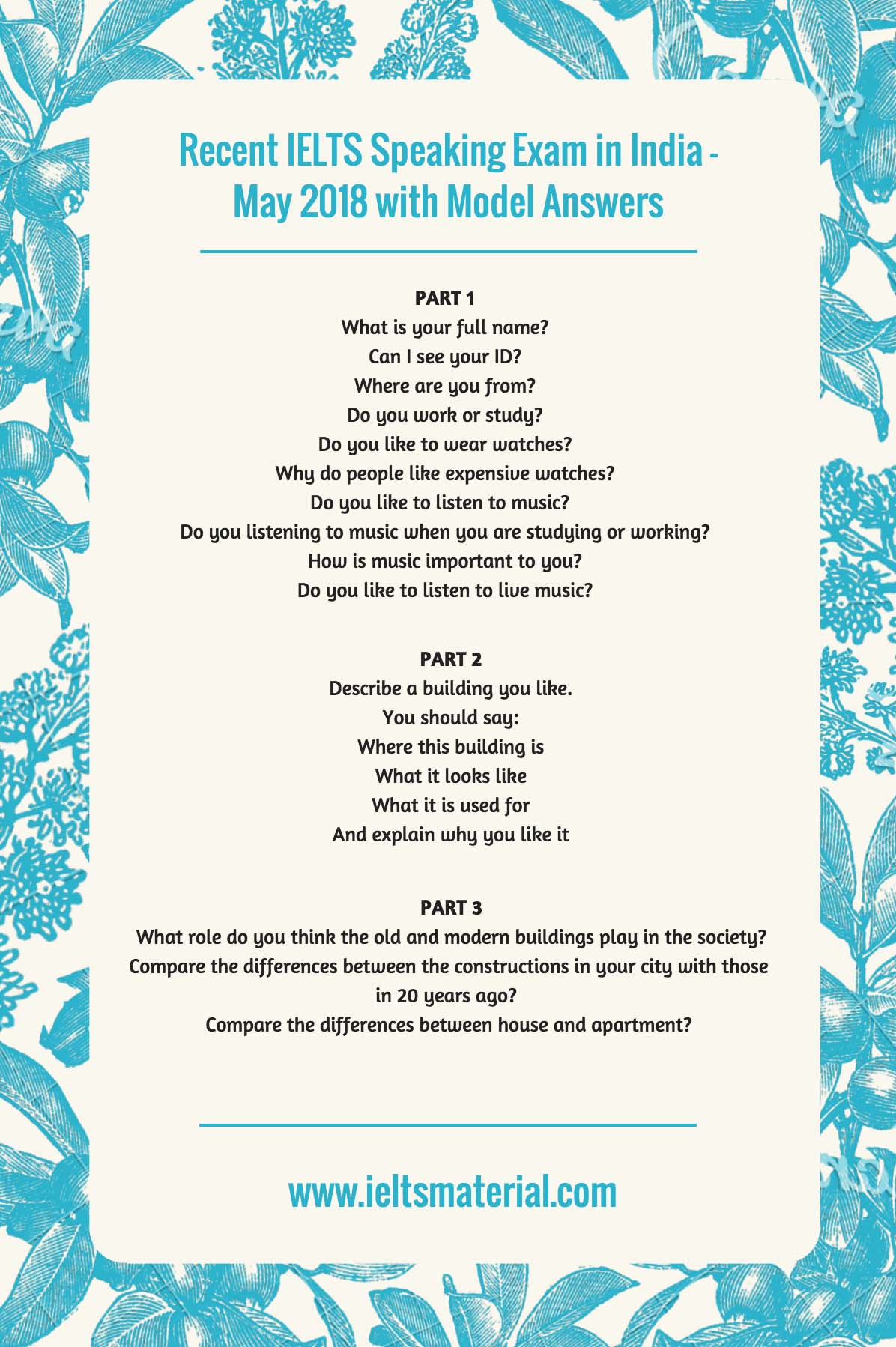 Recent IELTS Speaking Exam in India – May 2018 with Model Answers
IELTS Speaking Part 1
What is your full name?
Can I see your ID?
Where are you from?
Do you work or study?
Watches
Do you like to wear watches?
Well, I am more a cosmetics girl than clothing and accessories, hence, there are not many watches and jewelries in my possession. However, I have nothing against wearing a beautiful piece of art on my wrist and do own a few exclusive timepieces which suit perfectly with my clothing on some special occasions, giving me a sense of identity and uniqueness.
IELTS Actual Tests Questions (January - April 2021) with Answers
In someone's possession: if something is in someone's possession, they have it
Have nothing against: to dislike or not approve of someone or something for a particular reason
On (special) occasions: from time to time; now and then
Why do people like expensive watches?
Just like any other accessories, the more luxurious a timepiece looks, the higher social status the owner may hold. Watches are widely used by either gender and one of the visual indicators presenting how professional, smart and attractive a person is. Therefore, if one wants to be acknowledged and taken seriously, he/she will prefer a high-end watch rather than a collection of low-end ones.
Timepiece (n): a clock or watch
Social status (n): a person's standing or importance in relation to other people within a society
Indicator (n): a sign that shows you what something is like or how a situation is changing
Acknowledge (n): to accept that somebody/something has a particular authority or status
High-end (a): expensive and of high quality
Low-end (a): at the cheaper end of a range of similar products
Music
Do you like to listen to music?
So far I haven't met anyone who dislike music. However, when the workload is too heavy that requires me to stay highly focus, music is a huge distractor. Unlike many people who likes listening to instrumental music because it highly benefits for their concentration and study, in my case the music makes me feel instantly sleepy.
Do you listening to music when you are studying or working?
Well I'm a type of person whose mood is easily influenced by what I'm listening to. When music changes, my mood also fluctuates. Therefore, most of the time I don't listen to music to be able to concentrate on my tasks.
How is music important to you?
Well, music is crucially important to human beings in the whole world and I'm no exception. I usually listen to cheerful music when I need motivation while sad music is my go-to choice during emotional days.
Do you like to listen to live music?
Unless it's live at a coffee shop, whereby literally only you and the music, then yeah I would love to go enjoy myself. But I would change my mind if it's a concert. That place is too crowded and too messy that most of the case I end up having serious dizzy and headache.
Also check :
IELTS Speaking Part 2
Describe a building you like.
You should say :
Where this building is
What it looks like
What it is used for
And explain why you like it
Sample Answer
• I'm going to describe a high-rise building in my neighborhood. It's called Green Paradise located in the northern region of our country.
• Unlike other modern blocks, which are usually huge glass towers, the building is painted yellow, although it's named Green Paradise. The structure of Green Paradise is not dissimilar to that of most buildings in Canada nowadays, with the bottom half used as a shopping center and the top half occupied by apartments.
• One feature that makes the building unique is that its trade center offers Canadian products only, with a view to promoting domestic products to the visitors and also to supporting national manufacturers. At the entrance of the building, if you look to the right, you can easily find a store named Masterchef bread, which serves traditional bread to people who just do not have enough time to go inside, so they line up waiting to pay.
•Green Paradise is not only in a prime location, but it also offers a reasonable price for its apartments, which are affordable for many middle-income families. From the building, we can enjoy the breathtaking scenery. So, if you are planning to find a place with a beautiful and peaceful view, or simply want to buy something traditional, Green Paradise may be a good choice.
IELTS Speaking Part 3
What role do you think the old and modern buildings play in the society?
Well, I think modern buildings are for us to live and work, while old buildings are great for tourism and research.
Compare the differences between the constructions in your city with those in 20 years ago?
The traditional buildings are made of the red brick and always have curved eaves. Thousands of buildings look the same. But now, various buildings with different colors and styles have been going up in my hometown. In addition, room is equipped with kitchen and bathroom. This is very convenient.
Compare the differences between house and apartment?
In my country, there is a big yard beside house, where we can plant some flowers and trees etc. But house is more expensive. Apartment is convenient and cheap but small.