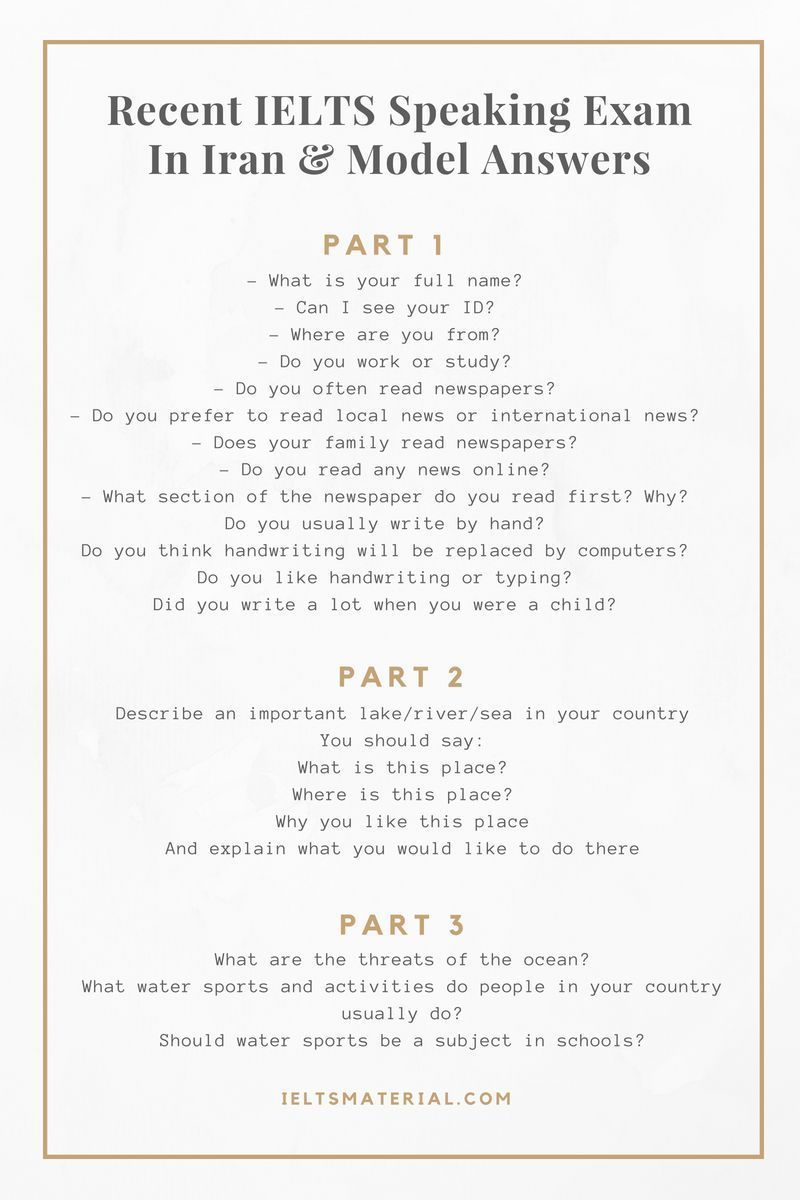 Recent IELTS Speaking Exam in Iran – May 2018 & Model Answers
IELTS Speaking Part 1
– What is your full name?
– Can I see your ID?
– Where are you from?
– Do you work or study?
Newspaper
– Do you often read newspapers?
Yes, I read the newspaper everyday to keep up to date with the latest news and see what the hottest topic of the day is. I've been in the habit of doing this for a long time.
IELTS Actual Tests Questions (January - April 2021) with Answers
– Do you prefer to read local news or international news?
Well, I suppose that I prefer/have an inclination towards international news, especially news about relationships among countries around the world. This is probably because I really care about diplomatic issues and want to keep track of what's happening outside my country.
– Does your family read newspapers?
Yes, my family usually have breakfast and read newspapers together. I really love to spend a quality time for those with whom I share my life and discuss about some current affairs in the newspapers. It also helps strengthen our family bond a lot, so I want the habit of reading newspaper with my family to go on for ages.
– Do you read any news online?
– What section of the newspaper do you read first? Why?
Handwriting
Do you usually write by hand?
Not really anymore. These days I find myself typing a lot on computers and texting on my phone, so I rarely use paper and a pen anymore. Having said that, I still have to jot down notes in class because laptops are not allowed. I think it's a pain, really.
Do you think handwriting will be replaced by computers?
Well, you know, in this day and age, modern technologies have largely marginalized handwriting, and you don't see people writing by hand as much as they did in the past. However, I still think some things need to be handwritten. For example, you should always handwrite a wedding invitation to show respect to the guests.
marginalize (verb) to make someone or something seem not important or relevant
Do you like handwriting or typing?
Did you write a lot when you were a child?
Also check :
IELTS Speaking Part 2
Describe an important lake/river/sea in your country
You should say :
What is this place?
Where is this place?
Why you like this place
And explain what you would like to do there
Model Answer
XYZ [your country] has several major rivers and hundreds of minor ones. The longest river in my country is ABC which flows through more than five states in the northern part of the country.
This river is the lifeline of millions of citizens of my country. Not only does it supports farmers through irrigation canals and aquaculture, but also helps smooth business operations by acting as a navigation system. Moreover, it is a sacred river of the Hindus and they perform various rituals on the banks of the river. Thus, the river has both economic and cultural significance.
When I was a little kid, I always dreamed of visiting it. Yet, not until I turned 22 years old did I have chance to see it. Immediately, I was overwhelmingly impressed by its breathtaking beauty and historical value. And I have to say that it is so far the best trip I have ever had in my entire life, and I hope can visit the river again soon.
IELTS Speaking Part 3
What are the threats of the ocean?
What water sports and activities do people in your country usually do?
Should water sports be a subject in schools?