2008 Report About the Consumption of Energy in the USA since 1980- Line Graph
Janice Thompson,
Updated On


Limited-Time Offer : Access a FREE 10-Day IELTS Study Plan!
The graph below gives information from a 2008 report about the consumption of energy in the USA since 1980 with projections until 2030
You should spend about 20 minutes on this task.
Summarise the information by selecting and reporting the main features, and make comparisons where relevant.
You should write at least 150 words.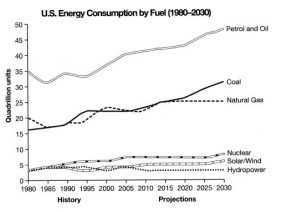 Report Plan
Paraphrase: Paraphrase the topic sentence.
Overview: Mention the main features of the given line graph and give an overview of the information provided.
Paragraph 1: Elaborate on the US Energy Consumption trends.
Paragraph 2: Elaborate on the US Energy Consumption trends.
Sample Answer
The graph represents the consumption of different forms of energy by the United States of America from the year 1980 and also the possible levels of consumption till the year 2030.
It is quite evident that energy produced from fossil fuels like coal, natural gas, and petroleum is dominant, whereas alternative energy sources like solar power, wind power, hydropower, and nuclear power are least utilized.
Petrol and Oil resources were the highest energy suppliers in the USA, where the consumption was mostly upwards rising, and levels are expected to rise in the future. Coal and natural gas had relatively lower consumption levels than petroleum. The use of these resources also rose over the years, and consumption is expected to rise. The use of natural gas became stagnant after 2015.
Renewable energy use was significantly less, but consumption had increased overall. The utilization of renewable energy remained constant after 2010, with nuclear and solar/wind power use rising slightly around 2025.