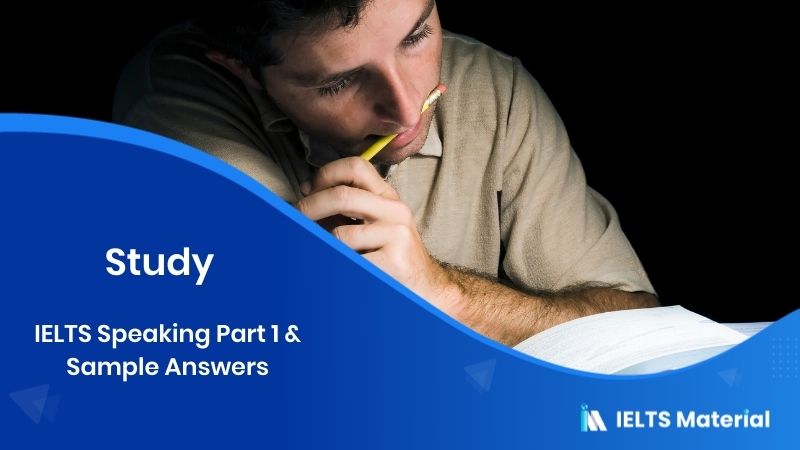 Study – 2017 IELTS Speaking Part 1 & Sample Answers
Speaking Part 1 Topic: Study
Q1: Are you studying or working?
I'm currently a senior at X University, which is one of the top schools in the nation. Admission is incredibly competitive, so I'm very proud of being a student here.
Senior (noun) final year university student
Example: Message had been circulated to all the senior figures in the industry.
Q2: What are you studying?
Well, I'm majoring in Accountancy, so as you can guess, I deal a lot with numbers and figures day in, day out. It can be overwhelming at times, but I think that I have a knack for mathematics and calculations, so it's okay.
Day in, day out (phrase) continuously or repeatedly over a long period of time.
Example: You should buy extra vitamin supplements to meet your children's nutrition needs day in and day out
Have a knack for (phrase) to be exceptionally proficient at (doing) something
Example: He had a knack for connecting with people
IELTS Actual Tests Questions (February - May 2021) with Answers
Q3. Why did you choose to study that major?
There are many reasons for my choice. Primarily, I have an interest in Accountancy. Another reason could be because of Accountancy itself since I've found that my personality has changed positively. I've become more patient and skillful.

Q4. What's the most difficult part of your study?
Well, for the most part, I'd say it's the workload. I mean there are so many assignments, and students are always under a lot of pressure to meet deadlines. But on the other hand, exams are a piece of cake. They are entirely predictable, and I can pretty much breeze through them with a bit of revision.
*pretty much = almost
A piece of cake (idiom) very easy
Example: The job interview was a piece of cake for Jessy
Breeze (through) (verb) to easily complete or win something
Example: The Indian team breezed through the Pakistanis in the first test match
Q5: What do you like most about your school?
I guess the aspect I find most enjoyable is the environment. I mean, I get to study in English-speaking classrooms, and the facilities are top-notch; I mean, all the classrooms are air-conditioned and equipped with projectors. My friends and teachers are all adorable, so, all in all, it's a great place to study.
top-notch (adj) excellent
Example: Columbia Asia is one of the top notch hospitals in the city.
Composed and edited by Dang Tran Tung,  IELTS 9.0
Speaking Tip :
Bear in mind that you should explain your topic ideas to lengthen your sentences and show off some more advanced vocabulary. For example:
top school ==> competitive admission + very proud
accountancy ==> deal with numbers ==> overwhelming
workload ==> many assignments ==> pressure
top-notch amenities ==> air-conditioned classrooms + equipped with projectors
You can get our IELTS speaking ebook titled "IELTS Speaking Actual Tests & Suggested Answers (Ebook)" which covers all the latest IELTS Speaking Actual Tests in 2017 with Band 9.0 Model Answers to boost your IELTS score.
Also check:
FAQs
Is the ebook "IELTS Speaking Actual Tests & Suggested Answers (Ebook)" for Academic or General module?
The Speaking test does not vary for Academic and General module.
What does the ebook "IELTS Speaking Actual Tests & Suggested Answers (Ebook)" contain?
It offers the following:
-> Latest IELTS Speaking actual tests in 2017
-> Band 9 model answers
Can I answer the questions with just a 'yes' or 'no'?
By answering with just a 'yes' or 'no' you are not allowing the examiner to judge your language ability. Eventually, it will lead to poor scores.
What if I made some mistakes while Speaking?
It is quite common to make mistakes. But when you are conscious that you have made a mistake, attempt to correct them even as you are speaking. By doing this, you are letting the examiner know your abilities in grammar and vocabulary.
Is it ok to have a few "Umms" and "Aahs" while Speaking?
You should avoid using them, as much as possible. By using "Umms" and "Aahs" you are hinting the examier that you are in search of words.