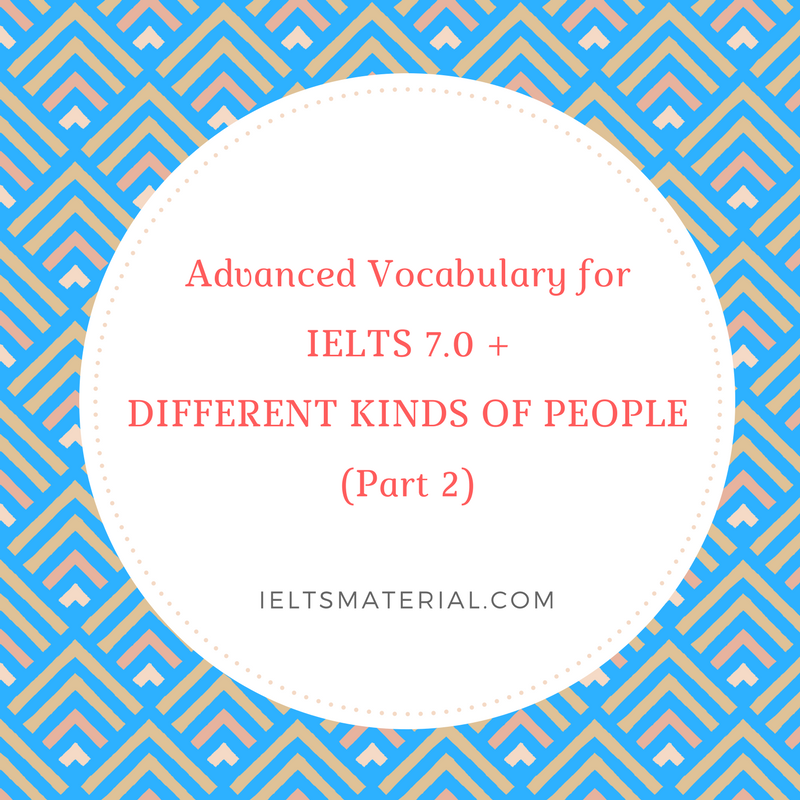 Advanced Vocabulary for IELTS 7.0 +: DIFFERENT KINDS OF PEOPLE (Part 2)
Good Qualities and Character Flaws 2
(a) For each question, tick the word or phrase (a or b) that appears closest in meaning to the words underlined.
1. To be insolent is to be …..

2. To be irascible is to be …….

3. To be mendacious is to be …….

4. To be mercurial is to be ….

5. To be pedantic is to ……

6. To be pensive is to be ……

7. To be pernickety is to be ……

8. To be quixotic is to be …….

9. To be recalcitrant is to be ……

10. To be sanguine is to be …….

11. To be scrupulous is to be ……

12. To be steadfast is to remain ……

13. To be stoic is to be …..

14. To be vociferous is to be …..

15. To be wilful is to be …..

16. To be wistful is to be ……

(a) rude

(a) short-tempered

(a) dishonest

(a) even-tempered

(a) pay attention to detail

(a) deep in thought

(a) very witty

(a) a visionary

(a) disobedient

(a) serious in character

(a) loyal

(a) faithful to something

(a) very emotional

(a) noisy

(a) easy to please

(a) focused on the future

(b) likeable

(b) good-humoured

(b) motivated

(b) lively but unpredictable

(b) always be in a hurry

(b) anxious about something

(b) overly fussy

(b) predictable and boring

(b) creative

(b) cheerful and optimistic

(b) principled

(b) critical of something

(b) impassive

(b) shy

(b) overly stubborn

(b) longing for something
(b) Transform the adjectives from Task One into an appropriate Noun or Adverb form.
If you are steadfast in your belief, you will defend that belief ……………….
If you are willful by nature, you come to be known for your ……………….
Someone who is stoic is known for their ……………….
If you want to complain in a vociferous manner, you might shout ……………….
A wistful person thinks ………………. about their long-lost love.
………………. Is not a characteristic of someone who is unscrupulous.
If you do something in a sanguine manner, you do it ……………….
If you communicate with your parents in a way that is insolent, you speak …………….. to them.
A mendacious person has the unbecoming characteristic of ……………….
He is mercurial, so his ………………. is what makes him interesting.
He threw the stone in an irascible rage because of his innate ……………….
She looked ………………. towards the sky because she was in a very pensive mood.
His ………………. is very annoying; he should really try not to be so pernickety.
………………. is a quality found in those who tend to be recalcitrant.
He ………………. predicted great things for the economy; after all, it was in his nature to be sanguine.
He approached every problem ………………. which meant that he always found an unusual way around it; they used to call him Mr. Quixotic.
ANSWER KEY
Good Qualities and Character Flaws 2
(a)
 
(b)
 
1. a

2. a

3. a

4. b

5. a

6. a

7. b

8. a

9. a

10. b

11. b

12. a

13. b

14. a

15. b

16. b

1. steadfastly

2. willfulness

3. stoicism

4. vociferously

5. wistfully

6. Scrupulousness

7. sanguinely

8. insolently

9. mendaciousness

10. mercuriality

11. irascibility

12. pensively

13. pernicketiness

14. Recalcitrance

15. sanguinely

16. quixotically
Also check :