Amount of Money Per Week Spent on Fast Food in Britain- Bar Graph + Line Graph
Janice Thompson,
Updated On


Limited-Time Offer : Access a FREE 10-Day IELTS Study Plan!
The chart below shows the amount of money per week spent on fast food in Britain. The graph shows the trends in the consumption of fast foods.
You should spend about 20 minutes on this task.
Write a report for a university lecturer describing the information shown below.
You should write at least 150 words.
Expenditure (Pence per person) on Fast Food, by Income Groups, UK 1990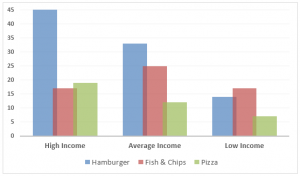 Consumption of fast food per person in gram in Britain.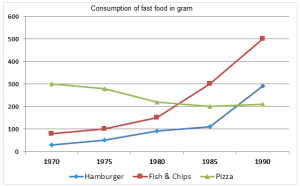 Report Plan
Paraphrase: Paraphrase the information in the topic sentence.
Overview: Mention the main features from both the graphs and give an overview of the information provided.
Paragraph 1: Elaborate on the trends in fast food consumption in Britain.
Paragraph 2: Elaborate on the trends in fast food consumption in Britain.
Sample Answer
The first graph represents the type of fast food preferred by people from different income groups. The second graph portrays the pattern of consumption of fast food.
Hamburgers were the most popular fast food in Britain among the high and average income group. Fish and chips were also widely preferred by all the income groups, followed by pizza. The consumption of pizza declined over the years, whereas that of hamburgers and fish and chips increased.
The preference for hamburgers grew gradually over the years before sharply increasing in 1985 and reaching around 300 grams per person by 1990. The consumption of fish and chips also rose gradually, and their popularity grew strongly after 1980.
As for pizza, the consumption was highest in 1970 after which it slightly diminished over the years, falling to almost 200 grams in 1990.