How Energy is Used in an Average Australian Household- Pie Chart
Janice Thompson,
Updated On


Limited-Time Offer : Access a FREE 10-Day IELTS Study Plan!
Describe Image is one of the most complicated tasks in the IELTS Writing module. Without a sound plan, it can be difficult to perform well on the Describe Image exercise. The Pie Chart is the ideal format for practising the Describe Image problem because it has logically and simply organised all of the components. Elements of the Bar Graph include the title, the data, the legend, and the number of pie slices.
The first chart below shows how energy is used in an average Australian household. The second chart shows the percentage of greenhouse gas emissions that result from this energy use.
You are advised to spend about 20 minutes on this task.
Summarise the information by selecting and reporting the main features, and make comparisons where relevant.
You should write at least 150 words.
The percentage of household energy use in Australia: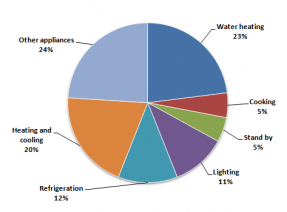 The percentage of greenhouse gas produced in Australia: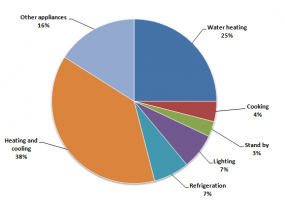 Report Plan
Paraphrase: Paraphrase the topic sentence.
Overview: Mention the main features of the two pie charts and give an overview of the information provided.
Paragraph 1: Elaborate on household energy use in Australia.
Paragraph 2: Elaborate on the production of greenhouse gases due to the energy use in Australia.
Sample Answer
The first pie chart represents the various categories of energy usage in Australian households. The second pie chart portrays the amount of greenhouse gas production due to household energy consumption in Australia.
The majority of energy in Australian households is consumed by water heating appliances, heating and cooling appliances and other household appliances. The highest amount of greenhouse gas emissions in Australia is due to heating and cooling appliances followed by water heating and other appliances.
The utilization of energy in Australian households is pretty balanced. Heating and cooling appliances, water heaters and other appliances contribute significantly to the total energy consumption. Refrigeration and lighting also add to the total expenditure followed by cooking appliances and standby energy consumption.
Greenhouse gases are primarily produced by heating and cooling appliances, water heaters and other appliances. Lighting and refrigeration both make up for 7% of greenhouse gas emissions respectively. Cooking appliances and standby energy expenditure also marginally contribute to greenhouse emissions.