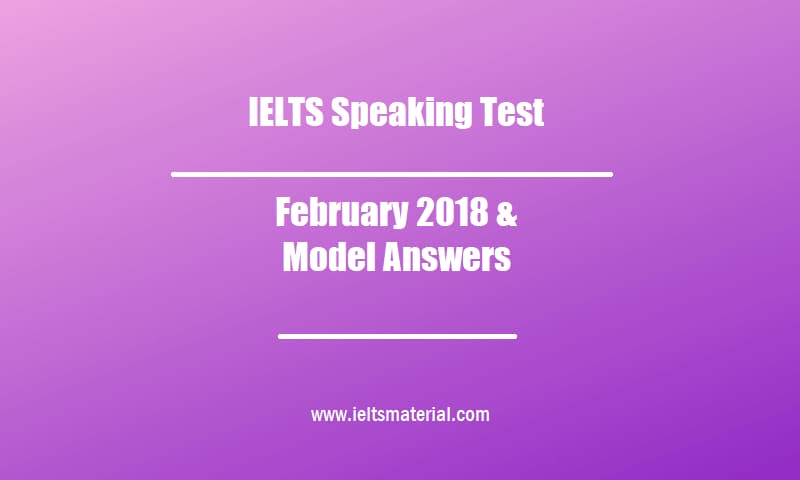 IELTS Speaking Test – February 2018 & Model Answers
IELTS Speaking Part 1
Hometown
Where did you live when you were a child?
How long had you lived there?
Why did you move to another place?
IELTS Actual Tests Questions (January - April 2021) with Answers
Job
What was your dream job when you were a child?
What do you like about your job?
What are your responsibilities at work?
IELTS Speaking Part 1 Topic: Job/Work & Sample Answers
Outdoor Activities
Do you often do exercise?
What kinds of exercise do you like?
What are the popular activities at school?
Is it good for students to do regular exercise?
IELTS Speaking Part 2
Describe A City/Place You Want To Live In The Future
You should say :
• where it is
• what it is famous for
and explain why you would like to live there.
==> Similar topic with Sample Answer
IELTS Speaking Part 3
What are the main disadvantages of living in a city?
The first thing that pops into my head is the high level of pollution that people have to suffer from, varying from air pollution to noise pollution. In addition to that, due to the large number of people living in cities, it's more challenging to find a job because there are so many people searching for job vacancies at the same time.
How do you think cities could be improved?
In my opinion, we should ask for help from the policymakers to reduce the number of vehicles commuting on the streets, which will definitely reduce the level of pollution. Moreover, creating more green space is also an option to take into consideration when we want to improve the living quality of city dwellers. I would say that the government not individuals who plays the most important role in such efforts.
Are people less friendly in cities than in the countryside?
I think it's rather harsh to say that people from the cities are less friendly than those who come from the countryside. It mainly depends on the personalities of each person. Or maybe a lot of people have that negative thought because people from the cities are busier with their work, and they don't have enough time to worry about other people's issues.
Why do a lot of people want to move to a foreign country?
What factors in a new place affect people's lives?
Why do people move to other cities to live?
Also check :