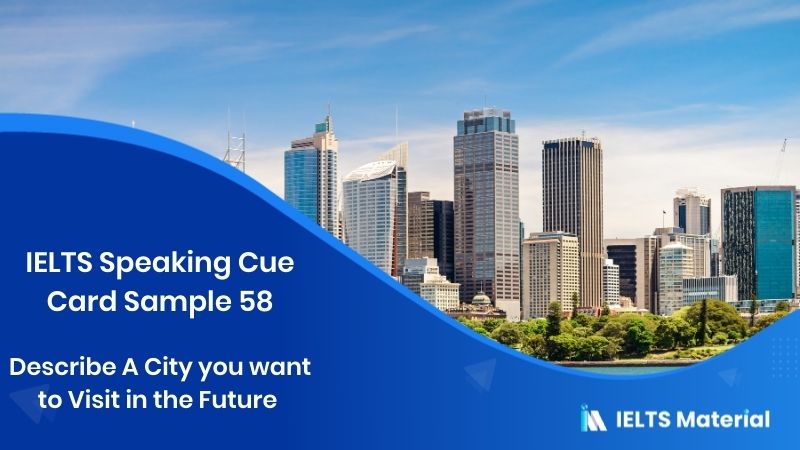 Describe A City you want to Visit in the Future – IELTS Speaking Cue Card Sample 58
IELTS Cue Card 58
Describe a City you want to visit.
You should say :
Where is it?
Why do you want to visit it?
What do you know about this city?
Band 8.0+ Sample Answer
I have a myriad of destinations on my must-visit list around the world. However, if I get the opportunity to choose one city, I would probably pick London, which is one of the most prominent capitals around the globe. I guess the reason why I  desire to visit London has something to do with the fact that ever since I was a kid, I had always been amazed by the gorgeous and unique architecture of London. There are also some interesting facts about London that I want to witness in real life. One of them is the fact about the Big Ben tower. So far, many people see the tall clock tower and think that it is Big Ben. But in fact, Big Ben is a giant thirteen – ton bell inside the tower that is rung every two hours by a two hundred – kilogram hammer. The real name of the Bell is the Great Bell of Westminster. Besides Big Ben, lots of tourists also enjoy visiting Buckingham Palace, which is also extremely appealing to me since it is the home to the Queen of England. Watching the changing of the guard ceremony that takes place in front of the Palace's gate certainly be exciting. Buckingham Palace is also the second-largest working palace in the world after Brunei's Istana Nurul Iman. Many other elements are making London so tempting to me and pay this fantastic city a visit in the future. It is one of the items in my wish – list.

Vocabulary :
A myriad of something (expression): A large number of something
Example: The sparkling myriad lights of the city in Diwali was a fantastic sight.
Must – visit (slang): worth visiting
Example: Rome is a must-visit place
Prominent (a): Famous
Example: There were several prominent poets in the Court of Akbar.
Around the globe (expression): Around the world
Example: His job involves travelling around the globe.
Be Desired to do  (Adjective phrase): want to do something very much
Example: Tom's grandfather desired to go on a pilgrimage.
Amaze (v): surprise greatly
Example: The odissi dancer amazed the audience.
Gorgeous (a): Stunning, beautiful
Example: The night sky was gorgeous
Witness (v): See in the eyes
Example: Tom's grandmother witnessed his reactions to the new medicine
Hammer (n): tool or device that delivers a blow (a sudden impact) to an object.
Example: He hit it hard with a hammer
Extremely (adv): very
Example: The assignment was extremely difficult
Appealing (a): attractive
Example: The new idea of the government seemed appealing to the masses.
Tempting (a): attractive, appealing
Example: The chocolate cake looks tempting.
Also check: