Projected Population Growth of China and India- Line Graph
Janice Thompson,
Updated On
Describe Image is one of the most complicated tasks in the IELTS Writing module. Without a sound plan, it can be difficult to perform well on the Describe Image exercise. The Line Graph is the ideal format for practicing the Describe Image problem because it has logically and simply organized all of the components. Elements of the Line Graph include the layout, the figures, the contrasts, and the similarities.
The line graph shows the projected population growth of China and India.
You should spend about 20 minutes on this task.
Summarise the information by selecting and reporting the main features, and make comparisons where relevant.
Write at least 150 words.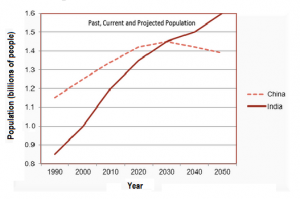 Report Plan
Paraphrase: Paraphrase the topic sentence.
Overview: Mention the main features of the line graph and give an overview of the information provided.
Paragraph 1: Elaborate on the population growth trend of India and China.
Paragraph 2: Elaborate on the population growth trend of India and China.
Sample Answer
The given line graph depicts the trajectory of population growth in China and India from 1990 and provides projections for population growth till 2050.
The initial population of India was significantly lower than that of China, but the rate of population growth was similar for both countries. There is no significant change predicted in the population growth for India, but the same for China will drop after 2030.
The population of China was more than 1.1 billion in 1990, whereas that of India was between 0.8 and 0.9 billion. Both countries had a high population growth rate, and there was significant growth in population every decade. Around 2020 the population growth rate of China became slower, whereas that of India did not change noticeably.
The population growth in India will keep increasing beyond 2050 at relatively the same rate. By 2030, China's population growth rate will drop, and the population will fall slightly below 1.4 billion by 2050.