Stages and Equipment Used in the Cement-Making Process- Process Diagram
Janice Thompson,
Updated On
The diagram below shows the stages and equipment used in the cement-making process, and how cement is used to produce concrete for building purposes.
You should spend about 20 minutes on this task.
Summarise the information by selecting and reporting the main features and making comparisons where relevant.
You should write at least 150 words.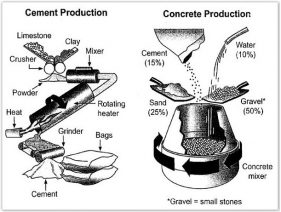 Report Plan
Paraphrase: Paraphrase the topic sentence.
Overview: Mention the main features of the diagram and give an overview of the entire process.
Paragraph 1: Elaborate on the process of cement production.
Paragraph 2: Elaborate on the process of concrete production.
Sample Answer
The given diagram illustrates the manufacturing of cement and concrete as two different processes.
Making cement is an intricate and complex process from the beginning till the end. Also, producing concrete requires several raw materials and in specific proportions.
The basic ingredients that are required for producing cement are limestone and clay. The process of cement production begins by crushing limestone and clay into powder and mixing them well in a mixer. Once the mixture is prepared, it is passed through a rotating heater and then a grinder to make cement. The final product is stored in cement bags.
Concrete manufacturing requires four main ingredients and in particular quantities. The percentage of cement used in concrete is 15% and that of water is 10%. Sand and gravel are the two major constituents of concrete. The proportion of sand is 25% in concrete, and that of gravel is 50%. All these four ingredients are put in a concrete mixer and mixed thoroughly in a particular manner to create concrete.