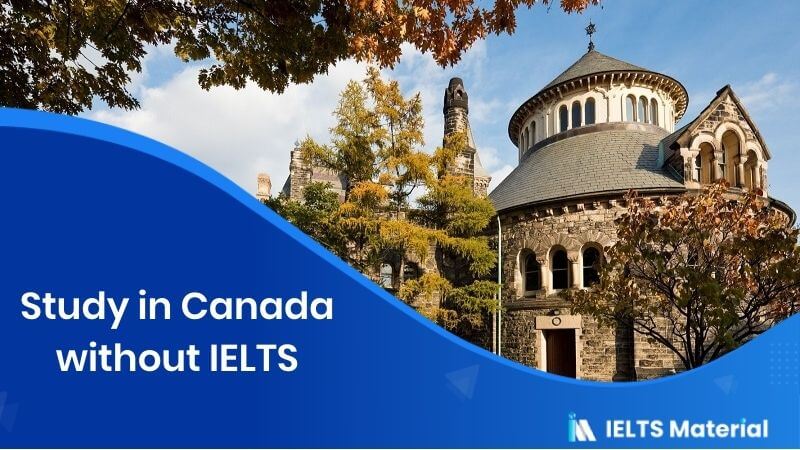 Study in Canada without IELTS
Canada has become the dream destination for students across the world. It has a large number of Universities with some of its Universities continuously ranking among top 100.
But, students who are non-native speakers of English find it difficult to qualify in English language proficiency tests which is critical in procuring a visa. The good news is that Canada is flexible. Yes, it has a variety of options for students to prove their English proficiency and does not depend only on IELTS. 
Can I go to Canada without IELTS?
Yes, you can. But you will have to show proof of your English proficiency.
How to procure a Canada study visa without IELTS? (or) do I need IELTS for Canada student visa?
Canada offers many alternatives to IELTS. So it is easy to procure a Canada student visa without IELTS.
The various alternatives are :
If not IELTS, the following tests serve as proof of English proficiency:
| Name of the test | What does it stand for?  |
| --- | --- |
| TOEFL  | Test of English as a foreign language |
| CanTest | Canadian test of English for Scholars and Trainees  |
| CAEL | Canadian Academic English language |
| PTE  | Pearson English language test  |
| ELP | English Language Program |
Pathway programs are designed for international students who want to study abroad. They have to take English as a second language (ESL) course along with their courses that will count as credits toward their degree. These programs are for a period of 1 year to 15 months. Students who complete the program with good English language scores and GPA will be taken into the affiliate school.
English proficiency letter:
This letter should be issued from the institute where you have completed your studies with English as medium of instruction. This is a valid proof.
Exemption based on Nationalities:
Certain Nationalities are exempted from English proficiency tests. 
Natives of English speaking countries

are exempted from English language proficiency tests.

If proof is produced for having studied in an English medium school

for the last four years, then he/she is exempted from IELTS.

If the candidate has attended the university's language school

for a semester or for a year, he/she is exempted from IELTS.
Is it possible to get jobs in Canada without IELTS? (and) can I apply for Canada immigration without IELTS?
Different options for Canada immigration:
There are two ways of  procuring a visa in Canada. They are :
Permanent residency Visa
Work Permit
How to gain Canada PR without IELTS?
Those who wish to apply for citizenship between the ages of 18-54 must provide proof of their knowledge of one of Canada's official languages along with application submission. The minimum language abilities to be met are:
Ability to take part in day-to-day conversations

Ability to use basic grammar, simple structures and tenses while communicating

Ability to use appropriate vocabulary. 
You must show proof of your listening and speaking skills only. Writing skills are not required. The following are considered as valid proofs:
Results of IRCC approved third-party language test, showing CLB (Canadian Language Benchmarks)  level 4 or higher in listening and speaking.

Diploma or transcripts serving as proof of  secondary or post-secondary education in English in Canada or abroad

Results from a government-funded language course showing CLB 4 or higher
Work Permit:
A work permit is a document which allows a foreign national to work in Canada for a job profile for a certain period of  time. There are three types of work permit. They are:
Labor Market Impact Assessment-required
Labor Market Impact Assessment-exempted
open work permit
It is to be noted that there is no English language proficiency test required for a work permit.
Is IELTS required for Canada universities? 
No, not all of them demand IELTS. Canadian universities without English language requirements acknowledge the fact the students who have completed their education with English as medium of instruction have good language abilities and does not generally demand any proof. Given below are the Universities and colleges in Canada without IELTS requirements:
University of Winnipeg

Brock University

University of Saskatchewan

Memorial University of Newfoundland and Labrador

Cambrian College

Concordia University

University of Regina

Carleton University

Seneca College, Toronto

Okanagan College
Can I do PhD in Canada without IELTS?
Yes, It is possible. Given below is a list of universities that offer PhD programs without IELTS:
University of Saskatchewan
Brock University
Carleton University
University of Winnipeg
University of Regina
Memorial University
Concordia University
Also check :