Typical Stages of Consumer Goods Manufacturing- Flow Chart
Janice Thompson,
Updated On


Limited-Time Offer : Access a FREE 10-Day IELTS Study Plan!
The diagram below shows the typical stages of consumer goods manufacturing, including the process by which information is fed back to earlier stages to enable adjustment.
You should spend about 20 minutes on this task.
Write a report for a university lecturer describing the process shown.
You should write at least 150 words.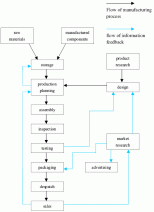 Report Plan
Paraphrase: Paraphrase the topic sentence.
Overview: Mention the main features of the flow chart and give an overview of both the processes in the diagram.
Paragraph 1: Elaborate on the manufacturing process.
Paragraph 2 Elaborate on the information feedback process
Sample Answer
The given diagram portrays the various stages involved in the manufacturing of consumer goods and the process of receiving and utilization of customer feedback.
It is clear that the process of manufacturing is complex, and some stages are interconnected to one another. The process of feedback is also interdependent on various stages of the manufacturing process.
The manufacturing process begins with the accumulation of raw materials and other components required for making a product. Subsequently, the materials are stored before the production process is planned. Once planning is done, the assembly of raw materials begins, followed by inspection and testing. The product is then packed, despatched to the market and finally sold.
The feedback process starts with product research, followed by product design. The product design is used for production planning after which new information is collected at the testing stage. After-sales feedback is collected from the customers, which are used for market research. Observations from market research are used for further product development in product design, advertising and sales promotion.