Water use Worldwide and Water Consumption- Line Graph and Table
Janice Thompson,
Updated On
The graph and table below give information about water use worldwide and water consumption in two different countries
You should spend about 20 minutes on this task.
Summarise the information by selecting and reporting the main features, and make comparisons where relevant.
You should write at least 150 words.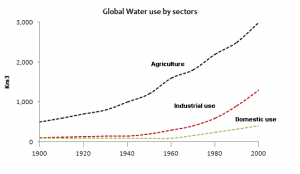 Country
Population
Irrigated land
Water consumption per person
Brazil
176 million
26,500 km²
359 m³
Democratic

Republic

of Congo

5.2 million
100 km²
8 m³
Report Plan
Paraphrase: Paraphrase the topic sentence.
give>portray
use>utilization
Overview: Mention the main features from the graph and the table.
Paragraph 1: Elaborate on the main features of the line graph.
Paragraph 2: Elaborate on the information given in the table.
Sample Answer
The graph and the table portray the utilization of water around the world and consumption of water in two different countries.
The major portion of water consumption in terms of global usage was done by the agriculture sector. Industrial agents were the second largest users of water worldwide, followed by domestic users or the general population. The table shows the contrast in water utilization between a large country like Brazil and a smaller nation like the Democratic
Republic of Congo.
The line graph shows that the consumption of water worldwide had gone from below 1000 km3 to over 3000km3 for the agricultural sector from 1990 to 2000. Water consumption for the industrial sector increased to a little over 1000 km3 and almost 500 km3 for domestic use from 1990 to 2000.
From the table, it can be seen that the water consumption in Brazil is quite larger than that in The Democratic Republic of Congo. This is due to the vast difference in the population and land area of the two countries.