5 Things To Learn From Successful English Speakers
Janice Thompson,
Updated On
Many students gauge their English proficiency by how comfortable and capable they are to converse naturally in real-world scenarios. Speaking skills can be a good indicator of how far you've come in your English language learning journey.
However, many people can be reluctant to engage in consistent speaking practice, which is the one thing that will help you improve over time.
So what are some tips and strategies that second-language English learners can borrow from successful English speakers?
Find some great new ways to help you learn English in this article!
1. Use English Often
You can use practice activities to enhance your spoken English throughout the day. In your own house, you can converse with yourself as you go about your daily business, such as preparing meals.
If you are on public transport, make mental descriptions of the people or events happening around you. Try talking with your fellow students in English.
Before you go to sleep, recap the day's events and write down your ideas in English. You can keep track of your English development and compile a list of all the English-language discussions you have, noting both the good and the bad areas. Use this to monitor your progress and set new language learning goals.
2. Pay close Attention To Details
The ability to use appropriate vocabulary, apply proper syntax and sentence structures, and produce the right emphasis, stress patterns, rhythm, and intonation are all necessary for speaking English properly.
To improve the accuracy and fluency of your speech, rehearse using each of these components independently before combining them.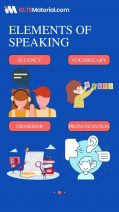 3. Use Your Listening Skills
A conversation is a two-way exchange that involves both listening and talking. Utilise conversational techniques like emphasising important words and rephrasing. Give others an opportunity to speak, and make use of their responses to plan what to say next.
To ensure that you understand the other person correctly, pay close attention to what they are saying, clarify any ambiguities with questions, and restate what they have said.
4. Utilize Non-Verbal Communication
Even for those who are native English speakers, nonverbal cues are crucial for effective speaking. Use gestures, body language, and facial expressions to clarify or emphasise your points while attempting to understand the body language of others.
Consider your posture as well; it can affect whether you come off as interested or bored in what the other person is saying depending on how you stand or sit.
5. Use IELTSMaterial IELTS Speaking Resources to Learn At Home
Get started on your IELTS Speaking study plan with real past IELTS Speaking Practice Tests.
You can find Speaking Part 1, Part 2 and Part 3 questions with sample answers and audio recordings to help you understand how to plan your answers. Listening to the audio recordings alongside the given transcripts of the answers will aid in understanding the proper pronunciation, intonation and stress you must employ while answering Speaking questions.
Practising with real exam questions will make you more comfortable and confident when you're taking the real IELTS test. The quickest approach to becoming fluent is to train yourself in fluency techniques, learn them, and gain experience by using them in real-world circumstances.
What Does Having Good Speaking Skills Mean?
The ability to communicate with others in a clear and uncomplicated manner is a sign of great communication abilities. This also entails communicating messages in a way that engages the audience.
The tone of voice you use can determine how the conversation will flow. The tone is dependent on how much emotion you convey, how loud you speak, and how openly you choose to communicate.
Depending on intonation and emphasis on certain words, the same sentence might have completely different meanings. Take the following sentence, for example:
"The old man can't understand you very well."
If we place the emphasis on the word "old", this sentence can mean that the old man cannot understand you well due to his age.
However, if we put the emphasis on the word "you", it changes the meaning and implies that the fault lies in your inability to communicate with the old man.
Information exchange is only one aspect of effective communication. It's important to fully understand the motivations and feelings that underlie communication. You must be able to speak and listen effectively in order to fully understand what is being said and to make people feel heard and understood when you engage in conversation with them.
Overcoming Difficulties in English Speaking
Now, let's look at some difficulties second-language learners might encounter in their English-speaking course.
Common barriers to speaking practice in class include lack of confidence, awkwardness, the inability to quickly formulate ideas in English and pronunciation. Other common barriers include fear of judgement from classmates and/or the teacher.
To enhance your English, you need a proper approach.
Seek out every chance to practise speaking, such as putting your hand up when the instructor asks a question, conversing with native speakers, or simply talking to people at events.
Don't be afraid to make mistakes occasionally because it can often be an opportunity to learn.
Conclusion
Like any other skill, speaking and communication in English is one that you can get better at with practice. Effective communication has advantages that can be seen in the workplace, in the classroom, and in your private life as well. You can benefit from developing good English language skills beyond just getting a good score on the IELTS.
Try out each of the above recommendations for a week to determine what will be most effective for you. You can collaborate and work together with a friend or sign up for one of our free webinars to join a new IELTS class and learn together!
Frequently Asked Questions
Can I learn to speak English fluently without attending classes or practice sessions in a classroom?
Students can learn how to communicate with others in a classroom by actively participating in group dialogues and discussions and making an effort to speak English to both the teacher and other students.
However, if you do not have time to attend live IELTS webinars, you can use audio recordings to learn how to pronounce and enunciate properly in English and still receive a good IELTS Speaking band.
Should I live somewhere where English is commonly spoken if I want to learn to speak in English?
No. Many IELTS Aspirants hail from countries where English is not a commonly used language. With proper instruction and training, you can be confident about your ability to use English when you move abroad for work or studies.
How will IELTSMaterial Speaking practice tests help me?
By taking the Speaking practice test materials on our website, you will not only hone your speaking skills, but you will also learn the exam pattern and how to achieve a high score on the IELTS.