Father of Modern Management – IELTS Reading Answers
Justin,
Updated On
The Reading Module of the IELTS can be the top-scoring category, with diligent practice. To achieve the best results in this section, you must understand how to approach and answer the different Question types in the Reading Module. By solving and reviewing Sample Reading Questions from past IELTS papers, you can ensure that your Reading skills are up to the mark.
The Academic passage 'Father of Modern Management' is a reading passage that appeared in an IELTS Test. Try to find the answers to get an idea of the difficulty level of the passages in the actual reading test. If you want more passages to solve, try taking one of our IELTS reading practice tests.
Answer questions 14-27 based on the reading passage given.
Father of Modern Management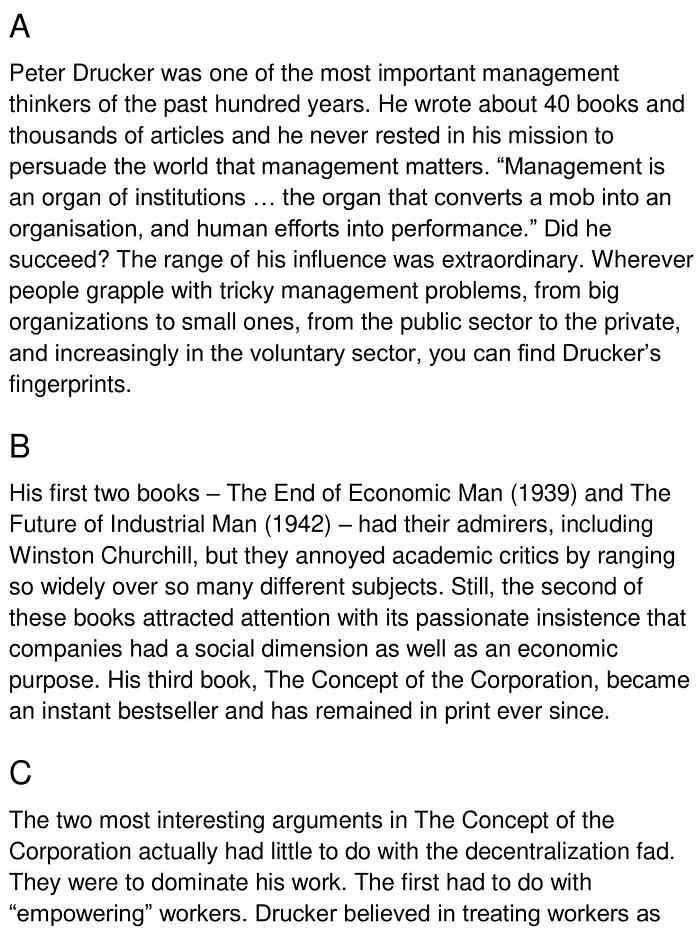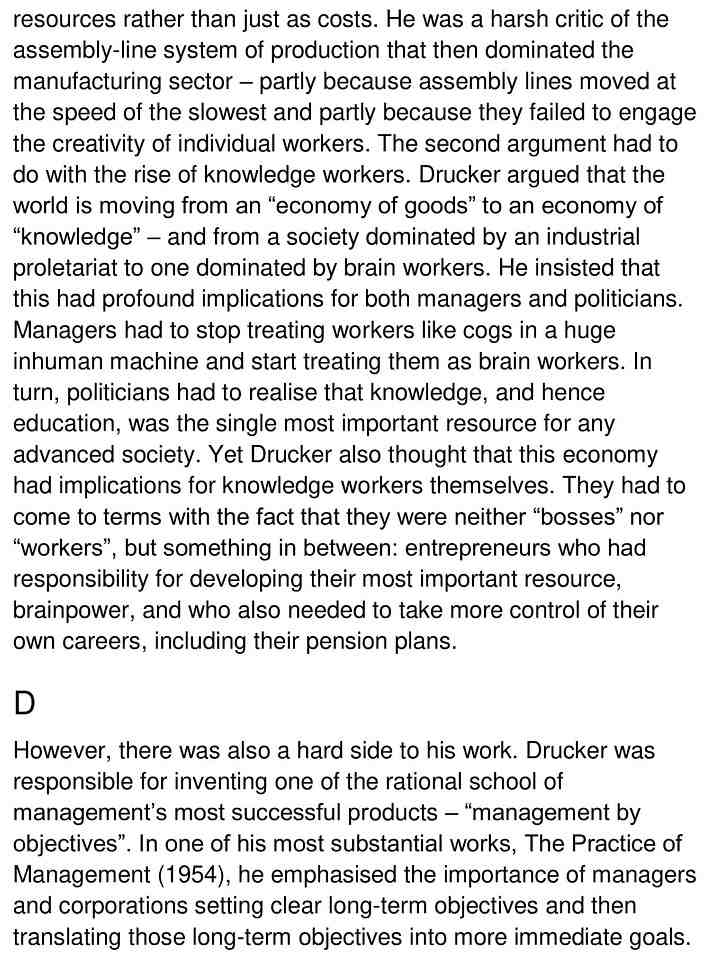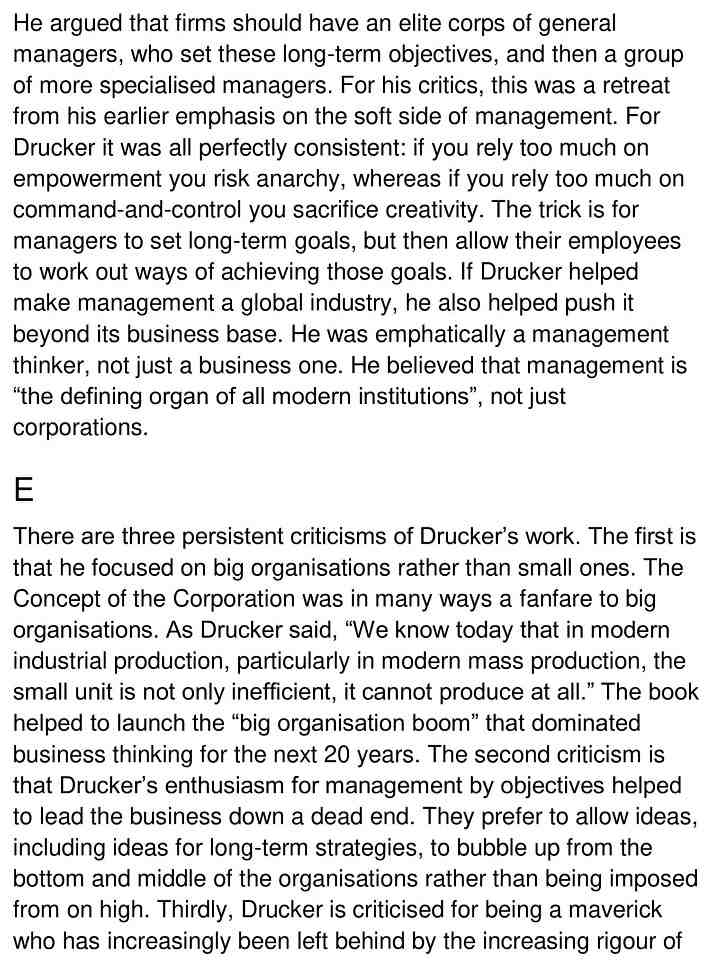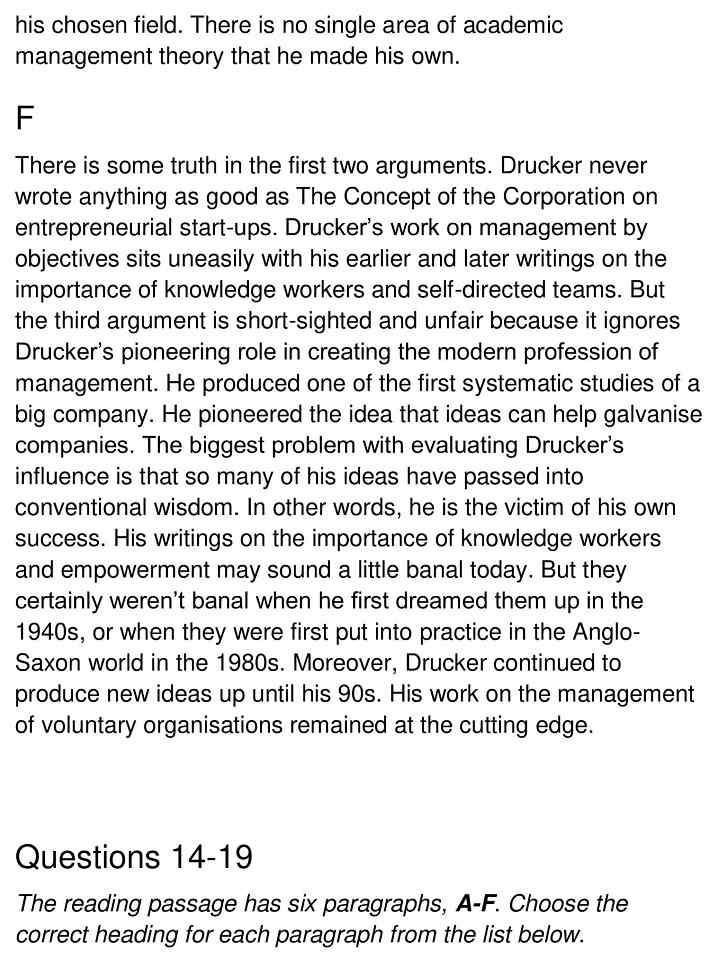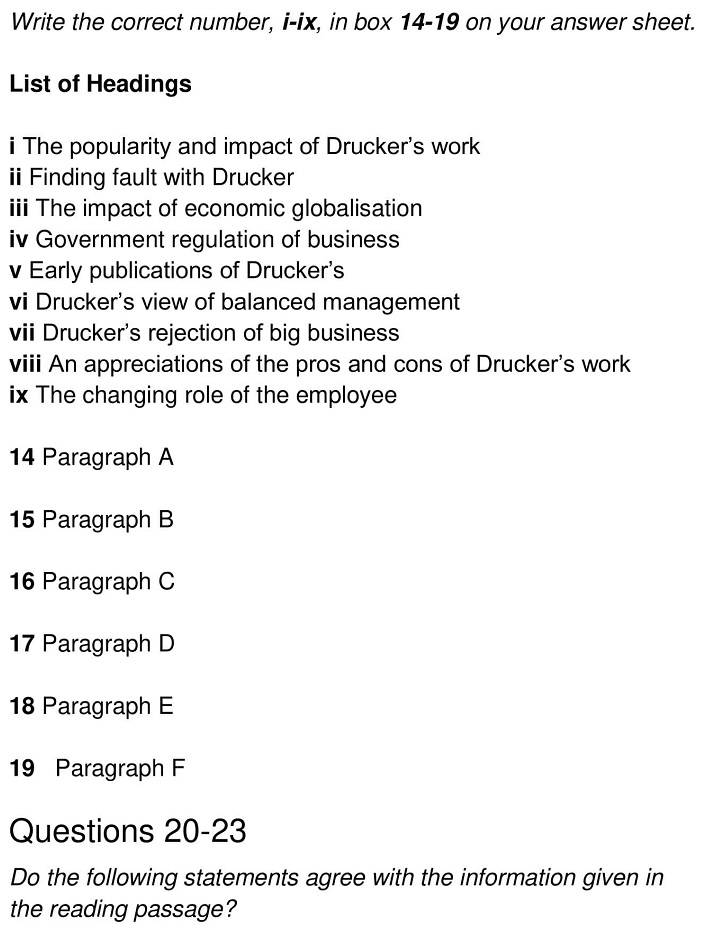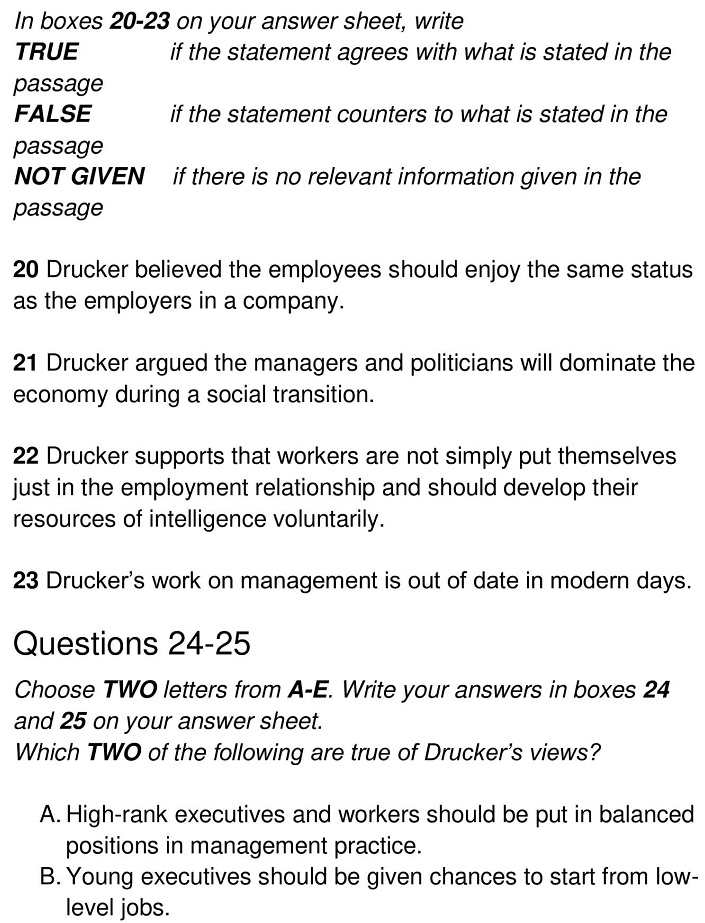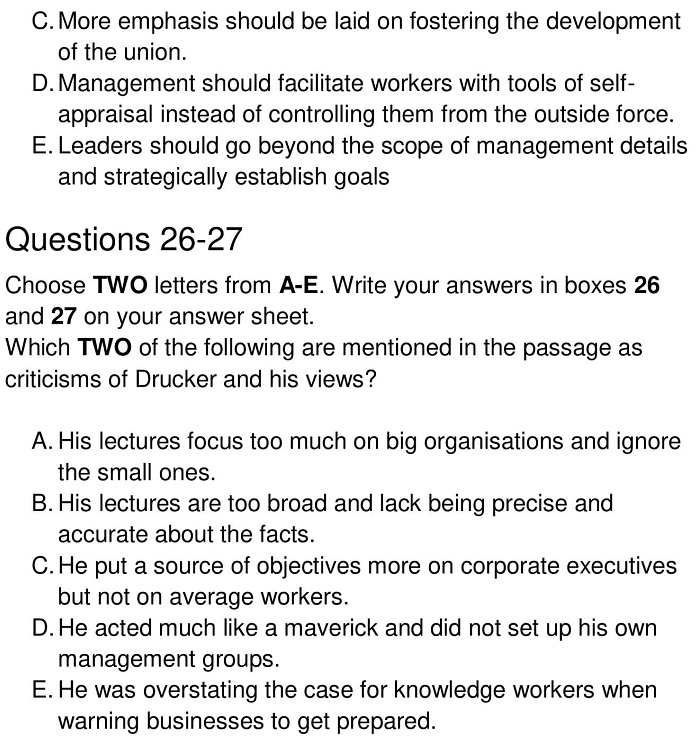 Answers
The answers to questions 14-27 are given below along with their explanations.
| Question Number | Answer | Keywords | Location of Keywords |
| --- | --- | --- | --- |
| 14 | i | range of his influence extraordinary, grapple, tricky management problems, you can find Drucker's fingerprints. | Para A, last 3 lines |
| 15 | v | His first two books – The End of Economic Man (1939) and The Future of Industrial Man (1942) | Para B, line 1 |
| 16 | ix | The second argument, rise of knowledge workers | Para C, lines 6-7 |
| 17 | vi | rely too much on empowerment, anarchy, command-and-control, sacrifice creativity | Para D, lines 8-10 |
| 18 | ii | There are three persistent criticisms of Drucker's work | Para E, line 1 |
| 19 | viii | importance, knowledge workers, empowerment, banal today, weren't banal, in the 1940s, first put into practice, 1980s, produce new ideas, 90s, work, management, organisations, cutting edge. | Para F, last 5 lines |
| 20 | NOT GIVEN | | |
| 21 | NOT GIVEN | | |
| 22 | TRUE | Drucker believed in treating workers as resources rather than just as costs | Para C, lines 3-4 |
| 23 | FALSE | Drucker's pioneering role in creating the modern profession of management | Para F, line 5 |
| 24 | A | Managers, stop treating workers like cogs, huge inhuman machine, start treating them, brain workers | Para C, lines 10-11 |
| 25 | E | emphasised, importance, managers, setting, long-term objectives, translating, immediate goals | Para D, lines 3-5 |
| 26 | A | The first is that he focused on big organisations rather than small ones | Para F, first 2 lines |
| 27 | C | Drucker's enthusiasm for management by objectives | Para E, lines 6-7 |
Check More IELTS Reading Answers
Also check :