Classic Tours, West Thames College and Foster Families in Rwanda | IELTS General Reading Practice Test 14 with Answers
Courtney Miller,
Updated On


Limited-Time Offer : Access a FREE 10-Day IELTS Study Plan!
The IELTS General Training Reading will give you 60 minutes to complete 3 sections where the question subject will be everyday/ general topics.
Section 1
Try to spend not more than 20 minutes on this section
Questions 1-8
Filling the reservoir
Your iron is designed to function using tap water. However, it will last longer if you use distilled water.
Always unplug the iron before filling the reservoir.
Always empty the reservoir after use.
B. Temperature and steam control
Your Moulex iron has two buttons which control the intensity of heat produced by the iron. You can, therefore, adjust the temperature of the iron and the amount of steam being given off depending upon the type of fabric being ironed.
Turn the steam control to the desired intensity.
Turn the thermostat control to the desired intensity.
Important: If the iron produces droplets of water instead of giving off steam, your temperature control is set too low.
C. Spray button
The button activates a jet of cold water which allows you to iron out any unintentional creases. Press the button for one second.
D. Pressing button
This button activates a super shot of steam which momentarily gives you an additional 40g of steam when needed.
Important: Do not use this more than 5 successive times.
E. Suits etc
It is possible to use this iron in a vertical position so that you can remove creases from clothes on coat hangers or from curtains. Turning the thermostat control and the steam button to maximum, hold the iron in a vertical position close to the fabric but without touching it. Hold down the pressing button for a maximum of one second. The steam produced is not always visible but is still able to remove creases.
Important: Hold the iron at a sufficient distance from silk and wool to avoid all risk of scorching Do not attempt to remove creases from an item of clothing that is being worn, always use a coat hanger.
F. Auto-clean
So that your iron does not become furred up, Moulex has integrated an auto-clean system and we advise you to use it very regularly (1-2 times per month).
Turn the steam control to the off position.
Fill the reservoir and turn the thermostat control to maximum.
As soon as the indicator light goes out, unplug the iron and, holding it over the sink, turn the steam control to auto-clean. Any calcium deposits will be washed out by the steam. Continue the procedure until the reservoir is empty.
Questions 1-4
Write the correct letter A-F in the boxes 1-4 on your answer sheet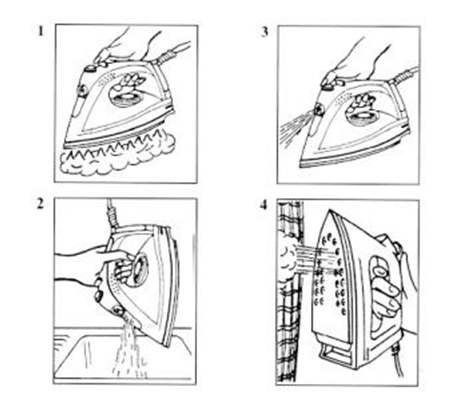 Questions 5-8
Answer the following questions using no more than three words.
5 What sort of water are you advised to use?
6 What factor makes you decide on the quantity of steam to use?
7 What should you do if your iron starts to drip water?
8 What could damage your iron if you do not clean it?
Questions 9-14
Read the paragraph below and answer the questions 9-14
Classic Tours
Luggage
We ask you to keep luggage down to one medium-sized suitcase per person, but a small holdall can also be taken on board the coach.
Seat Allocation
Requests for particular seats can be made on most coach breaks when booking, but since allocations are made on a first come first served basis, early booking is advisable. When bookings are made with us you will be offered the best seats that are available on the coach at that time.
Travel Documents
When you have paid your deposit we will send to you all the necessary documents and labels, so that you receive them in good time before the coach break departure date. Certain documents, for example, air or boat tickets, may have to be retained and your driver or courier will then issue them to you at the relevant point.
Special Diets
If you require a special diet you must inform us at the time of booking with a copy of the diet. This will be notified to the hotel or hotels on your coach break, but on certain coach breaks the hotels used are tourist class and whilst offering value for money within the price range, they may not have the full facilities to cope with special diets. Any extra costs incurred must be paid to the hotel by yourself before departure from the hotel.
Accommodation
Many of our coach breaks now include, within the price, accommodation with private facilities, and this will be indicated on the coach break page. Other coach breaks have a limited number of rooms with private facilities which, subject to availability, can be reserved and guaranteed at the time of booking; the supplementary charge shown in the price panel will be added to your account. On any coach break, there are only a limited number of single rooms. When a single room is available it may be subject to a supplementary charge and this will be shown on the brochure page.
Entertainment
Some of our hotels arrange additional entertainment which could include music, dancing, film shows, etc. The nature and frequency of the entertainment presented is at the discretion of the hotel and therefore not guaranteed and could be withdrawn if there is a lack of demand or insufficient numbers in the hotel.
Choose the appropriate letters A-D and write them in boxes 9-14
9 If you want to sit at the front of the coach
A ask when you get on the coach.
B arrive early on the departure date.
C book your seat well in advance.
D avoid travelling at peak times.
10 Your air tickets
A will be sent to your departure point.
B must be collected before leaving.
C will be enclosed with other documents.
D may be held by your coach driver.
11 If you need a special diet you should
A inform the hotel when you arrive.
B pay extra with the booking.
C tell the coach company.
D book tourist class.
12 It may be necessary to pay extra for
A a bathroom.
B boat tickets.
C additional luggage.
D Entertainment.
13 Entertainment is available
A at all hotels.
B if there is the demand.
C upon request.
D for an additional cost.
14 With every booking, Classic Tours guarantee you will be able to
A request high-quality meals.
B take hand luggage on the coach.
C use your own personal bathroom.
D film if you want to.
Also check :
Section 2
West Thames College
West Thames College (initially known as Hounslow Borough College) came into existence in 1976 following the merger of Isleworth Polytechnic with part of Chiswick Polytechnic. Both parent colleges, in various guises, enjoyed a long tradition of service to the community dating back to the 1890s.
The college is located at London Road, Isleworth, on a site occupied by the Victorian house of the Pears family, Spring Grove House. An earlier house of the same name on this site had been the home of Sir Joseph Banks, the botanist who named Botany Bay with Captain Cook in 1770. Later he founded Kew Gardens.
Situated at the heart of West London, West Thames College is ideally placed to serve the training and education needs of local industry and local people. But its influence reaches much further than the immediate locality.
Under its former name, Hounslow Borough College, it had already established a regional, national and international reputation for excellence. In fact, about eight per cent of its students come from continental Europe and further afield, whilst a further 52 per cent are from outside the immediate area. Since 1 April 1993, when it became independent of the local authority and adopted its new title, West Thames College has continued to build on that first-class reputation.
These days there is no such thing as a typical student. More than half of West Thames college's 6000 students are over 19 years old. Some of these will be attending college part-time under their employers training schemes. Others will want to learn new skills purely out of interest, or out of a desire to improve their promotion chances, or they may want a change in career.
The college is also very popular with 16-18-year-olds, who see it as a practical alternative to a further two years at school. They want to study in the more adult atmosphere the college provides. They can choose from a far wider range of subjects than it would be practical for a sixth form to offer. If they want to go straight into employment they can still study at college to gain qualifications relevant to the job, either on a day-release basis or through Network or the Modern Apprenticeship Scheme.
Questions 15-21
After reading the paragraph, answer the questions by
True – if the information is given in the paragraph
False – if the information is not given in the paragraph
Not Given – if the information is not given in the paragraph
15 Chiswick Polytechnic was closed at the same time West Thames College was opened.
16 Most of the students at the college come from outside the local area.
17 The college changed its name to West Thames College in 1993.
18 There are currently 6000 students over the age of 19 attending the college.
19 Students under the age of 16 cannot attend any of the courses offered by the college.
20 The college offers a more mature environment in which to learn than a school.
21 There are fewer subjects to study in the sixth form of a school than at college.
West Thames College Services for Students
As a full-time student at West Thames College, you will have your own personal mentor who will see you each week to guide you through your studies, and discuss any problems which may arise. We take a cooperative approach to the assessment of your work and encourage you to contribute to the discussion.
This service provides specialist assistance and courses for those who need help to improve their writing, oral and numeracy skills for the successful completion of their college course. Help with basic skills is also available.
This service is available to anyone who is undecided as to which course to follow. It is very much a service for the individual, whatever your age, helping you to select the best option to suit your circumstances. The service includes educational advice, guidance and support, including a facility for accrediting your previous experience – the Accreditation of Prior Learning (APL). The Admissions Office is open Monday to Friday from 9.00 am to 5.00 pm. All interviews are confidential and conducted in a relaxed and friendly atmosphere. Evening appointments are available on request.
The College Bookshop stocks a wide range of books, covering aspects of all courses, together with a good selection of stationery. It also supplies stamps, phone cards, blank videos and computer disks. The shop is open at times specified In the Student Handbook in the mornings, afternoons and evenings.
When students are weary from study and want the chance to relax and enjoy themselves with friends, they can participate in a number of recreational activities. Depending on demand, we offer a range of sporting activities including football, badminton, basketball, table tennis, volleyball, weight training and aerobics. For the non-sporting students, we offer a debating society, video club, hair and beauty sessions, as well as a range of creative activities. Suggestions for activities from students are always welcome.
This confidential service is available if you have practical or personal difficulties during your course of study, whether of a financial or personal nature. Our Student Advisors can help you directly or put you in touch with someone else who can give you the help you need.
The College Nurses are there for general medical advice and for treatment of illness or injury. All visits are confidential. First aid boxes and fully-trained First Aiders are also on hand at various locations around the college.
West London employers have a permanent base in the centre of the college, with access to a database of more than 24,000 jobs available locally and in Central London. They will also help you with job applications and interview techniques.
Look at the West Thames College's Services for Students on the following page. Each paragraph A-H describes a different service provided by the college.
From the list below (i-xi) choose the most suitable summaries for paragraphs A, C and E-H. Write the appropriate number (i-xi) in boxes 22-27 on your answer sheet.
Note: there are more summaries than paragraphs, so you will not use them all
i A shop for the books and stationery needed to study
ii Counseling and welfare willing to listen, offer advice or arrange a referral
iii An Examinations Office arranging exams and issuing certificates
iv A Registrar's Office handling all fee payments and related enquiries
v A Medical service offering on-site assistance with health-related problems
vi A tutorial system for regular one-to-one guidance, support and feedback
vii Careers Advice helping students into employment
viii An admissions Service providing assistance in choosing and applying for higher education courses
ix A Student Union representing students on college committees
x Clubs and societies for students free-time
xi A Learning Support Service supporting students in studying, presenting information and handling numbers.
Example:
22 Paragraph A
Answer: Paragraph B xi
23 Paragraph C
Answer: Paragraph D i
24 Paragraph E
25 Paragraph F
26 Paragraph G
27 Paragraph H
Section 3
Questions 28-42 are based on the passage 'Foster Families in Rwanda'.
Questions 28-32: The passage has 17 paragraphs labelled A-Q. Which paragraphs contain the following information?
Write the appropriate letter A-Q in boxes 28-32 on your answer sheet. You only need ONE letter for each answer.
Note: You may use each letter more than once.
Example Answer: A schoolteacher who cares for orphans –> A
28 The situation in orphanages.
29 The situation in refugee camps.
30 The number of children who have lost their families.
31 The kind of help which is given to foster families.
32 The story of a woman trying to give her child to someone to look after.
Foster Families in Rwanda
Sperantia Nyirantibenda vividly recalls the night she was unceremoniously turned into a foster parent by soldiers who brought her five children and two sacks of maize. They came knocking at her door in the town of Gitarama as the civil war in Rwanda was winding down. Nyirantibenda, a 34-year-old school teacher, nervously opened the door and immediately recognized the smiling faces before her. 'I have brought you, children,' one of the soldiers told Nyirantibenda this time. 'I will see you later.'
The maize the soldiers left behind did not last very long, and they never came back. Nyirantibenda is still caring for the children. She says she will gladly keep them so long as she receives some assistance.
Food for the Hungry International (FHR, a US-based voluntary organization supported by the UN High Commissioner for Refugees, has come in to help the school teacher. In Rwanda and Zaire. FH1 supports families which have taken in orphans and lost children, as well as unaccompanied minors who have formed into groups to live together. Over 7000 people receive blankets, shelter materials and a regular supply of corn, beans and oil.
FHI originally began the program to help children separated from their families at Mugunga camp, near Goma in eastern Zaire, one month after more than a million Rwandan refugees flooded into Goma in July 1994, fleeing victorious troops of the Rwandan Patriotic Front.
An estimated 95000 children were separated from their families during the war. Nearly half of them were inside Rwanda and the rest were in refugee camps in Zaire, Tanzania, Burundi and Uganda, which together hold more than 2.1 million refugees.
At the outset of the refugee influx into Goma, conditions in the camps were appalling. Thousands of refugees were dying every day of cholera, dysentery and other diseases. Youngsters were being picked up beside bodies lying along the roads. Starving parents were abandoning their children or sending them to centres for unaccompanied minors in the camps.
Rachel Poulton, an FHI spokesperson in Gitarama, said that during a visit to a tent for separated children, a 5-year-old girl followed her and asked for help. She said her parents were dead. The girl kept glancing over her shoulder at a woman who Poulton subsequently discovered was her mother. The woman later told Poulton she could no longer feed her daughter.
Poulton said that, over a four-day period, 184 children arrived at the tent and 16 others were brought by elders. 'There were also a lot of people fostering—mostly grandmothers and aunts. And there were sibling groups,' she said. She said that a system was developed whereby FHI supported groups of unaccompanied children.
The challenge was to support these children in the community rather than in institutions. 'This shows another way of caring.' Poulton said. She said that it was preferable for children to grow up in a family setting rather than in orphanages.
Myra Adamson, a 63-year-old nurse, born in South Africa to American missionary parents, works with caregivers and foster parents living in bombed-out houses in Kigali. 'These separated children in communities need food. They need someone to give them stability. They need someone they can turn to,' she said. ''His family would be destroyed if the children were brought to orphanages.'
While a large proportion of children—about 60 per cent—are with foster families or ad hoc groups, a large number of unaccompanied minors also turn up in orphanages, such as the redbrick compound of Saint Andrew's church at Kabgayi. Run by Abundant Life International—an organization of former Rwandan exiles from Uganda— this orphanage was started 3 months ago and it now houses 536 children. The youngsters were either brought to the institution or fetched by workers who had been informed of their location.
'Soldiers would come to us to tell us where we could find children and we would go and pick them up,' said an official. He said to be himself had packed in his car 30 children he had picked up from nearby Kibuyi prefecture where camps for displaced people had been closed. 'We get groups of 60, 70 children,' he said.
Throughout Rwanda and Zaire, the United Nations International Children's Fund (UNICEF) and several other relief organizations are not only supporting various programs for unaccompanied minors, but also pooling resources to help track missing relatives. As of March, over 7000 children had been reunited with their families.
Questions 33-37:
Complete the table below by writing NO MORE THAN THREE WORDS in boxes 33-37 on your answer sheet.
Location
Person or organization
Activity
Gitarama
Ex: Nyirentabenda
looking after five children

33

……………..
FHI
started helping lost children

34

…………….
Rachel Poulton
working for FHI
Rwanda and Zaire

35

……………….
finding relatives and reuniting families
Kigali

36

……………….
nursing
Kabgayi
Abundant Life International

37

………………….
Questions 38-42
Do the statements below agree with the information given in the text?
In the boxes 38-42 on your answer sheet write:
True – if the statement is true
False – if the statement is false
NOT GIVEN – if the information is not given in the passage
38 FHI prefers to put orphaned children into orphanages.
39 Nyirantibenda's own children were killed during the war.
40 FHI also supports groups of children who are looking after themselves and not in the care of adults.
Answer Key
Section 1
| | |
| --- | --- |
| 1 | D |
| 2 | A |
| 3 | C |
| 4 | E |
| 5 | Distilled (water) |
| 6 | (type of) fabric |
| 7 | Increase temperature |
| 8 | Calcium deposit/ furring up |
| 9 | C |
| 10 | D |
| 11 | C |
| 12 | A |
| 13 | B |
| 14 | B |
Section 2
| | |
| --- | --- |
| 15 | Not Given |
| 16 | True |
| 17 | True |
| 18 | False |
| 19 | Not Given |
| 20 | True |
| 21 | True |
| 22 | VI |
| 23 | VIII |
| 24 | X |
| 25 | II |
| 26 | V |
| 27 | VII |
Section 3
| | |
| --- | --- |
| 28 | K |
| 29 | F |
| 30 | E |
| 31 | C |
| 32 | G |
| 33 | Mugunga Camp |
| 34 | Gitarama |
| 35 | UNICEF |
| 36 | Myra Adamson |
| 37 | running an orphanage |
| 38 | FALSE |
| 39 | NOT GIVEN |
| 40 | TRUE |