The Totara Language Institute New Zealand and First Impressions Count | IELTS General Reading Practice Test 16 with Answers
Janice Thompson,
Updated On
Reading Passage 1
Dining Out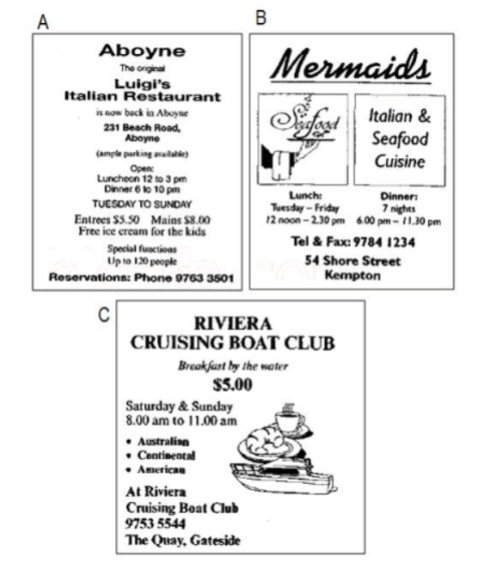 Questions 1- 7
Look at the three restaurant advertisements on the following page. Answer the questions below by writing the letters of the appropriate restaurants (A-C) in boxes 1 -7 on your answer sheet.
Example
It stops serving lunch at 2:30 pm. B
1 It is open for breakfast
2 It is open every night for Dinner
3 It is only open for lunch on weekdays
4 It has recently returned to its previous location.
5 It welcomes families
6 It caters for large groups.
7 It only opens on weekends.
NEW ELECTRICITY ACCOUNT PAYMENT FACILITIES AVAILABLE FROM' JULY 1998
After July 1, 1998 you may pay your electricity account in any of the following ways:
Payments via email:
(A) No receipt required:
Mail payments to:
Coastside power
Locked bag 2760
Southport NSW 3479
(B) Receipt required:
Mail payments to:
Coastside power
PO Box 560
Northbridge NSW 3472
Agency payments ( payments directly to the bank): Payments can be made at any branch of the Federal Bank by completing the deposit slip attached to your account notice.
NB: This facility is no longer available at South Pacific bank branches.
Payments directly to Coastside Power office: Payments can be made directly to Coastside Power Office at 78-80 Third Avenue, NorthBridge. Office hours are Monday to Friday, 8:30 am to 4:30 pm
Payment may be by personal cheque, bank cheque or cash.
NOTE: Payments cannot be made by phone
Questions 8 – 13
Read the information given in 'New Electricity Account Payment Facilities' on the above page and look at the statements below (Questions 8 -13 ). In boxes 8- 13 on your answer sheet write:
TRUE if the statement is true
FALSE if the statement is false
NOT GIVEN if the information is not given in the passage
Example
You must pay your account by mail FALSE
8 If you want a receipt, you should send your payment to the Southport address
9 You may pay your account at branches of the Federal Bank
10 You must pay the full amount, installments are not permitted.
11 The Coastside Power Office is open on Saturday mornings.
12 You may pay your account by phone using your credit card
13 There is no reduction for prompt payment.
Also check :
Reading Passage 2
Questions 14 – 19
Read the enrolment details for Ashwood College on the following page and look at the statements below.
In boxes 14 -19 on your answer sheet write
TRUE if the statement is true
FALSE if the statement is false
NOT GIVEN if the information is not given in the passage
Example
Overseas students may enroll for a course at the college from their home country TRUE
14 Overseas students must pay a deposit when they apply for a post at the college.
15 Outstanding fees are payable by the end of the first week of the course.
16 Classes are organised according to ability level.
17 There is a break between each lesson.
18 Students may change courses at any time during the term
19 Any student is permitted to take a week's holiday during a 12-week course.

Questions 20 -26
Read the information on the language Institute on the following page.
Complete the summary of information below
Choose NO MORE THAN THREE WORDS AND/ OR NUMBERS from the passage for each answer.
Write your answers in boxes 20 -26 on your answer sheet.
Example
Overseas students who study at ….. May choose to spend more of their free time. Totara language institute.
SUMMARY
With local students by applying for a room in the 20…….. Places are available here even for students enrolled on the minimum length course of ……..21…… Class sizes for each course range from ………..22…….. students and class teachers are well qualified; many of them teach on graduate programmes in areas such as applied linguistics. As a member of the language institute, you will automatically be able to join the …………23……. .Hamilton can offer students a wide range of social activities. The city itself lies on either side of the ………24…….. Which results in some very ………25…….. views and enjoyable walks in the gardens. The institute employs an activities coordinator who can help you organise your free time and you may also wish to make use of this service for planning your ………..26……….when you leave Newzealand. Remember that a student permit is not valid when you have finished your studies.
The Totara Language Institute New Zealand
Study English in a national university with students from many countries.
4 – week blocks
5 hours' tuition each day
Examination preparation
University entry ( with appropriate academic and English requirements)
Choice of accommodation for all students – homestays with local families or in Halls of Residence with Newzealand students
The Totara Language institute is a part of the University of Waikato in the city of Hamilton, in New Zealand's North island. Intensive English classes are taught in four – week blocks throughout the year and students may enrol for as many blocks as they wish. Classes are for 5-hours each day, Monday to Friday, and include preparation for several international English language examinations. All the courses are taught by highly qualified teachers, many of whom also teach on Language institute graduate programmes in second language teaching and applied linguistics. Classes are small, usually from 10 -12 students with a maximum number of 15, and normally contain a mix of students from a wide range of countries. Students who study at the language institute become international members of the Waikato students' union. The option is available to move on to University study if students meet the English language and academic entry levels for their choice of programme. The language institute provides student support, welfare and activities services. Students are met at Auckland airport on arrival and accommodation is provided with local families or in University Halls of residence with Newzealand students.
Hamilton, one of Newzealand's fastest growing cities, is ideally located for a wide range of leisure and cultural activities. The Waikato river, longest river in Newzealand, flows through the centre of the city, providing a picturesque and park-like setting of riverside lakes and gardens. The Waikato region is a diverse agricultural area, rich in historic sites, arts and crafts, hot springs, native forests, mountains and rivers. Within easy reach is an unspoilt coastline; the wild and rugged west coast beaches famous for surfing, and the more peaceful east coast resorts are only a short drive from Hamilton. Further, afield the mountains of the central North island, 3 hours' drive away, provide superb ski facilities in winter and hiking country in summer.
The language institute activities coordinator can assist students to arrange any sport and leisure activities. Assistance is also available for ongoing travel arrangements for students. Students on a visitor visa or work permit may study for a minimum of 3 months. Courses of longer duration require a student permit which is issued for the length of study only.
Reading Passage 3
First Impressions Count
Traditionally uniforms were – and for some industries still are – manufactured to protect the worker. When they were first designed, it is also likely that all uniforms made symbolic sense – those for the military, for example, were originally intended to impress and even terrify the enemy; other uniforms denoted a hierarchy – chefs wore white because they worked with flour, but the main chef wore a black hat to show he supervised.
The last 30 years, however, have seen an increasing emphasis on their role in projecting the image of an organization and in uniting the workplace into a homogeneous unit – particularly in customer facing industries and especially in financial services and retailing. From uniforms and workwear has emerged 'corporate clothing'. "The people you employ are your ambassadors.", says Peter Griffin, managing director of a major retailer in the UK. "What they say, how they look, and how they behave is terribly important". The result is a new way of looking at corporate workwear. From being a simple means of identifying who is a member of staff, the uniform is emerging as a new channel of marketing communication.
Truly effective marketing through visual cues such as uniforms is a subtle art, however. Wittingly or unwittingly, how we look sends all sorts of powerful subliminal messages to other people. Dark colours give an aura of authority while lighter pastel shades suggest approachability. Certain dress style creates a sense of openness to new ideas. Neatness can suggest efficiency but, if it is overdone, it can spill over and indicate an obsession with power. "If the company is selling quality, then it must have quality uniforms. If it is selling style, its uniforms must be stylish. If it wants to appear innovative, everybody can't look exactly the same. Subliminally we see all these things." says Lynn Elvy, a director of image consultants House of Colour.
But translating corporate philosophies into the right mix of colour, style, degree of branding and uniformity can be a fraught process. And it is not always successful. According to company clothing magazines, there are thousands of companies supplying the workwear and corporate clothing market. Of these, 22 account for 85% of total sales – $380 million in 1994.
A successful uniform needs to balance two key sets of needs. On the one hand, no uniform will work if staff feels uncomfortable and ugly. Giving the wearers a choice has become a key element in the way corporate clothing is introduced and managed. On the other, it is pointless if the look doesn't express the business's marketing strategy. The greatest challenge in this respect is time. When it comes to human perceptions, first impressions count. Customers will size up the way staff look in just a few seconds and that few seconds will colour their attitudes from then on. Those few seconds can be so important that big companies are prepared to invest years, and millions of pounds, getting them right.
In addition, some uniform companies also offer rental services. " There will be an increasing specialization in the marketplace" predicts Dr. Blyth. Customer Services manager of a large UK bank. The past two or three years have seen consolidation, increasingly, the big suppliers are becoming 'managing agents', which means they offer a total service to put together the whole complex operation of a company' corporate clothing package – which includes reliable sourcing, managing the inventory, budget control and distribution to either central locations or to each staff member individually. Huge investments have been made in new systems, information technology and amassing quality assurance accreditations.
Corporate clothing does have potential for further growth. Some banks have yet to introduce a full corporate look; police forces are researching a completely new look for the 21st century. And many employees now welcome a company wardrobe. A recent survey of staff found that 90 percent welcomed having clothing which reflected the corporate identity.
Questions 27- 32
The passage first impressions count has seven paragraphs A -G. Which paragraphs discuss the following points ?
Write the appropriate letters A-G in boxes 27 -32 on your answer sheet.
Example
The number of companies supplying the corporate clothing market
27 different types of purchasing agreement.
28 the original purposes of uniforms
29 the popularity rating of staff uniforms
30 involving employees in the selection of a uniform
31 the changing significance of company uniforms
32 perceptions of different types of dress
Questions 33- 39
Do the following statements agree with the views of the writer of the passage ? In boxes 33- 39 on your answer sheet write
YES if the statement agrees with the writer's views
NO if the statement contradicts the writer's views
NOT GIVEN if it is impossible to say what the writer thinks about this
33 Uniforms were more carefully made in the past than they are today
34 Uniforms make employees feel part of a team
35 Using uniforms as a marketing tools requires great care
36 Being too smart could have a negative impact on customers
37 Most businesses that supply company clothing are successful
38 Uniforms are best selected by marketing consultants
39 Corporate clothing does have potential for further growth.
40 Clothing companies are planning to offer financial services in the future.
Answer Key
Reading Passage 1
| | |
| --- | --- |
| 1 | C |
| 2 | B |
| 3 | B |
| 4 | A |
| 5 | A |
| 6 | A |
| 7 | C |
| 8 | FALSE |
| 9 | TRUE |
| 10 | NOT GIVEN |
| 11 | FALSE |
| 12 | FALSE |
| 13 | NOT GIVEN |
Reading Passage 2
| | |
| --- | --- |
| 14 | TRUE |
| 15 | FALSE |
| 16 | TRUE |
| 17 | TRUE |
| 18 | NOT GIVEN |
| 19 | FALSE |
| 20 | (University) Halls of residence |
| 21 | 4/four weeks |
| 22 | 10 to/15 |
| 23 | (waikato) Student's union |
| 24 | (waikato) river |
| 25 | Picturesque |
| 26 | (ongoing) travel (arrangements) |
Reading Passage 3
| | |
| --- | --- |
| 27 | F |
| 28 | A |
| 29 | G |
| 30 | E |
| 31 | B |
| 32 | C |
| 33 | NOT GIVEN |
| 34 | YES |
| 35 | YES |
| 36 | YES |
| 37 | NO |
| 38 | NOT GIVEN |
| 39 | YES |
| 40 | NOT GIVEN |