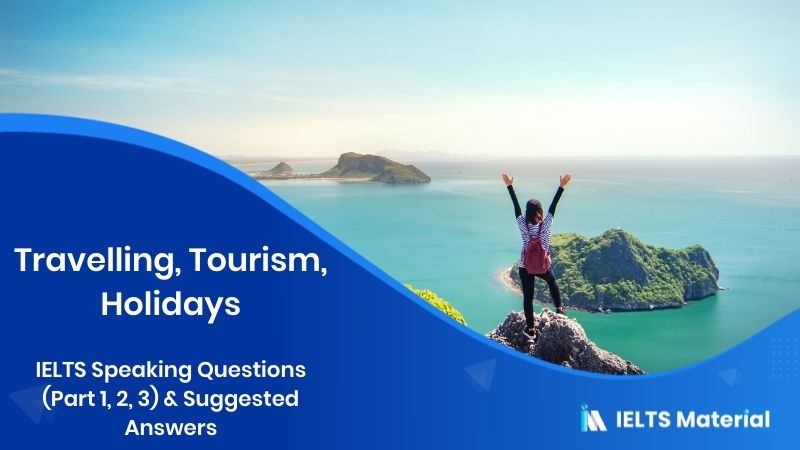 Travelling, Tourism, Holidays – IELTS Speaking Questions (Part 1, 2, 3) & Suggested Answers
Here is a list of speaking part 1, 2, 3 questions that IELTS learners shared with us. Try and answer them to  prepare yourself for the IELTS test.
Part 1
Do you like travelling?
Whom do you often spend the holiday with?
Have you done much travelling?
What kind of places have you visited in your life?
When you visit new places, what do you like to do?
Do you prefer travelling alone or in a group?
Do you often travel abroad?
In which seasons do you prefer to travel?
What is the best season to travel in your country?
Would you say your country is a good place for travellers to visit?
What would you recommend a foreigner to visit in your country?
What places would you like to visit in the future?
How much time do you spend travelling on a normal day?
What do you do while you are travelling?
Do you think your hometown is a good place for a holiday?
Part 2
Describe a tourist attraction you once visited.
You should say :
When you visited it
Where is it situated
Whom you went with
and say what about it you like the most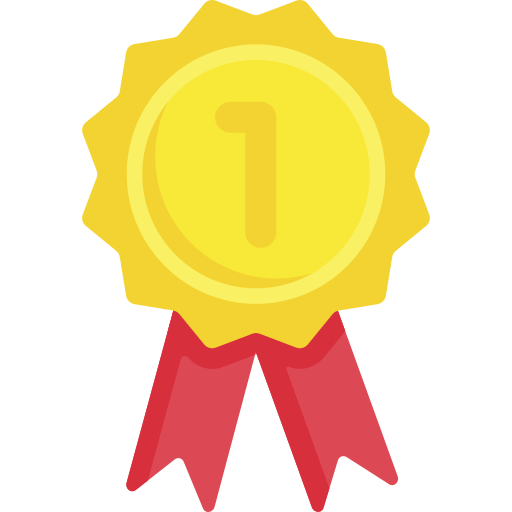 Ranked #1 Online Program
IeltsMaterial 7+ Band Guaranteed Self Learning Program
$70 $150
100+ Video Lectures
5-in-1 ebook combo worth $185
5 Full Length Timed Mock Tests

4.5 rated (7224 Reviews)
Buy Now
Describe a beautiful place you once visited.
You should say :
when you went to this place
where it was
whom you went with
and say why you liked it so much.

Describe a short trip that you usually make (or, take) but dislike.
You should say :
where you travel from and to
 how often you make this trip
 why you make this trip
 and explain why you dislike this trip.
IELTS Actual Tests Questions (January - April 2021) with Answers
Describe a trip that took longer than you expected.
You should say :
when it happened
where you were travelling to
whom you were travelling with
and explain why it took longer than you expected.
Describe a trip that didn't go as you had planned/expected.
You should say :
where were you travelling to
who was travelling with you
what didn't happen according to plan
what did you do there
and explain how you felt.
A bicycle, motorbike or car trip you would like to go on in the future
You should say :
Where would you like to go
How would you like to go there
Whom would you like to go with
And explain why you would like to go there by car, motorbike or bike
Sample answer
The thing that troubles me more often than not when living in the city is that majority of people are riding motorbikes rather than cars. As a result, most people don't know how to drive a car, including me, which also annoys me, since I have always wanted to take a road trip across the country. A road trip by car from the south to the north of my country would be tough and adventurous because hundreds of marvelous destinations are waiting to be explored. However, it is worth taking risks and stepping out of your comfort zone to truly experience what life has to offer when your legs can still carry you rather than to regret later in your life.
"If you wanna go fast, go alone. If you wanna go far, go together." It might be fun if you were a lone traveller and didn't enjoy getting lagged behind your schedule. But, the adventure could be more colourful and unexpected, when you've got company, especially during a long journey like the one I prefer. Hence, my choice would be to pick up a close friend or two who share the same vision, the same eagerness to capture the beauty of nature. We would start from the south where we are living and move north. On the go, we could stop by our favorite beaches a little longer than other places because there isn't anybody who doesn't have time for juicy coconuts and white sand paradise. Traditional cuisine would also be our utmost priority whenever we reach a new place as the best way to live like a local is to eat like a local. A car is our best choice because it would give us room to comfortably converse with each other and shelter from inclement weather during our journey if any. It is not only about the destinations but also about the time I would love to spend with my dear friends as we would share the same space in a four-wheel vehicle along the road; and at the end of the day, it's the people that matter.
Vocabulary & useful expression
more often than not: usually
take risks: to do something that might be dangerous
have to offer: have something available to be used or appreciated
get lagged behind: get fallen behind
cuisine (n): style of cooking
utmost (a): greatest; most extreme
inclement (a): 

(

of the weather

)

 

not pleasant; cold, wet, etc.

at the end of the day: in the end, finally
shelter (v): protect or shield from something harmful, especially bad weather
Describe an unforgettable trip you have had
You should say :
When and where you went
Who you went with
What you did there
And explain why you think it was enjoyable
Also check :
Sample answers
Well, it has been two years since I had my very first motorbike trip with my colleagues to one of the most ancient villages situated in the Northwestern part of our country. And I have to say that it was the most memorable trip that I've ever had.
Our group with 3 people made a decision to visit a village because we wanted to get away from the hustle and bustle of the city and get off the beaten track. Moreover, the village was fairly typical of the countryside in our country, so we wanted to get an insight into the lifestyle of local people there.
We set out for a day trip quite early. I'm always a night owl, not an early bird, so leaving the city at 5 a.m made me feel like I was deprived of sleep. However, I was over the moon shortly after embarking on the trip to the village. This was because on the way to get there, we had a chance to get the magnificent views of breathtaking landscapes which is totally different from the city we are currently living in.  After a long drive, we got to the picturesque village which made me feel deliriously happy. We rented some bikes to cycle around the village to feel the vibes of the village. After that, we visited some 400-year-old ancient house and had a look at communal houses where the local people gathered for festival celebrations or public meetings. Then we had lunch and the food was scrumptious .  In the afternoon, we joined a cooking class with the villagers who were extremely friendly and clever at making traditional cakes. The highlight of the trip to the village was going to the paddy fields to help the farmers harvest the crop. It was once-in-a-lifetime experience which we really enjoyed. My friend was like a dog with two tails while I was also on cloud nine. We relished everything in the village from the fresh air, cozy ambience to beautiful landscapes such as small houses or paddy fields. We hoped that we can have a longer trip to the countryside down the road if we had more spare time.
Part 3
Travelling
Do people in your country like to travel?
How has travelling changed, compared to several decades ago?
When do people travel (as tourists), whom do they usually go with?
Do you think travel can (or, does) change people's ways of thinking?
What are the disadvantages of not travelling?
Travelling in cities
How do most people in your country travel to work?
People in cities used to like living downtown but now they prefer to live in the suburbs. Can you explain why?
What is the impact of vehicles on people's lives?
Do people in your country prefer to walk or take a car for short trips?
How can big cities deal with the problem of having many people crowded in the same place?
Are there any connections between transportation and the environment?
Does your hometown have problems connected to transportation? How could these problems be solved?
Is cycling very popular in your city?
What are the differences between travelling by car and travelling by bicycle in a city?
What are the advantages and disadvantages of cycling in the city?
How could the government encourage more people to use bicycles in the city?
What are the benefits of having a good public transportation system in a city?
How will transportation in cities change in the future?
International travel
Do people from your country like to travel abroad?
Can you suggest why some people (from your country) go abroad to work?
Traffic congestion in cities
What causes traffic problems in big cities?
What could be done to solve this problem?
What do you think are the benefits of having a good public transportation system in a city?
How do you imagine public transport might change in the future?
Long-distance travel
What are some of the reasons why people travel long distances?
Is it easier to travel long distances today than in the past? (Why?)
How does long-distance travel today differ from the past?
What effects does long-distance travel have on people?
Can long-distance travel ever create problems for people?
Does long-distance travel have any effect on the environment?
How might long-distance travel change in the future?
How would it be like to travel to space?
What are the problems people might experience when going on a trip and what could be done to avoid/solve these problems?
Preparing for a trip
Is it important for travelers to carefully plan the trip?
What are the differences between a well-planned trip and a trip that is not well-planned?
In general, what factors should people consider when planning a trip?
What essential things do people need to take when they go on a trip?
Do you think there are any differences between men and women when they plan a trip?
People with different personalities sometimes plan or prepare for a trip differently. Can you give some examples of this?
How do people find information about places to travel to?
What factors would people consider when preparing for a trip?
Travelling differences
If you were travelling with friends, what qualities would you like them to have?
Some people prefer to go on guided tours when they travel while others prefer to travel individually. Which do you think is better?
What are the different means of transport that a person can choose when travelling?
In what ways does a person's wealth affect the quality of that person's travelling experience?
Whom do you think learns more from travelling, old people or young people?
Do you think it's a good idea to use a credit card when travelling?
Some people like to take a lot of things with them when they travel and other people prefer to take as little as possible. Why do you think people have this difference?
Tourism
Do you think the tourism industry is very important?
What do you think has led to the growth in the tourism industry?
What benefits does tourism bring to society?
Are there any problems caused by tourism? How to address these problems?
How to balance the economic benefits of tourism with the environmental damage that is done by tourism?
What effects do you think international travel has on the different countries involved?
How has international travel changed in the past 20 or 30 years?
Can you suggest some things that people should and should not do when they travel to a foreign country as tourists?
Do you think that the media has many effects on tourism?
Some think it's not necessary to go to tourist places, now that we can see these places on the internet. Do you agree?
Changes in travelling
How do you think travelling today is different from what it was several decades ago?
In 20 or 30 years, how do you think travelling will be different from what it is today?
Modern technology and travel
In what ways has modern technology changed people's travelling experiences?
Do you think the internet has had an effect on people's travelling behaviour today?
If you were going on a trip, what essential modern technology would you carry, and why?
Sample answers (Updating)
Suggested answers for part 1
Do you like travelling?
Yes, definitely! I think getting to know the world, from great historical monuments to white sandy beaches, is what life is all about. It's a very interesting way to learn about new cultures and explore new places.
Whom do you often spend the holiday with?
It depends on what kind of holiday it is. If it's Christmas vacation, I prefer to hang out with my friends here and there and have a chit-chat. If it's the New Year holiday, I just want to celebrate the holiday with my family and relatives in a cozy ambience.
Have you done much travelling?
Well, I'm an international student, so I travel a lot. I've been on a road trip to the USA, a vacation to Japan and Korea when I was younger. Thanks to my father. And most recently Australia – a splendid country.
What kind of places have you visited in your life?
I prefer to visit the places which elevate my mood and energize me. I have been to some of the beautiful beaches and lakes in my country. These places bring me closer to nature and rejuvenate me.
When you visit new places, what do you like to do?
It seems to me that there's a lot of stuff to do when visiting a brand-new place. At first, I would love to take photographs to bookmark my travel experience as well as share it with my best mates. Culture vulture seems to be my other character when I feel like discovering the places of great aesthetic appeal everywhere I set foot in.
Do you prefer travelling alone or in a group?
Well, it depends on my current mood. A trip to the off-the-beaten-track destinations, mountainous or forested place, for instance, will be my initial choice if I feel devastated. On the contrary, I will congregate and sign up for guided tours as it's a chance to be shown around and take photographs – one of my hobbies when feeling overjoyed.
In which seasons do you prefer to travel?
I guess it would be autumn. This season has little rain, clear skies, and temperature conditions. It's really the best season as most places are at their best at that time.
What places would you like to visit in the future?
If I have the chance to visit one famous place, it will be Paris, a must-see place for me. I would love to visit the Eiffel Tower, to tuck into French delicacies in prestigious restaurants. In addition, it'd be great for me to visit the Louver Museum and discover history as well as La Sorbonne University – the oldest educational institution in modern France.
Or:
If the choice is in my hands, I'm yearning for travelling to Paris on Christmas vacation when the weather is neither too cold or too hot.
You can find some more questions about Holidays at: 2017 IELTS Speaking Part 1 Topic: Holidays & Sample Answers
You can also improve your vocabulary about Traveling & Adventures which is a common topic in the IELTS Speaking test at: IELTS Travel & Adventure Vocabulary: Useful Phrases & Expressions In IELTS Speaking