Synonyms Test for OET with Complete Guide
Janice Thompson,
Updated On
Concerned that you do not understand medical synonyms and word alternatives well? Or are you just looking for a synonyms test to try out your skills? Find all your OET synonym needs here!
We will guarantee that you will be able to learn and overcome that obstacle in the OET with just a little training. Though the OET exam is not a grammar and vocabulary test, synonyms are important to performing well overall. This article includes our top grammar pointers as well as an OET Synonyms Test. Take the synonyms test now and find areas of improvement. You can improve your grammar skills in a specific grammar concept through practising.
Keep reading to continue learning!
What are Synonyms?
A synonym is a word in the language with the same or approximately the same meaning as another. For example, some of the synonyms for happy are content, joyful, mirthful, upbeat, etc.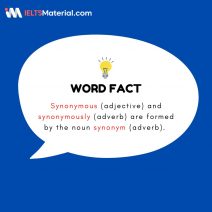 Although we usually conceive synonyms as single words, they can also be phrases. For example, the terms 'motor vehicle' and 'automobile' are interchangeable.
You should also be aware that an antonym is a term whose meaning is the inverse of that of another word. As a result, while 'synonyms' and 'antonyms' are antonyms of each other, a synonym of the word 'antonym' is 'opposite'.
Role of Synonyms in OET
In the OET, you can choose vibrant synonyms for words in your sentences to make your writing far more engaging. Words frequently have numerous synonyms. A thesaurus will provide you with a broad number of synonyms for a term and can be extremely useful in finding acceptable synonyms for your writing tasks as well as communicating effectively in the Speaking module.
When employing synonyms, keep in mind that certain words have somewhat distinct meanings or are intended to be used in different manners. In the medical context, this is especially relevant as misunderstanding or miscommunication can cause serious consequences for the health of the patients.
With the synonyms test, you can check your readiness for the OET.
Uses of Synonyms in OET
Repeating the same words and phrases repeatedly when writing a long piece of text or interacting with a patient can make it uninteresting. On the other hand, replacing a word with an equivalent, or even a more specific one, might help you communicate ideas more effectively.
Synonyms also make the writing more vivid and help you communicate the severity and urgency in a medical context with fellow healthcare providers or with your patients. If you want to improve your writing abilities, start by learning some new synonyms. They can improve your writing from dull to interesting and from repetitious to innovative.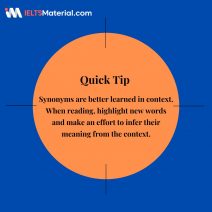 Aside from the definition of a term, there are other important factors to consider while selecting synonyms, such as:
Do you want your meaning to have a positive, negative, or neutral connotation?
Is your writing informational, compelling, or instructive?
Who are your patients: children, teenagers, or adults?
Are you selecting appropriate terms for descriptions, such as medication, body parts, and so on?
Keep these pointers in mind when you take the synonyms test at the end of this article!
While this may appear to be a lot to consider, utilising synonyms comes readily in our regular speech. We constantly take in details of our surroundings – audience, context, and situation, and speak accordingly. So, much as when speaking, you can choose synonyms to employ in your writing as well.
How to use synonyms in OET?
There are various ways to use synonyms, not only for OET but also for other exams. Let us learn some in respect to the OET.
It is beneficial to keep a notebook or list of new terms to refer to in order to enhance your vocabulary. Building your word medical terms library makes it simple to employ synonyms.
You can shorten lengthy quotations and repetitive trite health advice by using fewer words to communicate the same message. It can also assist in avoiding the urge to use too many quotations and familiar phrases. Otherwise, the wording comes across as uninspired. The patient must not feel as though you are simply repeating generic advice for good health. This is where you might look for synonyms, but be careful what terms you use.
Choose true synonyms to replace the original concept. Make sure that you understand the original concept and utilise terms that convey the same meaning; otherwise, it might adversely affect the health and safety of patients.
Synonyms can also be employed to make a medical concept more straightforward, detailed, and descriptive so that patients remain well-informed. Using clear and succinct content with a range of synonyms can give a positive experience that will keep your audience's attention. After all, the ultimate purpose of medical writing is to share healthcare advice with clarity and lucidity for everyone's simple comprehension.
It's critical to understand which synonyms to use while writing to various audiences – be it your fellow professionals or common people who are not aware of specific medical terminology.
Resources for learning Synonyms
To learn synonyms for common English language words, you can refer to the following resources:
Roget's Thesaurus: It is the oldest and most reliable language learning tool, which is available in both print and digital formats. It is one of the most extensively used publications.
Visual Thesaurus: It's an interactive dictionary that lets you put in a term for which you'd want to find a synonym and then generates "word maps" of related words. It also has definitions.
There are also several dictionaries of medical terms to acquaint yourself with a broad healthcare vocabulary, such as:
Quick Task – the Synonyms Test
Now that you have enough knowledge of synonyms in OET, take a look at the exercises below to brush up on your synonym knowledge!
I. In the following questions choose the word which best expresses the meaning of the given word.
1. CORPULENT
a. Lean
b. Gaunt
c. Emaciated
d. Obese
2. ALERT
a. Energetic
b. Observant
c. Intelligent
d. Watchful
3. VENT
a. Opening
b. Stodge
c. End
d. Past tense of go
4. BRIEF
a. Limited
b. Small
c. Little
d. Short
5. STRINGENT
a. Dry
b. Strained
c. Rigorous
d. Shrill
6. NEUTRAL
a. Unbiased
b. Non-aligned
c. Undecided
d. Indifferent
7. SHALLOW
a. Artificial
b. Superficial
c. Foolish
d. Worthless
8. INEXPLICABLE
a. Confusing
b. Unaccountable
c. Chaotic
d. Unconnected
9. FEEBLE
a. Weak
b. Vain
c. Arrogant
d. Sick
10. DISORDER
a. Condition
b. Mind
c. Case
d. Health
II. Check whether the following pairs of words are synonyms or antonyms. 
begin → start
usually → normally
behind → in front of
closed → open
big → small
sick→ ill
gash → wound
safe → dangerous
good → well
waste → garbage
left → right
bed → cot
almost → nearly
responsive → alert
disoriented → attentive
Check out the ANSWERS to the Synonyms Test.