The Origins Of Laughter IELTS Reading Answers
Janice Thompson,
Updated On
The Academic passage 'The Origins Of Laughter' is a reading passage that appeared in an IELTS Test. There are various question types. Each of these question types are asked in the IELTS Reading exam. So, the passage given in this practice test will help you enhance your reading and understanding capabilities.
If you are interested in familiarising yourself with all the question types, don't hesitate to take an IELTS reading practice test.
The Origins Of Laughter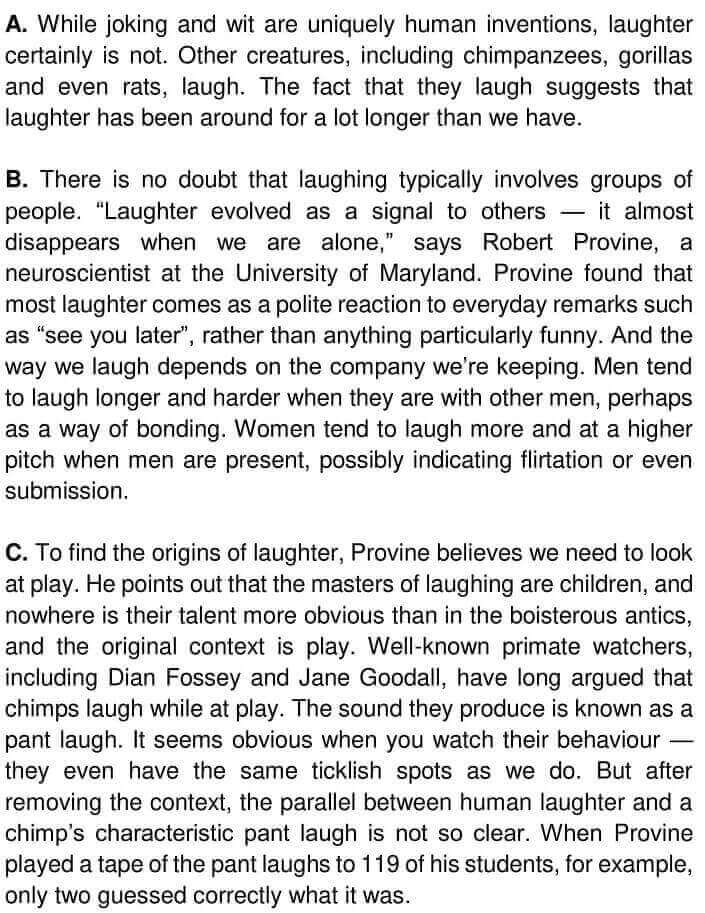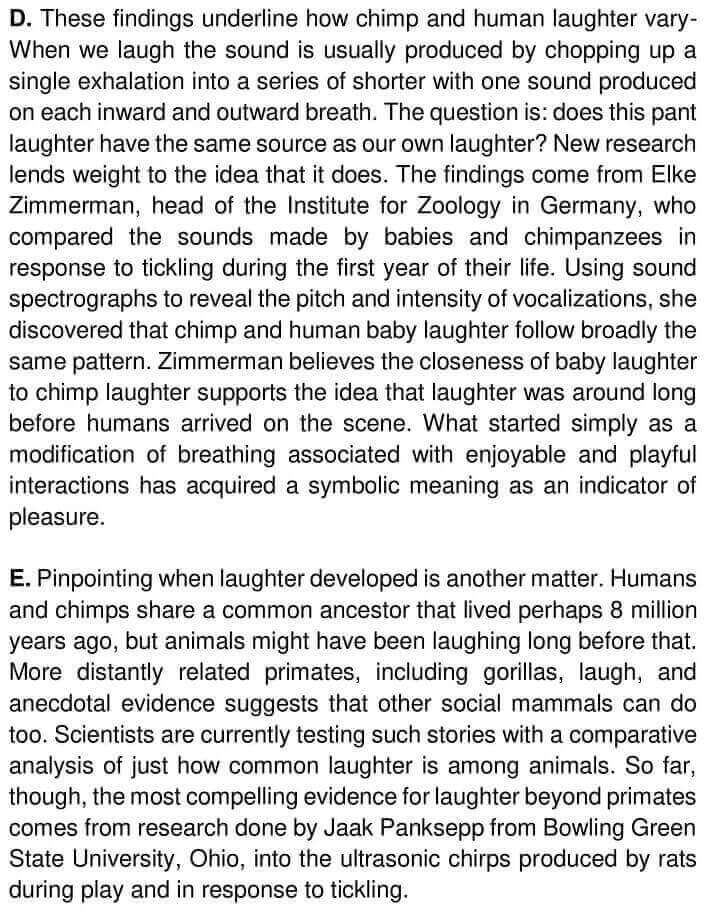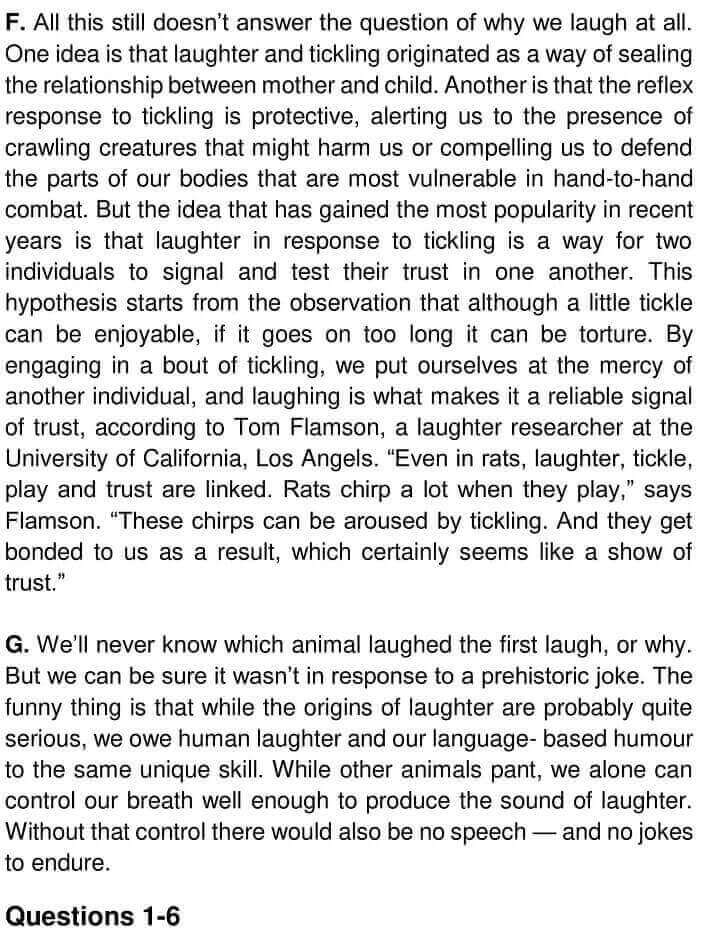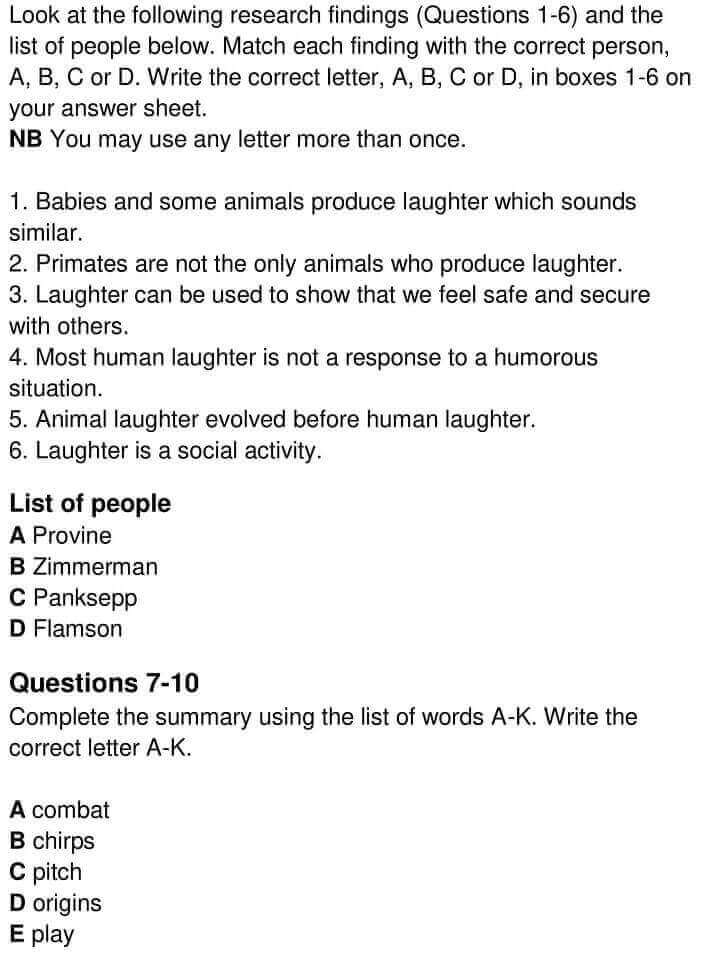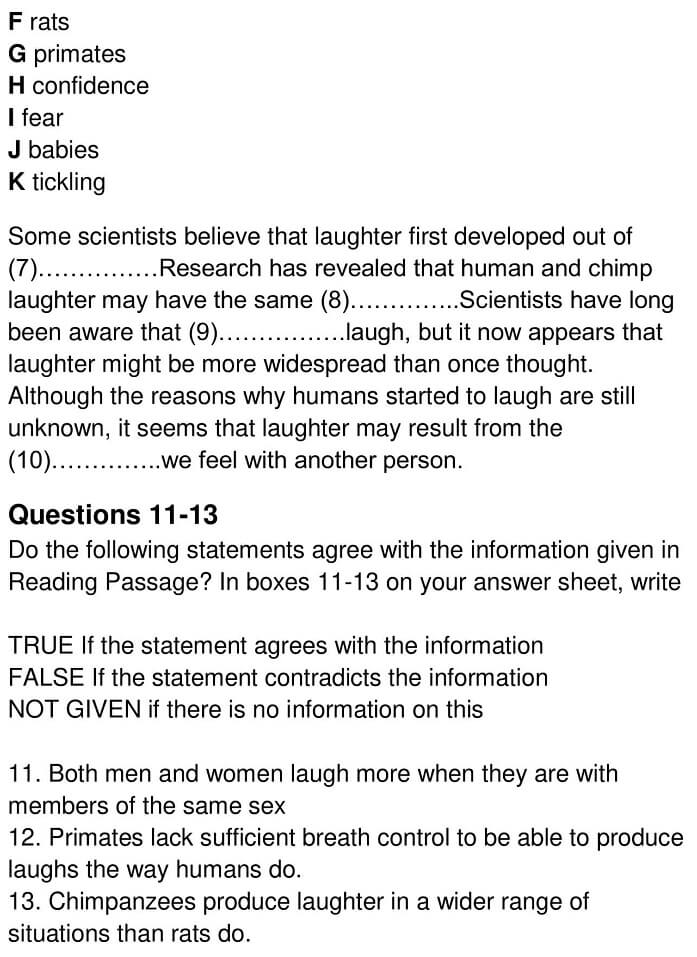 Answers
Question number 
Answer 
Keywords 
Location of keywords
1
B
Using sound spectrographs to reveal the pitch and intensity of vocalizations, she discovered that chimp and human baby laughter follow broadly the same pattern.
Paragraph D;

Line 5

2
C
So far, though, the most compelling evidence for laughter beyond primates comes from research done by Jaak Panksepp from Bowling Green State University, Ohio,
Paragraph E;

Last line

3
D
But the idea that has gained the most popularity in recent years is that laughter in response to tickling is a way for two individuals to signal and test their trust in one another.
Paragraph F;

Line 4

4
A
Provine found that most laughter comes as a polite reaction to everyday remarks such as "see you later", rather than anything particularly funny.
Paragraph B;

Line 3

5
B

Zimmerman believes the closeness of baby laughter to chimp laughter supports the idea that laughter was around long before humans arrived on the scene.

Paragraph D;

Line 6

6
A
"Laughter evolved as a signal to others — it almost disappears when we are alone," says Robert Provine, a neuroscientist at the University of Maryland.
Paragraph B;

Line 2

7
E
To find the origins of laughter, Provine believes we need to look at play.
Paragraph C;

Line 1

8
D
Humans and chimps share a common ancestor that lived perhaps 8 million years ago, but animals might have been laughing long before that.
Paragraph E;

Line 2

9
G
More distantly related primates, including gorillas, laugh, and anecdotal evidence suggests that other social mammals can do too. Scientists are currently testing such stories with a comparative analysis of just how common laughter is among animals.
Paragraph E;

Lines 3 – 4

10
H
But the idea that has gained the most popularity in recent years is that laughter in response to tickling is a way for two individuals to signal and test their trust in one another.
Paragraph F;

Line 4

11
NOT GIVEN
–
–
12
TRUE
While other animals pant, we alone can control our breath well enough to produce the sound of laughter.
Paragraph G;

Line 4

13
NOT GIVEN
–
–
Check More IELTS Reading Answers
Also check :