What is the IELTS Maximum Score? What does your IELTS Score mean?
Janice Thompson,
Updated On


Limited-Time Offer : Access a FREE 10-Day IELTS Study Plan!
Read now to learn more about the IELTS Maximum score and how IELTS scores are interpreted based on the language skills you demonstrate in the test. A high IELTS score will help you secure admission to a top-ranked university. It might also aid in availing scholarships for international students.
What is IELTS maximum score?
IELTS exam scores range from 0 to 9, with band 9 being the IELTS maximum score. You can receive a whole band score (5, 6, 7, etc) or a half-band score (5.5, 6.5, 7.5, etc). The IELTS has four modules – Listening, Reading, Writing, and Speaking. You will be assessed individually in each of the module skills and receive band scores for each accordingly. An overall band score will be calculated using the 4 module bands.
The average of the four module scores, rounded to the closest whole or half band, represents the overall band score. The scores from each section are equally weighted. The overall band score and the scores that the test taker has received across each module of the test will be listed on the IELTS Test Report Form.
The IELTS scores translate to the basic language competency of the test taker, as mentioned below.
IELTS Score Interpretation
We will now discuss the level of English language skill that each band score represents. Highly proficient English language speakers generally have a score of 7+ across all modules.
Band 9 – Expert user
has a fully operational command of the language.
appropriate, accurate and fluent with complete understanding.
Band 8 – Very good user 
has fully operational command of the language with only occasional unsystematic inaccuracies.
Handles complex detailed argumentation well.
Band 7 – Good user 
has operational command of the language, though with occasional inaccuracies, and misunderstandings in some situations.
generally handles complex language well and understands detailed reasoning.
Band 6 – Competent user 
has generally effective command of the language despite some inaccuracies and misunderstandings.
– can use and understand fairly complex language, particularly in familiar situations.
Band 5 – Modest user 
has partial command of the language, coping with overall meaning in most situations, though is likely to make many mistakes.
should be able to handle basic communication in own field.
Band 4 – Limited user
basic competence is limited to familiar situations.
Has frequent problems in understanding and expression.
is not able to use complex language.
Band 3 – Extremely limited user 
conveys and understands only general meaning in very familiar situations.
Frequent breakdowns in communication occur.
Band 2 – Intermittent user 
no real communication is possible except for the most basic information using isolated words or short formulae in familiar situations and to meet immediate needs.
Has great difficulty understanding spoken and written English.
Band 1 – Non-user
essentially has no ability to use the language beyond possibly a few isolated words.
Band 0 – Did not attempt the test
Why are IELTS scores important?
You can achieve your educational, career, or personal goals by taking the IELTS exam. The IELTS exam is the same in regards to content, assessment, format, level of difficulty, and scoring whether you're registering for study, work, or visa purposes. While the General Training IELTS is used for career and immigration considerations, the Academic IELTS is necessary for entrance to universities and colleges.
In addition to all other criteria, proficiency in the English language is essential for career success. For advanced degree programmes like Masters or PhDs, you will require higher IELTS scores. If you are applying for a work visa, you must possess competent and vocational English language abilities, which means you must be capable of more than just basic conversational English. For instance, in the UK, candidates must achieve a minimum score of 6.5 on each of the test's 4 modules. There are several stages of fluency as you work on language acquisition. Take a look at the infographic below to learn more.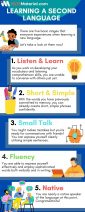 Conclusion
Thus, a person's capacity to integrate into the community, as well as the workplace, is closely tied to their level of language proficiency. The precise evaluation criteria used by IELTS examiners define your performance in each of the 4 IELTS modules.
Before your IELTS test attempt, it is advised that you take some time to fully prepare for the exam. The majority of test centres provide study materials and language instruction, but you can also locate online learning tools on IELTSMaterial that can help you brush up on your knowledge and outline the best ways to study for the test. Sign up now to get started on your IELTS journey!