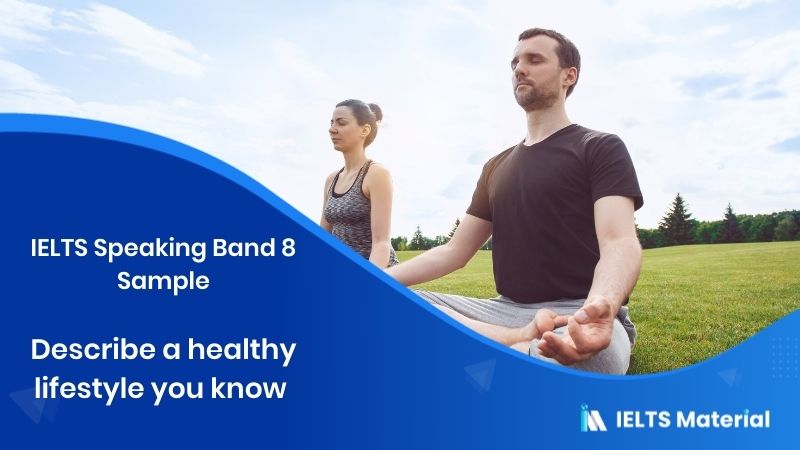 Describe a healthy lifestyle you know – IELTS Speaking Band 8 Sample
IELTS Speaking Healthy Lifestyle:
Describe a healthy lifestyle you know
You should say:
What is it?
How do you know it?
When you do it?
and explain why do you think it is healthy?

Model Answer
I think people who live healthily always have one thing in common: they manage to strike a balance between work and life, between exercise and diet.
Even when you're too busy, try to do some exercise or have some entertainment. You don't need to go to the gym and spend 2 hours doing physical activity. Maybe just a small break from work and some stretching exercise is enough to keep you fit and healthy. Nowadays, more and more people suffer from a sedentary lifestyle so we always have to remind ourselves not to sit too much.
Diet is also very important. I know food can be very tempting but try to stick to healthy food, food that you know is hygienic and carefully prepared. Of course, once in a while, we can give ourselves a nice little treat, like the cheese pizza I had yesterday.
Drink a lot of water too, as water accounts for 60% of the human body weight and is key to effective metabolism.
PART 3 – Follow up questions
1.  Describe an exercise you know?
The exercise I know is called jumping jacks. You have to keep your feet together and hands by the side. Then you have to jump by keeping your feet apart and raising your hands above the head. It is a good exercise for the muscles.
2. Describe a healthy person?
A healthy person is who eats a balanced diet, drinks adequate  water and does the right amount of exercise.
3. Describe your ideal healthy living environment?
Nowadays, societies are built in such a way that they are ideal for healthy living. They have plenty of greenery, gyms, parks, swimming pools etc. People living there can go for a morning walk, workout in the gym and start their day. In the evenings, they can spend time in the parks.
4. Describe your lifestyle?
I'm an office-goer. So I don't get enough time for workouts on weekdays. But I ensure I eat a nutritious diet and have a water bottle on my table which is a reminder for drinking water. Also, I do yoga in the weekends.
Also check :