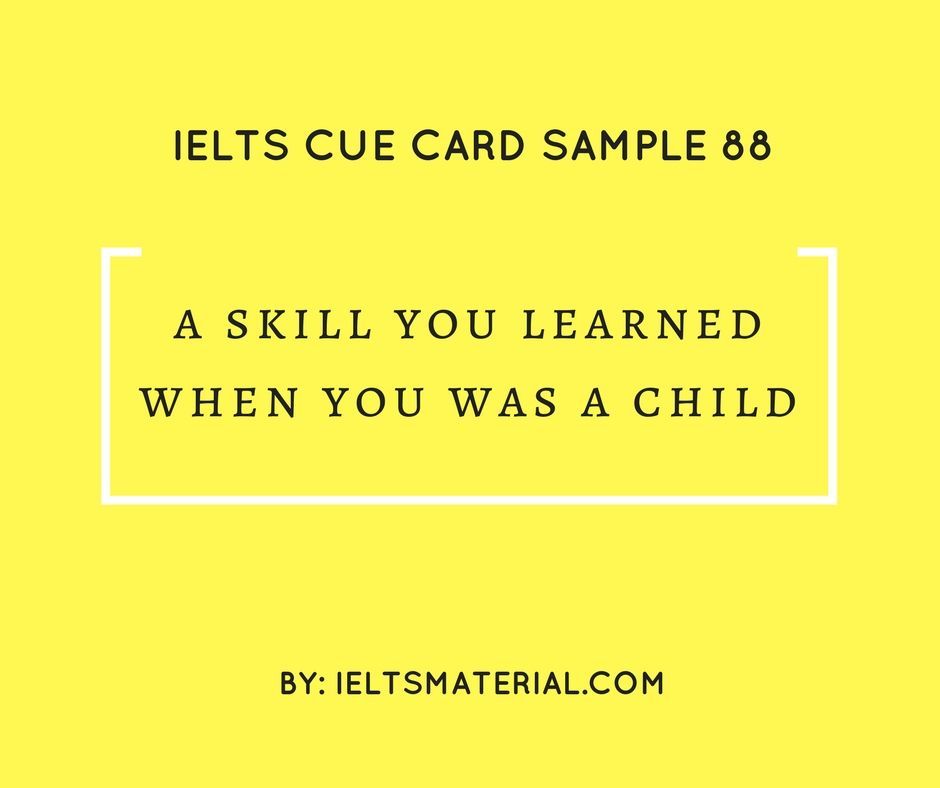 IELTS Cue Card Sample 88 Topic: A skill you learned when you was a child
IELTS Speaking Part 2 Topic:
Describe a skill you learned when you were a child.
You should say:
What skills it was
Who taught you this skill
How you learned it
And explain why you learned this skill.
Sample:
Childhood is always memorable to me. There are many things that I have learnt from that period that benefit me until now.
To be honest, when I was small, I was quite weak. As I often got sick, my parents didn't allow me to go out much, especially in an extreme weather like summer or winter. Therefore, my parents sent me to a piano class in my neighborhood when I was 8.
My piano teacher was around my aunt's age, thus, I enjoyed calling her "auntie". She was kind and generous to me, though I didn't pick up the lessons good enough. Luckily, she was very experienced and enthusiastic. Thus, she tried her best to teach me every single lesson. With those efforts, I finally found the piano lessons soothing and inspiring, beginning to play it better and better.
Gradually, I began to fall in love with piano sounds and practiced it time to time. After 2 years, I had made a great improvement in comparison with the first days. At the age of 12, I got an opportunity to join a piano contest for Secondary school students. Though I didn't get any prize, it was a good reward for all of the efforts I had put on it. My teacher was really proud of me.
Until now, after 10 years, piano still accounts for an integral part of my life. It helps me to get over tough situations, even under great pressure. Playing the piano is a good way for me to relax and refresh my mind.
Vocabulary
Memorable: worth remembering or easily remembered, especially because of being special or unusual.
Ex: This victory was one of the most memorable of his career
Extreme weather: really bad weather or weather on a larger, more serious and devastating scale.
Ex: Summer is considered extreme weather because it is very hot
Enthusiastic: excited, having a positive and upbeat attitude
Ex: He is an enthusiastic swimmer, he swims every day for 2 hours.
Soothing: relaxing, usually something soft and quiet.
Ex: she put on some soothing music and took a bath.
Inspiring: motivates you to do something
Ex: the speech the President gave turned out to be so inspiring that the workers decided to stop their strike.
Also check :